EMS manufacturers are third-party electronics manufacturers who manufacture and assemble modules or electrical products for original equipment manufacturers (OEMs). EMS manufacturing enables startups and multinational giants to manufacture new products and bring them to market in the fastest and most affordable way. OEMs of any size from all industries, such as industrial, automotive, communications, computer, and consumer electronics, can take advantage of EMS manufacturing.
Part 1: What is the EMS Manufacturing Mode
EMS stands for electronic manufacturing service. EMS manufacturing, starting in the 1960s, is also known as electronic contract manufacturing. It is not only suitable for OEM but also for large end customers. How does the EMS mode work?
EMS for OEM
If you are an OEM who researches and develops electrical products and sells these products, the EMS mode is:
The OEM finishes product development (R & D), including hardware/printed circuit board (PCB) design, software development, and enclosure design. And the OEM sends the Gerber (PCB design graphic files), BOM (component information table), and requirements to the EMS manufacturer.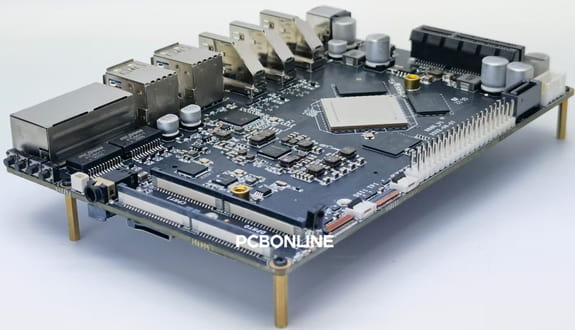 Ensuring the project is feasible by design for manufacturing (DFM), the EMS manufacturer completes PCB fabrication, component sourcing, PCB assembly, testing, value-added services, and box-build assembly services.
Usually, the project fabrication begins with prototypes to bulk production. If the PCB/PCBA/box builds have any issues in use due to the EMS' mistakes, the EMS manufacturer also takes responsibility for repairs and rework. After quality confirmation, the EMS manufacturer delivers the products to the OEM.
Note
EMS manufacturers don't fabricate electronic components but source them. Sometimes, for intellectual property security, OEMs ship confidential components to the EMS manufacturers for PCB assembly rather than letting them source. If the OEM has PCB assembly lines, they only order PCBs and assemble the products on their own.
Many EMS manufacturers such as PCBONLINE are not only hardware manufacturers. With years of experience in fabrication and solving technical issues, they have strong capabilities in hardware and software R & D and can take part in the product design stage with the OEM.
For small-scale OEMs, the involvement of the EMS manufacturer in field application engineering (FAE) can avoid tricky issues after PCB assembly, such as testing failures and software/hardware adjustments.
Multinational giants OEMs like Apple usually divide a product into different modules and assign them to different EMS manufacturers for absolute intellectual property security. OEMs who manufacture small electrical products, such as false eyelash UV disinfection boxes, Bluetooth earphones, electronic door locks, and so on, entrust the whole product to one EMS manufacturer for production.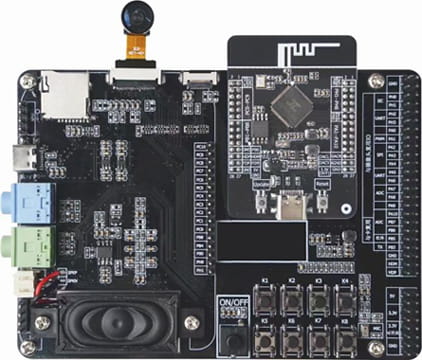 If you need EMS manufacturing without a quantity limit with one-on-one engineering support, please send your inquiry to info@pcbonline.com.
For OEMs, EMS manufacturing provides flexible production, high efficiency, and cost-effectiveness. OEMs can select the most suitable EMS manufacturer from their supplier list. And they can hire different EMS manufacturers to fabricate different products and don't worry about production line capacity when upgrading products.
EMS for large end customers
Large end customers can be any entity that needs a large quantity of custom-made electrical products for their unique demands. For instance, a large dragon fruit farm requires LED grow lights with a specific wavelength range and a design suitable for the farm, and a shopping mall requires ceiling lights to illuminate the whole mall from a height of tens of meters above the ground with comfortable lights, and a boat company requires LED lights with a very high lumen, etc.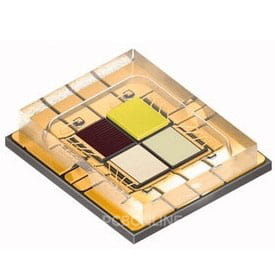 Such end customers usually can't provide product design, not to mention Gerber or BOM, and off-the-shelf products on the market can't satisfy their demands. In such cases, EMS manufacturers can design and fabricate the whole project for them, including hardware/LED/PCB design, PCB fabrication, PCB assembly, testing, enclosure design, manual design, and box-build assembly.
In the prototype stage, after the first article testing and filed application simulation test, the EMS manufacturer sends the sample to the end customer to try. After the customer's confirmation and approval, the EMS manufacturer finishes bulky production.
EMS manufacturing provides the best customization to satisfy customers' demands that ready-made products in the market can't. And the product design and quality are good with the traceable manufacturing process and sample production. In regards to the EMS manufacturing price, it is affordable. If you want to get a quote for an EMS project, please send your inquiry to info@pcbonline.com.
EMS for research institutes and business makers
Besides, EMS manufacturing also serves research institutes and business makers. The working mode is similar to that between OEM and EMS. But large-scale EMS manufacturers only work for OEMs whose orders bring them long-term, stable, and bulk profits.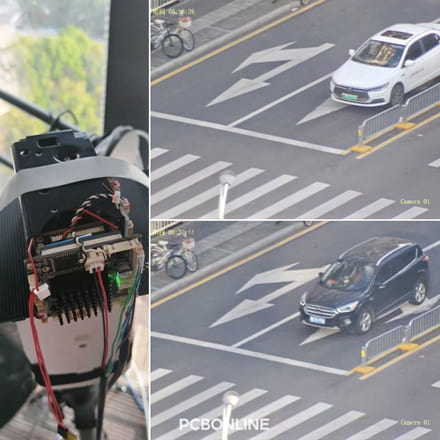 For research institutes and business makers who order electronic manufacturing in small quantities, EMS manufacturers on middle and small scales but with advanced fabrication capabilities are ideal options for EMS manufacturing.
PCBONLINE is a middle-scale EMS manufacturer without a minimum quantity limit to orders. It has more than 20 years of experience in advanced PCB fabrication, and its EMS factory in Shenzhen has more than 10 years of experience in EMS manufacturing. And its EMS manufacturing is traceable and high-quality.
With EMS manufacturing, research institutes and business makers can focus on project design and development. But it may take some time to find a reliable EMS manufacturer, as large-scale EMS manufacturers don't work for small orders, while many smaller EMS manufacturers don't have the capabilities to meet the demands of research institutes and business makers.
Part 2: Pros of EMS Manufacturing
EMS manufacturing factories are mainly located in Mainland China, Taiwan, Malaysia, Vietnam, and Indonesia. Their customers, which are OEMs, research institutes, business makers, and large end customers are from Europe, America, and other regions. Relying on regional labor cost differences and convenient international transportation, both the EMS manufacturers and their customers benefit from EMS manufacturing.
If you are one of the OEMs, research institutes, business makers, or large end customers, the benefits of EMS manufacturing are:
You can hand over the production process to others without investment in electronic manufacturing lines.
You can save lots of fabrication costs with regional price differences of production factors, such as labor costs, plant land prices, water and electricity prices, etc.
You can focus on R & D and marketing, and you can quickly launch new products to the market with the EMS mode.
Part 3: Cons of EMS Manufacturing
EMS manufacturers are third-party manufacturers after all, and you may have to face up with these drawbacks:
You may be uncertain about the product quality and have to test them after the delivery.
Increasing international freight costs since the past recent years. For products in small quantities, the cargo fee takes a considerable portion of the project cost.
Choosing a reliable EMS manufacturer with quality component supply chains takes time, investigation efforts, and trial costs.
To avoid the above possible issues in EMS manufacturing, you can work with a reliable EMS manufacturer PCBONLINE.
Part 4: Reliable EMS Manufacturer for Middle and High-End Applications
If you are one of the OEMs, business makers, research institutes, or large end customers, you can work with PCBONLINE, an EMS manufacturer without a quantity limit to orders. PCBONLINE has more than 10 years of experience in electronic manufacturing for automotive, medical, industrial, defense, computer, communications, and consumer electronics.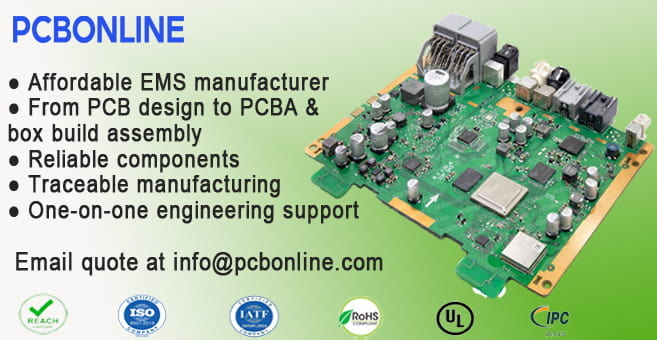 You can solve the above-mentioned drawbacks of EMS manufacturing by working with PCBONLINE:
After PCB assembly, PCBONLINE does functional testing and thermal aging. After box build assembly, PCBONLINE conducts field application simulation testing to ensure quality.
PCBONLINE conducts full quality inspection after EMS manufacturing and randomly picks up 10% for quality confirmation.
PCBONLINE has cooperation with FedEx, and sea shipping is cost-effective. If you have an account with the shipping company (FedEx, DHL, or UPS), you can pay the shipping fee using your account.
Relying on the EMS production factory, PCBONLINE joins co-procurement with other larger EMS for components and can enjoy discounts. All components are from original factories or direct first-class suppliers.
Besides these, PCBONLINE has below advantages in EMS manufacturing:
PCBONLINE can take part in the R & D of your project for FAE and reduce the fabrication cost with an optimal PCB design.
Has two large advanced PCB manufacturing bases and independently completes the whole PCB fabrication process, including gold plating.
Provides any kind of PCBs, such as FR4 PCBs of any Tg, aluminum PCBs, copper base PCBs, ceramic PCBs, Teflon PCBs, flexible PCBs, and rigid-flex PCBs.
Lead-free PCB assembly with the finest pitch of 0.05mm. Nitrogen reflow and selective soldering are available.
Provides one-on-one engineering support throughout your project and quickly solves technical issues.
EMS manufacturing for samples has the same processes, materials, and quality as batch orders. For bulky EMS manufacturing, PCBONLINE provides a free complete sample and PCBA functional testing. If you have a project in design or plan to manufacture it, welcome to contact PCBONLINE by email at info@pcbonline.com for EMS manufacturing.
Part 5: What Does EMS Manufacturing Cover
EMS manufacturing covers everything in fabricating a bare printed circuit board, electrical module (PCBA), electronic system, or an end product labeled and packaged. It is flexible production, meaning you can ask the EMS manufacturer to do anything at any time you want (but it should be feasible for the EMS manufacturer).
The items of EMS manufacturing can be:
Hardware and software design
Hardware and software design should consider the fabrication cost, signal integrity, power supply, safety, EMC/EMI, power consumption, thermal dissipation, noise, components, reliability, and design for manufacturing/testing/excellence. Nowadays, chip manufacturers are more and more considerate, and they provide almost all materials such as IC packages, simulation models, PCB designs for reference, etc. You can do the hardware and software design referring to these materials, and the EMS manufacturer can help do that
PCB fabrication and component sourcing
After DFM confirmation, the EMS manufacturer fabricates the PCB prototypes first. After quality confirmation from both sides, the EMS manufacturer does the batch PCB fabrication. SMT stencils used for solder paste printing in PCB assembly are also fabricated by the EMS manufacturer.
Meanwhile, the EMS manufacturer sources all electronic components for PCB assembly. The EMS manufacturer PCBONLINE sources components only from original factories and reliable suppliers that have been audited and keep long-term and stable cooperation with. For ICs, PCBONLINE always carries out the counterfeit test. (No worries about the testing fee, it is free.)
PCB assembly
With PCBs and all electronic components, the EMS manufacturer assembles the circuit boards with components. Components include surface-mount devices (SMDs) and THT components. SMDs are soldered on an SMT line, which is automatic. THT components are soldered on a THT line, which is half-automatic.
SMT assembly includes solder paste printing, solder paste inspection, picking and placing SMDs on PCBs, X-ray inspection for BGA, reflow soldering, and AOI inspection.
THT assembly includes inserting THT component pins through holes, preheating, wave soldering, and trimming pins.
The EMS manufacturer first manufactures five pieces of PCBA and randomly picks up one for the first article test (FAI). All component values are recorded in the FAI report. And the EMS manufacturer sends the report for you to view and confirm. With your approval for batch PCB assembly, the EMS manufacturer completes PCBA production.
Value-added services after PCB assembly
From the EMS manufacturer PCBONLINE, you can avail of value-added services on the PCBA in the post-assembly stage, such as functional testing, conformal coating, thermal aging, IC programming, etc.
Box-build assembly and delivery
Box-build assembly means installing the mechanical enclosure to the PCBA or the system. The EMS manufacturer assigns the enclosure design to a local partner factory to manufacture samples first and assembles them to be end-product samples.
If you are satisfied with the samples, the EMS manufacturer finally completes the batch box-build assembly and delivers the products to you.
Repair and rework
Believe it or not, the EMS manufacturer is the last person to want any issues or defects during the EMS project or after the product is put in use. Because the whole EMS process is traceable, it is easy to identify who is responsible and how to debug the issue. If the issue is caused by the EMS manufacturer, the EMS manufacturer bears the responsibility for repair or rework.
Conclusion
EMS manufacturing is a popular working mode for electronic manufacturing thanks to the economic and technological progress in the world. It fully integrates advantages in different regions to reduce electronics fabrication costs and increase efficiency. PCBONLINE is an EMS manufacturer for OEMs, business makers, research institutes, and large end customers. If you are one of them and need EMS services, the cost-effective and quality EMS services from PCBONLINE won't let you down.
© This article is an original work of the PCBONLINE team. Please indicate the author PCBONLINE if you reprint. If the article is reproduced without permission or indicating the author's source, PCBONLINE reserves the right to investigate the infringement.
GET A FREE QUOTE
File Upload