Aluminum PCB Substrate and Dielectric Materials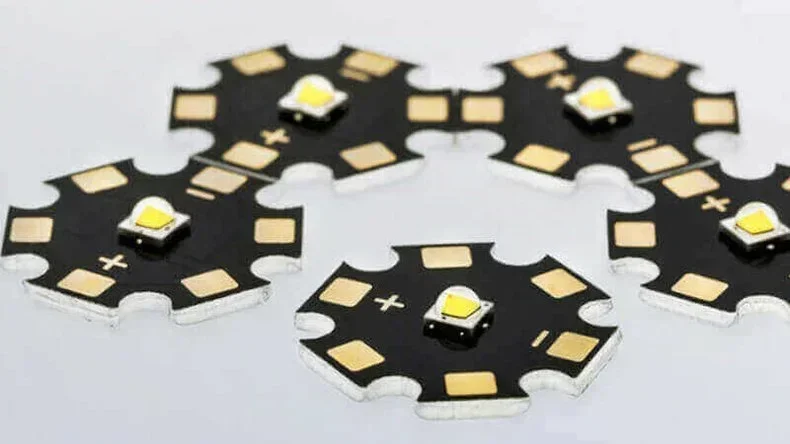 Aluminum PCBs are MCPCBs that use the aluminum substrate, and their price is very reasonable. There are single-layer, double-layer, and 4-layer aluminum PCBs.
Details of the aluminum PCB substrate materials are below:
6061 is an Al-Mg-Si alloy. It has medium strength and good cutting performance and is suitable for CNC, V-Cut processing. Its drawback is the higher price.5052 is an Al-Mg alloy. It has medium strength and good bending performance and is suitable for punch forming. And it has a fair price.3003 and 1100 are both pure aluminum. Both have good thermal conductivity and fair machining performance. And both are cheap.
Details of the dielectric material of aluminum-core PCBs are below:
Because both the aluminum substrate and copper circuit layers are conductive, to avoid shorts, a dielectric layer must be in between to insulate them.
The dielectric material that PCBONLINE uses is made of a special polymer filled with ceramics.
The polymer leads to good dielectric strength, anti-aging, high bonding, and ceramic medium increases thermal conductivity and viscoelasticity. It also resists mechanical and thermal stresses during welding and operation.
All double-sided aluminum PCBs require ceramic-filled polymer as the dielectric layer.
Automatic Aluminum PCB Manufacturing at PCBONLINE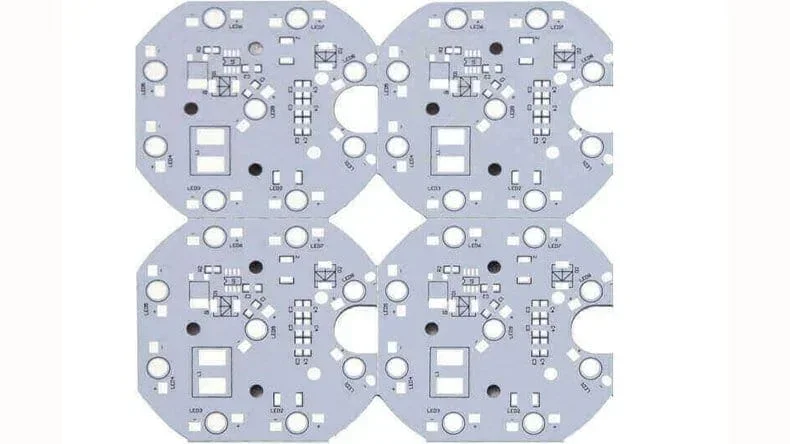 From laminates to testing the finished aluminum PCBs, the whole aluminum PCB manufacturing process at PCBONLINE is fully automatic without human intervention, which ensures accuracy and best quality of the aluminum PCBs.
For quality considerations, the aluminum substrate PCB should not be touched during PCB fabrication and carring the boards.
At PCBONLINE, our production machines include LDI exposure machines, automatic test machines, automatic punching machines, etc.
And when we carry the boards, we use an automated guided vehicle (AGV), which increases efficiency and avoids scraches and missing boards, and it matters to quality control.
Rigid and Flexible Aluminum PCBs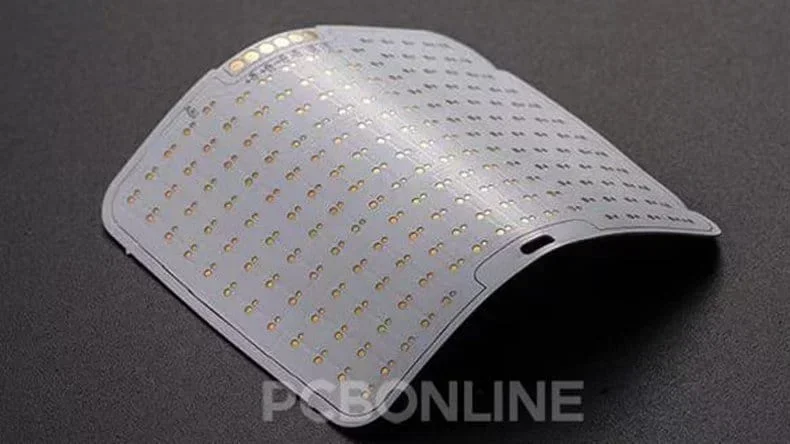 From PCBONLINE, you can order both flexible and rigid aluminum PCBs from prototypes to massive production.
● Rigid aluminum PCB - Most aluminum PCBs are rigid and have good mechanical strength.
Rigid aluminum PCBs can be 1-layer, 2-layer with one component-mounting side, 2-layer with two component-mounting sides, and 4-layer with two component-mounting sides.
● Flexible aluminum PCB - If the laminate has higher aluminum content, the aluminum PCB can bend, and it can be used for LED lights that can illuminate in all directions.
Flex aluminum PCBs have only one layer, the power of 1W, and their surfacer finish can only be OSP. And we suggest 0.5oz copper thickness for them.
PCBONLINE is a source factory manufacturer for aluminum PCB fabrication and assembly, and we offer the most affordable prices and considerate one-on-one engineering support throughout your project. Please contact info@pcbonline.com to get a quote.