What is Rigid Flex PCB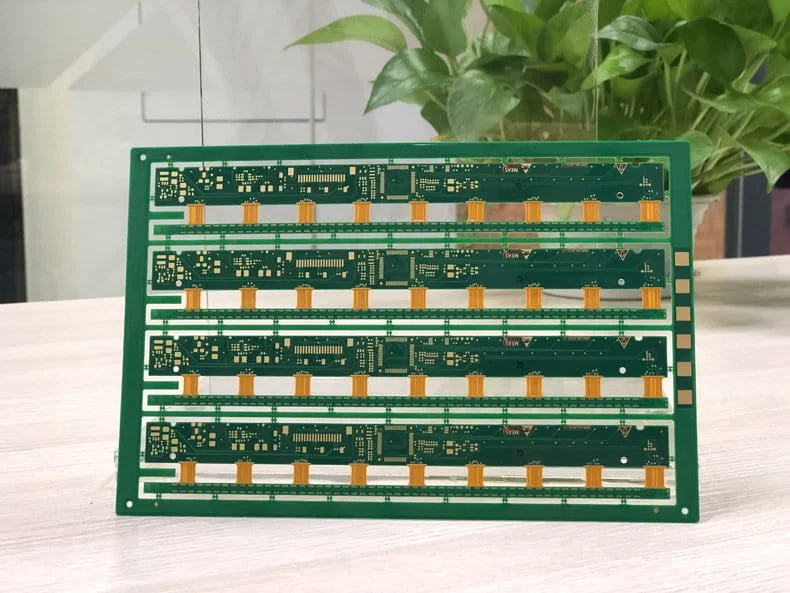 Also known as semi-flex PCBs, rigid-flex PCBs belong to flexible PCBs but have rigid FR4 outer layers. The flexible PCB layers made of polyimide (PI) or polyester(PET) films and flexible copper-clad laminates (FCCP), can be 1 to 6 layers. The FR4 PCB layers attached on one or two sides of the flex inner layers can be 1 to 24 layers at the manfuacturer PCBONLINE.
Different layers are interconnected with through-holes and microvias (buried, blind, staggered, stacked, etc.). Fine-traces and high-density circuits can be designed and fabricated on rigid-flex PCBs.
Copper in a rigid-flex PCB's flex section must be rolled annealed (RA) copper, and PCBs for high-performance applications use high temperature and elongation (HTE) copper.
In rigid-flex PCB fabrication, we manufacture the flexible PCB first and laminate FR4 PCBs layers on the flex PCB. Then we cut off the unwanted rigid FR4 areas using the laser to expose the flex PCB coverlay. The exposed flex PCBs are the areas for bending.
PCBONLINE manufactures rigid-flex PCBs from 2 to 30 layers for automotive, medical, computing, communications, industrial, aerospace, and consumer electronics. If you don't need real rigid-flex PCBs but flex PCBs attached with stiffeners (FR4, polyimide, or stainless steel), it is also okay to fabricate them from PCBONLINE.
Rigid Flex PCB Available Structures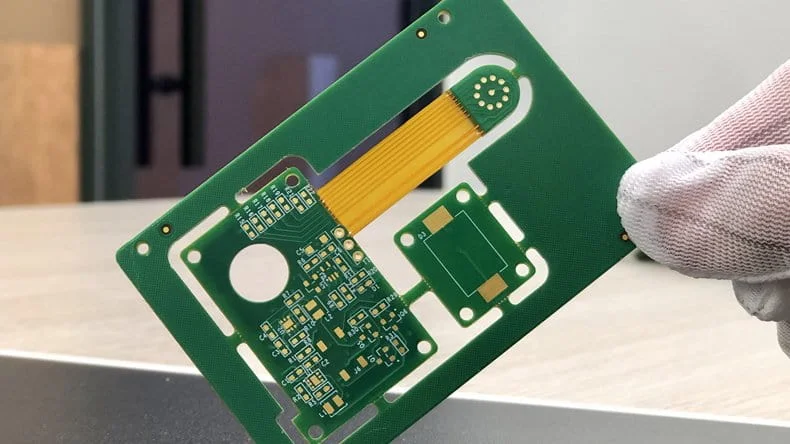 Rigid-flex PCBs provide dynamic and mechanical stability, freedom of 3D design, and reduced overall product space and weight. For these benefits, you can design rigid-flex PCBs with the below structures.
Symmetrical rigid flex PCB construction - the board is manufactured with inward symmetrical flex layers. Capability is from 3R+1F to 24R+6F.
Asymmetrical rigid flex PCB construction - the board is manufactured with outward asymmetrical flex layers. Capability is from 2R+1F to 24R+6F.
HDI multilayer rigid flex PCB construction - the board's rigid section is with blind/buried mirovias. HDI capability is 4+N+4.
Cost of Rigid Flex PCB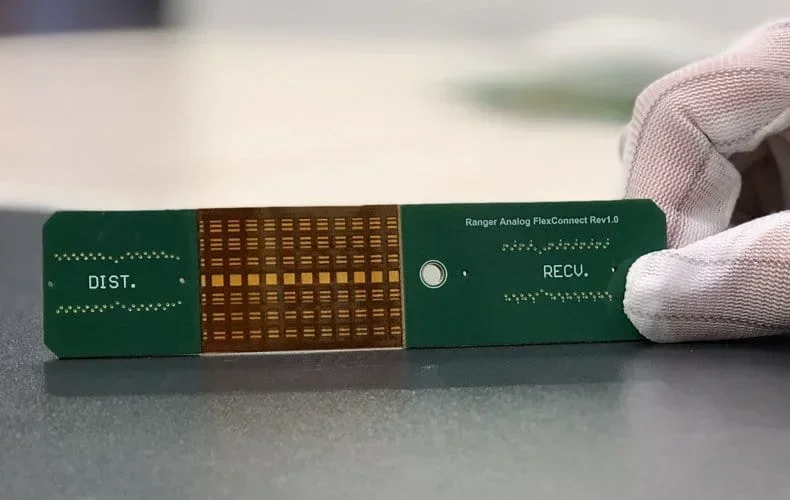 Except for the very easy 1-2 layer FR4 PCBs, all PCBs, including rigid-flex PCBs, are custom quoted by the PCB manufacturer after viewing your Gerber/PCB design files. The PCB price is determined by the laminate price, PCB layers, circuit complexity, surface finishes, and lead time. The unit price of massive PCB manufacturing is lower than that of PCB prototypes.
Rigid-flex PCBs are manufactured by laminating flexible and FR4 PCB layers, and the fabrication is much more complex than FR4 PCBs and flex PCBs. For this reason, rigid-flex PCBs are more expensive than FR4 PCBs and flexible PCBs. Usually, rigid-flex PCBs are 2 to 3 times costlier than flexible PCBs and 8 to 10 times costlier than FR4 PCBs.
Take 4-layer PCBs with a total area of 0.1 square meters as an example. At PCBONLINE, 4-layer rigid-flex PCBs cost about $900, while flexible PCBs cost about $450, and FR4 PCBs cost about $100. This is probably the most competitive rigid-flex price in the market.
PCBONLINE is a rigid-flex PCB source factory manufacturer and provides the most cost-effective and high-quality PCBs. By working with a reliable source factory manufacturer, you can save big than if working with a third-party trade company or agent.