In everyone's smartphone, there is at least a rigid-flex PCB. You will find rigid-flex PCBs on your mobile phone, headset, or computer, and rigid-flex PCBs also find applications in aerospace and medical systems/equipment. What is a rigid-flex PCB? How much does it cost to order rigid-flex PCBs from manufacturers? The answers are below.
What is a Rigid-Flex Circuit Board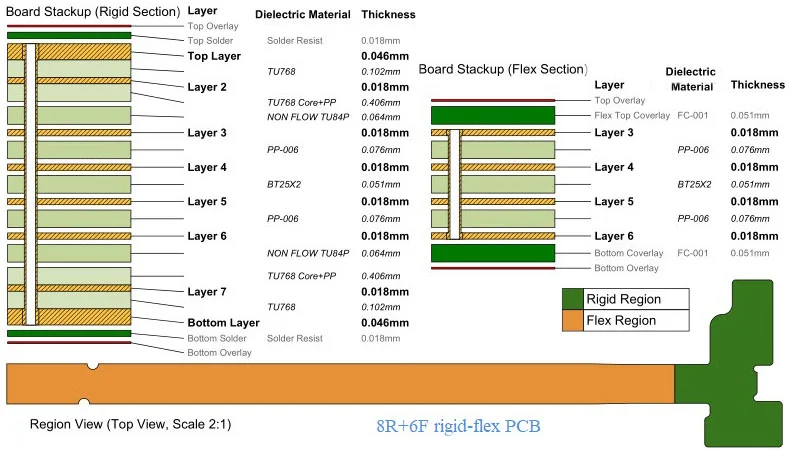 A rigid-flex PCB is a hybrid board composed of the inner flex layers and external rigid layers. The inner layers of the rigid region are flexible. The rigid region and flex region are electrically connected. If the flex section is thinner, the bending radius is smaller, and the flexibility of the circuit board is better.
Rigid-flex PCBs are manufactured by: laminating the entire board's flexible layers > laminating the external rigid layers to the flexible layers > removing the redundant rigid FR4 materials from the flex section > mechanical drilling if the board requires.
Depending on the application requirements, rigid-flex PCB structures are different and numerous. But there are three main structures:
Traditional symmetrical construction - the flex layers are symmetrical (the same upper and lower rigid layers number)
Asymmetrical construction - the flex layers are outward asymmetrically (different upper and lower rigid layers numbers)
HDI construction - the rigid layers have blind/buried vias (microvias), and the HDI builds of the rigid section include 1+N+1, 2+N+2, 3+N+3, 4+N+4
Microvias penetrate only one rigid layer, so they are laser drilled and electroplated on the rigid layer before the lamination process. The positioning has to be highly precise. Therefore, HDI rigid-flex PCB manufacturing has a high scrap rate, and the board prices are higher than FPC and normal PCBs.
Is the Rigid-Flex PCB Solution Expensive or Cost-Effective?
Rigid-flex PCB manufacturing is expensive, but the assembly is simplified, and the rigid-flex PCB reduces solder joints and board-to-board connectors. So the overall manufacturing cost of your system/product is reduced, especially if the space is compact.
Rigid-Flex PCB Prices
So what is the price range of the rigid-flex PCBs? Rigid-flex PCB prices are not fixed, depending on different manufacturing requirements, PCB materials, and electronic components for assembly. But you can take a look at the below rigid-flex PCB quote example to roughly know rigid-flex PCB prices (quoted by PCBONLINE):
| | |
| --- | --- |
| Board layers | 4 |
| Stackup | 1R-2F-1R |
| Panelized board size | 250mm×283mm (5pcs/panelized board) |
| Copper weight | 1oz |
| Surfaces | ENIG: Au 1µ |
| Smallest via | 0.4mm diameter, 0.2mm drill |
| PCB ink and silkscreen | Green ink, white silkscreen |
| FPC Coverlay | Yellow film |
| Build time | 20 days |
| 10pcs quote | $939 |
| 20pcs quote | $1096 |
You may wonder, why is the price of 10pcs $939, the 20pcs price of $1096? The PCB factory manufactures boards in square meters, so 10pcs and 15pcs may have the same manufacturing price but 16pcs charges more. For this reason, PCB prototyping unit cost is the highest, and large-scale PCB production has the lowest unit price. If you want the best cost-effectiveness, here is a trick - you can ask the PCB manufacturer to quote for several PCB quantities and choose the best-price quantity.
The customer orders manufacturing, components, and assembly for the rigid-flex PCBs from PCBONLINE. For privacy protection, the BOM is not displayed. Each rigid-flex PCB needs 294 PCB parts. The 10pcs PCB assembly price (including SMT stencils) quoted is $391, 20pcs PCB assembly price (including SMT stencils) quoted is $501.
A Recommended Rigid-Flex PCB Manufacturer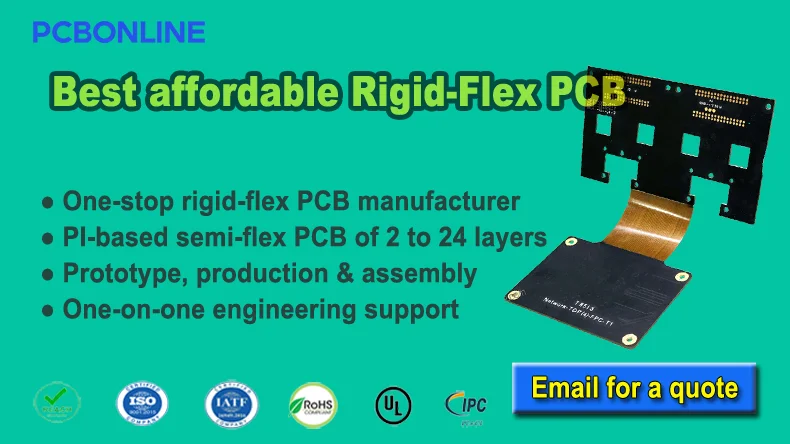 PCBONLINE is a leading rigid-flex PCB manufacturer in China that serves clients around the world. You can order rigid-flex PCB manufacturing, assembly, and components altogether from PCBONLINE from prototyping to large-scale manufacturing. PCBONLINE is a recommended rigid-flex PCB manufacturer for these reasons:
PCBONLINE has strong rigid-flex PCB capabilities such as HDI 4+N+4, gold fingers, and FR4/PI/steel stiffeners.
Strict quality control, certified with ISO, UL, REACH, RoHS, and IATF 16949. IPC-A-610 Class 2/3 assembly standards.
Professional one-on-one engineering support for customers throughout the entire rigid-flex PCB project.
Free electronic component sourcing services of traceable quality for rigid-flex PCB assembly.
Please take a look at PCBONLINE's capabilities in rigid-flex PCB manufacturing:
Features

PCBONLINE's Rigid Flex PCB Capabilities

Layers

rigid section: 2 to 24, flex section: 1 to 6

Build time

1 day to 4 weeks

Board size

Min. 4mm×4mm to Max. 457mm×610mm

Final board thickness

0.05mm to 0.6mm

Materials

Polyimide, high TG polyimide, FR4, FR4 high TG, RA copper, HTE copper, adhesive

PCB thickness in the flex section

0.01mm to 0.2mm

Min. pitch

0.35mm

HDI stack-up

1+N+1, 2+N+2, 3+N+3, 4+N+4

Aspect ratio

1:3

Copper thickness

1/3oz to 3oz

Min. track/space

1.6mil/1.6mil

Min. mechanical drilling Ø

6mil

Hole size tolerance

PTH: ±2mil, NPTH: ±1mil

Hole position tolerance

±2mil

Surface finishes

ENIG: Au 1µ to 5µ", Ni 80µ to 200µ"

OSP

Immersion tin: 0.8µm to 1.2µm

Immersion silver: 0.15µm to 0.45µm

Hard gold plating: Au 1µ to 50u", Ni 80µ to 200µ"
Please feel free to contact PCBONLINE via email at info@pcbonline.com or register to get an online quote if you have any needs.
Conclusion
This article introduces what a rigid-flex PCB is, rigid-flex PCB structures, and costs. Rigid-flex PCB provides a good solution to save space and provide dynamic stability for products/systems with a difficult space, and it reduces the overall product manufacturing costs. PCBONLINE is a reliable rigid flex PCB manufacturer with possibly the highest manufacturing level. If you want to order or consult about rigid-flex PCBs, don't hesitate to contact PCBONLINE.
GET A FREE QUOTE
File Upload