What are SMT and THT
SMT is necessary for PCB assembly. If the PCB has no through-hole components, PTH or THT is not needed.

SMT assembly: SMT stands for surface mount technology, which is a versatile PCB assembly technology. Currently, all electronic components can be made into surface-mounted devices (SMD). SMDs are interconnected to the PCB pads with solder paste. SMT assembly is automatic.

THT assembly: THT, or PTH or DIP, means through-hole technology. The electronic components that require THT assembly have long pins. Usually, they are capacitors, fuses, and connectors. The PCB is pre-drilled, and these components' pins plug in the holes and wave reflowed. THT assembly is manual.

In the PCB assembly process, SMT assembly happens before the THT assembly.

Basic Steps of SMT and PTH PCB Assembly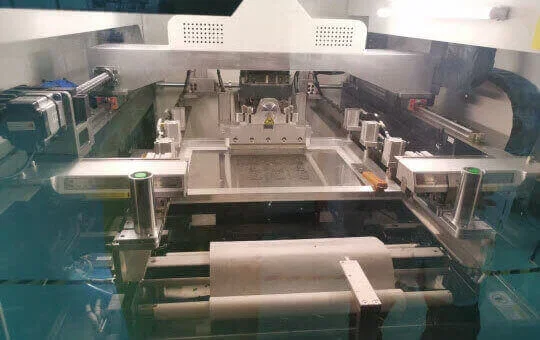 At PCBONLINE, the
PCB assembly process
happens in our
ISO 8 Cleanroom
factory. The basic steps of SMT and THT are as below.
Step 1. First article inspection: a small quantity of PCBA is manufactured, and we randomly choose one for the first piece test. A technician uses a probe to touch the board, the FAI tester analyzes the results, and the computer visually and auditorily shows the results. An FAI report is generated, and we send it for clients to review and approve batch PCBA manufacturing.
Step 2. SMT assembly: in a silkscreen printing machine, solder paste is applied on PCB pads with the help of an SMT stencil. On an SMT assembly line, PCBs in order go through the silkscreen printing machine, SPI, high-speed mounting machine, functional mounting machine, X-ray, reflow soldering oven, and AOI machine. In this process, solder paste is printed on PCB pads and inspected, SMDs are picked and placed on pads and reflowed, and the PCBAs are surface scanned to prevent significant mistakes.
Step 3. PTH assembly: PTH components are lugged into the PTH holes manually. Then PCBAs go through the pre-heater and wave soldering machine. Technicians trim the PTH component pins, visually check, and use a soldering iron to optimize the soldering.

Step 4. Post-assembly stage: when SMT and PTH assembly are done, PCBONLINE conducts the functional test, burn-in test, IC programming, and conformal coating to PCBAs. We can also provide the mechanical boxes and assemble the PCBAs to be end products.

SMT Vs THT
PCBONLINE's PCB assembly factory in Shenzhen has both SMT and THT lines. Here's a comparison between them.
● Assembly speed: SMT is automatic and much faster than the manual PTH assembly. For bulky production, SMT is preferred.
● Thermal dissipation: electronic components that are SMT mounted dissipate heat more quickly than PTH components. This is because the contact surface between SMDs and the PCB is larger.
● Bonding strength: SMDs are attached to the PCB, while the PTH components are plugged in. PTH has a stronger bonding than SMT.
● Fine Pitch: SMDs are smaller than PTH components. SMT assembly is more precise than THT assembly.
If you want SMT and THT assembly, please feel free to send your Gerber, BOM, and pick-and-place file to PCBONLINE by email at info@pcbonline.com.