Question
Help! Engineering beginner here. How do I read a Bill of Materials and create one? Are there any PCB sellers you can suggest?

BOM is the abbreviation for Bill of Materials.
In this article, we will explain what the Bill of Materials (BOM) is, how to generate it, and what are the necessary factors. We shall start by revealing what BOM for you to acquire a better understanding.
If you are considering inquiring about PCB assembly, keep reading to review exactly what you will need to do beforehand.
BOM Meaning: What is the Bill of Materials
BOM - Bill of Materials is an inventory of the raw materials, parts, and assemblies as well as the required quantity of each needed for a certain product manufacturing.
In other words, it is a list of everything required, like a recipe required to build a product.
It is often referred to as a production recipe, assembly component list, or product structure.
Take, for example, a Printed Circuit Board - (PCB) manufacturer that has to build 1,000 flexible circuits.
A bill of materials for this kind of order will include all the parts that make the circuit, such as components, equipment, cost, and more.
Well-made BOM can contribute to the company by helping with estimating material costs, planning the raw materials, inventory control, and record maintenance.
Bill of materials also reduces waste and ensures the supply robustness.
Bill of Materials Structure
The typical BOM contains information with the finished product visualized at the top.
It includes product parts and codes along with quantities and additional specifications.
A Bill of materials is a way for the fundamental information to be delivered including basic data, planning system, resources, material provision, and maintenance.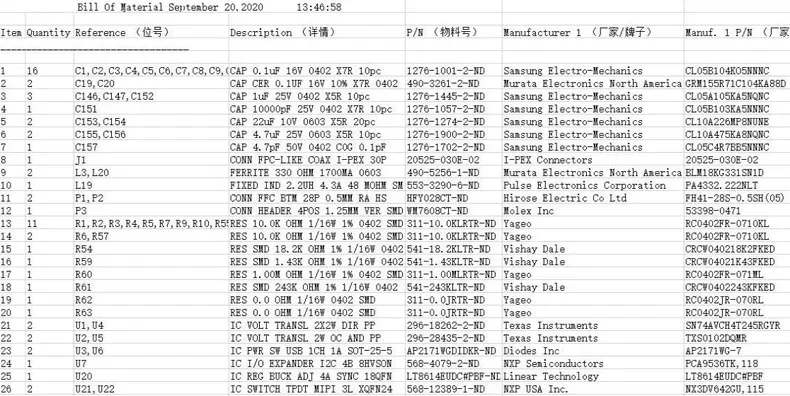 There are two levels in which a BOM can be structured:
Single-Level BOM is a simple list of products including each assembly and the corresponding quantity that is required for its manufacturing. This type of bill of materials is not suitable for complex PCB assemblies, and it does not include specifications regarding the relationship between components and subassemblies. In case of a product failure, a single-level bill of materials is not enough to determine which part needs to be repaid or replaced.
MultiLevel BOM is taking longer to be created, but it is offering the details in depth. It specifies the child and parent parts in the production process as well as the total amount of material required. Furthermore, it explains the structure in a multilevel plan showcasing the relationship between the assemblies.
The 3 main types of BOM:
It also contains individual information on each of the parts that require complex assembly and, if there is any relation to another component from the list. The MBOM is then shared and applied in the manufacturing approach, where sometimes Enterprise Resource Planning (ERP) is required, or in some cases even a Manufacturing Execution System (MES).
The Engineering Bill of Materials (EBOM) defines the parts included in the assembly that are designed by the engineering departments. It shows the perspective of the structure, and often, EBOM is visualized as a technical or mechanical drawing of the end design.
The sales Bill of Materials (SBOM) is where the sales stage takes place. Here the finished product assembly process is defined through the sales lens and managed as a sales item instead of an inventory item. The SBOM is structuring the sales stage by listing products by their market order document.
It is important to understand that each different bill of materials contains different levels of detail called structure.
For instance, an EBOM lists parts for the assembly of a Rigid circuit board related to a specific end design.
This way, engineers will be able to use the BOM as a guide to manufacturing it without any misconceptions. For instance, a PCB assembly BOM can be generated with specific software instead of editing by hand, which is complicated.
BOM in PCB Assembly
A Bill of Material is not a simple management or technical document.
It is the main communication between the departments regarding the links between the different components in the structure.
In the PCB board assembly, the BOM is an essential list of key parts that involve different functional modules related to the final PCB design, along with debugging solutions and board-wielding instructions.
The bill of materials contains the exact components required for the model for the PCB assembly to finish successfully. It is a guide for the process with a few specific applications:
Computer identification materials.
Basis of supporting and picking.
Processing tracking.
Cost calculation.
Quote references.
Material traceability.
Design standards and generalization.
Furthermore, the bill of materials also contains the scheduling and commencement of a PCB assembly order.
When customers contact the PCBA manufacturer, they provide a simple BOM for their PCB order.
This is how manufacturers know which electronic components to acquire and understand their placement to fulfill the current order requirements and provide the desired end design.
Everything in the BOM is later evaluated for the distributor to get the best offers and follow the most cost-effective approach.
In case some of the required components are missing as per the bill of materials, the order is scheduled for production.
How to Write a BOM?
When writing a BOM description, you need to pay attention to a few important things.
You need to submit a bill of materials with complete information in all the fields.
Note
The bill of materials should have details regarding the item number, part description, reference designator, manufacturer's name, part number, package, type, and quantity.
Additionally, you need to specify and provide full information about the items that are not required to be ordered or any components that need to be excluded from the assembly process. All this will contribute to the flawless manufacture and achieving the desired end design.
Necessary factors you must include in your BOM for PCB order:
BOM Level - You need to assign each part of the assembly to a number to detail where it fits in the BOM. This will allow everyone with an understanding of BOM to follow its structure as a guide.
Part Name - Write a unique name for each part of the assembly. That helps with the identification of parts.
Part Number - Assign a part number to each component of the assembly for reference. There are two different intelligent numbering schemes you can use, and different manufacturers prefer either of them.
Phase - Record at what stage each part is in its assembly cycle. For instance, for production parts, you can simply use "In Production", "In Design" etc...
Description - As one of the most important things, the description should contain detailed information regarding each part, which contributes to identification, reference, and accuracy. The description has to contain component parameters, tolerance, and footprint as well.
Quantity - How many parts the assembly process will require? This stage also requires a guide to purchasing and manufacturing activities and decisions.
Unit of Measure - Classify the measurement in which the components and parts will be purchased. Also, be consistent about all similar types of parts because all this information is essential and will help manufacturers take the right approach in their production line.
Procurement Type - This is clear documentation of how each part is purchased or assembled. This is contributing to the efficiency in planning, manufacturing, and procurement activities.
Reference Designators - For PCBA assembly, you need to include reference designators that will detail where each part fits on the board. It helps to avoid misunderstandings and confusion in the assembly process later on.

BOM Notes - Add notes to let your manufacturer know what your intentions are. Include specifics regarding anything with the outcome, pinpoint, and importance you want to warn about. Add any additional comments you would like to be read and taken under consideration. And do not hesitate to include anything you are concerned about.
What to Do if I Can't Provide a Complete BOM to PCB Assembler
Unfortunately, PCB assemblers require a complete bill of materials before they can start assembling your order. This is why PCBONLINE, a one-stop PCB manufacturer is willing to help you complete your BOM, which is the only way to proceed. We will analyze your BOM before assembling the order. Our experts often contact customers if there is anything wrong with the bill of materials, forwarded by a consultation including expert advice and recommendations. This is how we set the right expectations and avoid any future confusion contributing to a great client experience.
Here are reasons to send your BOM to PCBONLINE to order PCB/PCBA:
Our in-house experts will review your BOM. If anything is missed or confusing in it, we will contact you to make sure your requirements.
If you have any difficulty completing your BOM, we are glad to assist you for free.
Our electronic warehouse and complete supply chain can fulfill all your requirements in your BOM.
You can order PCB manufacturing, PCB assembly, electronic components, and PCB layout from us.
We have strong production capability. You can receive your PCBs/PCBA or box-built products within a short cycle time.
PCBONLINE is reliable to help complete your BOM. However, here we will provide you with some BOM creation tips that will help you complete your bill of materials:
Use a Template - Before you request your order, you can simply download a BOM template from the PCB manufacturer you would like to work with. You are always welcome to contact PCBONLINE. Following the template your manufacturer provides, you can provide a standard BOM. This will help you fill exactly what they need to avoid further complications that may occur. Different templates could not match with a specific customer's requirements and desired info to proceed, so the most reliable and fast way is to acquire the BOM template for the specific manufacturer.
Adjust the BOM as per Your Needs - Customize your bill of materials according to the unique demands of your project. Decide which companies to partner with and tailor their BOM template including any inquiries and quotes you have.
Include Enough Details - Include as much as possible helpful information in your bill of materials. Remember that the manufacturers will have only your BOM to create exactly what you need. Try to imagine if you were to create your product using the bill of materials that you are delivering. Ask yourself if the information inside is enough and how to improve it even further.
Limit Editor's Rights - Ensure that the document can be read but not edited. Provide editor's rights only if you are asked to. However, you will be able to edit the document on your side in case of any sudden changes, but many people will have access to it and a lot of damaging things can happen if everyone has the freedom to edit.
Double-Check Everything - Before you submit your bill of materials, the recommendation here is to go over it at least twice, thinking about how to improve it and checking if you missed something. Most of the time, customers are submitting BOMs with a lot of mistakes, which slows down the assembly process in case the document is not suitable, with all the back-and-forth BOM editing.
Example of Bill of Materials