Digital cameras are used much less than previously due to the widespread of smartphones. However, the global demand for PCB camera assembly is increasing due to the trends of the Internet of Things (IoT), smart transportation, smart home, automatic industrial production, and intelligent surveillance for military and medical fields. Camera modules are also used in smartphones.
The PCB/PCBA source factory manufacturer PCBONLINE provides one-stop camera PCB assembly services for industrial, consumer, medical, defense, communications, and automotive applications.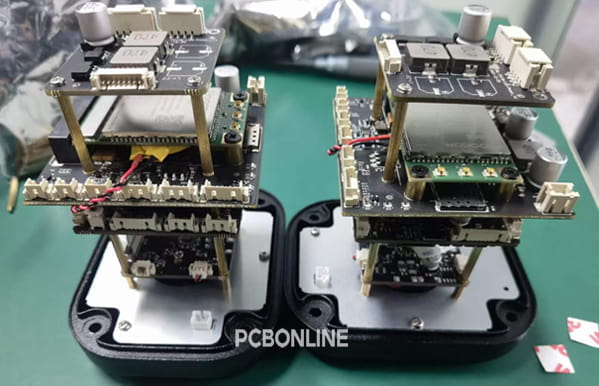 PCB Camera Assembly
A camera PCB assembly includes several modules, including an image sensor board, FPGA control board, image processing board, and other modules according to the needs of the camera application.
The image sensor module can be a charge-coupled device (CCD) or a complementary metal oxide semiconductor sensor (CMOS). CCD has lower noise, better pixel-to-pixel uniformity, and better image quality. CMOS has a smaller size, reduces the circuit design complexity, and reduces power consumption.
The PCBs used for a camera can be FR4 PCBs of any Tg, flexible PCBs, and rigid-flex PCBs. High-frequency, ceramic, and metal-core PCBs are rarely used for a camera.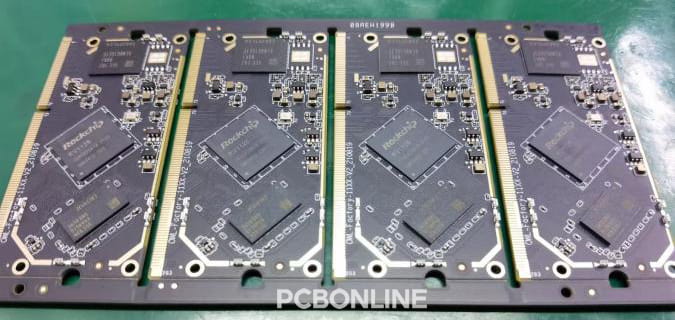 You can have cameras assembled from several PCBA manufacturers by having different module boards assembled and then assembling the modules to a whole and installing the enclosure. Or you can have one-stop PCB camera assembly services from an EMS source factory manufacturer such as PCBONLINE, where all the PCBs are fabricated and assembled and installed with the enclosure to become a camera box-build assembly.
PCB camera assembly technologies include surface-mount technology (SMT) and through-hole technology (THT). The SMT assembly process includes solder paste printing, solder paste inspection, surface-mount device placement, reflow soldering, and automatic optical inspection. The THT assembly process includes inserting THT component pins through holes and wave soldering.
Rigid PCB camera modules connect using board connectors or gold fingers. Flexible and rigid-flex PCBs connect to the main board directly and are usually used as the camera lens module.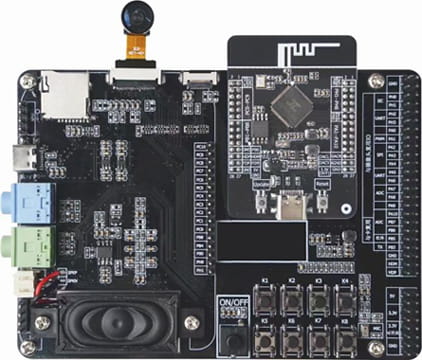 Industrial PCB Camera Assembly
Industrial PCB camera assemblies are used for road monitoring/smart transportation, face recognition, inspection in industrial production, machine vision, and public/home security.
An industrial PCB camera box build includes an optical imaging system, image sensor and peripheral circuit, image acquisition and processing system, image cache, and output system.
An industrial PCB camera assembly can continuously work from days to months in harsh environments. It is highly reliable, easy to assemble, and is usually controlled by a computer to take photos, record videos, and adjust parameters. And it can take ten to several hundred images in one second. Besides, the output of industrial cameras is raw data with a wide spectral range. For these benefits, industrial PCB camera assemblies are used for high-quality image processing.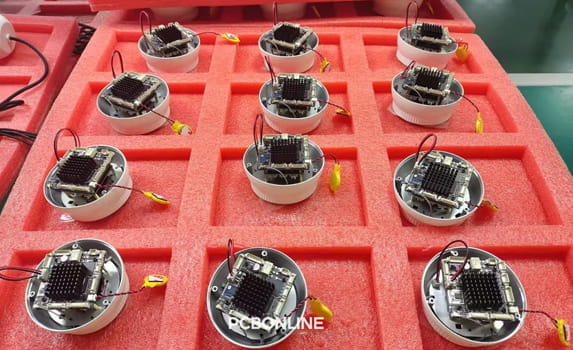 Consumer PCB Camera Assembly
Consumer cameras refer to digital still image cameras used as smartphone cameras, single-lens reflex cameras, and digital video cameras.
A consumer PCB camera box build includes an optical lens system, electronic shutter system, electronic photometry and operating system, photoelectric sensor, analog/digital converter, image processing unit, image memory, liquid crystal display, and output control unit (connection port).
A consumer PCB camera assembly is controlled by hand to take photos, record videos, and adjust parameters. It can take only two to three images in a second. The images have been MPEG compressed before the output with a spectral range only for human eyes, so the image is poorer than that of industrial cameras.
PCB Camera Assembly One-Stop Source Factory Manufacturer - PCBONLINE
If you are looking for a reliable EMS manufacturer for PCB camera assembly, you can consider the one-stop source factory manufacturer PCBONLINE as your manufacturer.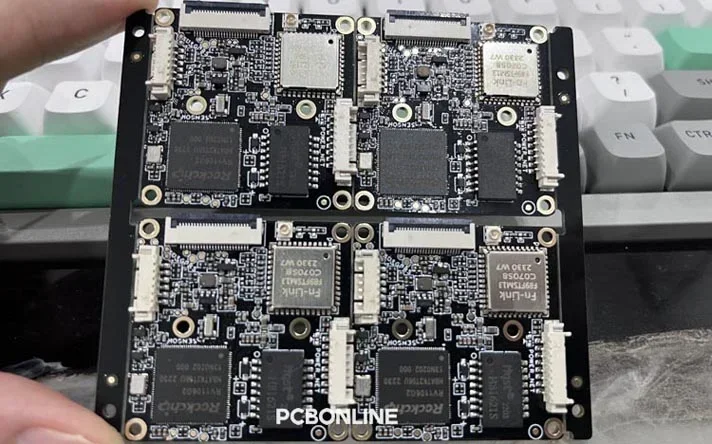 PCBONLINE is a private-owned company founded in 1999 with two large advanced PCB manufacturing bases and one PCB assembly factory. It can provide you with EMS services, including PCB fabrication, PCB assembly, component sourcing, conformal coating, IC programming, thermal aging, and box build assembly.
PCBONLINE has rich experience in PCB camera assembly. You can check examples of our PCB camera assembly services below.
PCB camera assembly example 1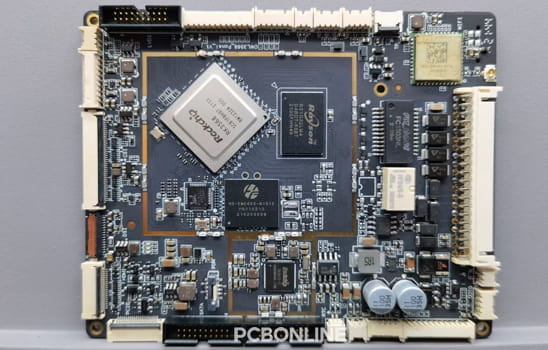 This is a face recognition/AIoT smart camera image processing module development board, with a minimum component footprint of 01005. We manufactured 1000 pieces of camera module boards with 0 rework rate. In emails, our client said, "PCBONLINE provides timely and high-quality assembly and proficiency in mounting 01005 devices. We are very satisfied with this cooperation. Looking forward to more surprises in the future PCBONLINE can bring us."
PCB camera assembly example 2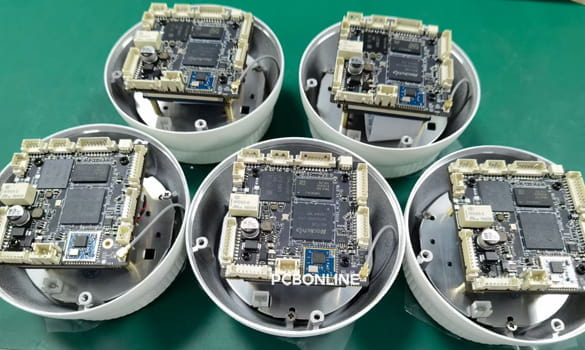 These are CCD camera modules one-stop manufactured and assembled by PCBONLINE. Our client was in the prototype stage and required us to conduct thermal aging and box-build assembly besides PCB assembly. These modules were to integrate with the above AIoT face recognition boards used for smart traffic.
PCB camera assembly example 3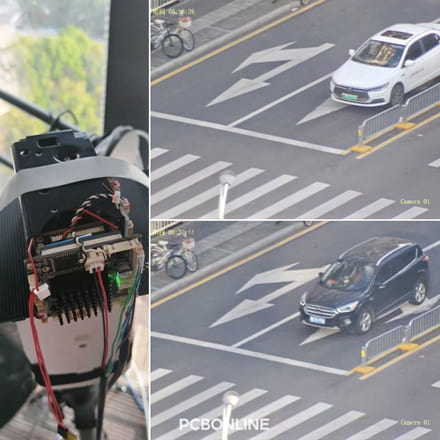 The 4K 5G IPC smart traffic monitoring system developed and produced by PCBONLINE was successfully accepted by our client after two months of testing and put into use on urban roads. The system is sensitive and has a high definition.
PCBONLINE not only deals with electronic manufacturing. Our technical team can take part in your project development to help you reduce costs with an appropriate PCB design and quickly solve technical problems. If you have an interest in PCB camera assembly from PCBONLINE, feel free to send your inquiry by email at info@pcbonline.com.
Conclusion
PCB camera assembly mainly includes industrial camera PCB assembly and consumer PCB camera assembly. Industrial camera PCB assembly can be used for smart traffic, machine vision, industrial production inspection, public/home security, etc. Consumer camera PCB assembly can be used for smartphone cameras, photography, digital cameras, etc. PCBONLINE is a one-stop source manufacturer for PCB camera assembly. If you have questions about PCB camera assembly, feel free to chat with us from the online chat window on the right.
© This article is an original work of the PCBONLINE team. Please indicate the author PCBONLINE if you reprint. If the article is reproduced without permission or indicating the author's source, PCBONLINE reserves the right to investigate the infringement.
GET A FREE QUOTE
File Upload