Light-emitting diode (LED) light is now the most popular lighting option for home and public uses, medical, industrial, agricultural planting, and lighting in harsh environments such as underwater and over the sea. For an LED light, the most important component is the LED PCB board, which supports and connects all electronic components and dissipates heat.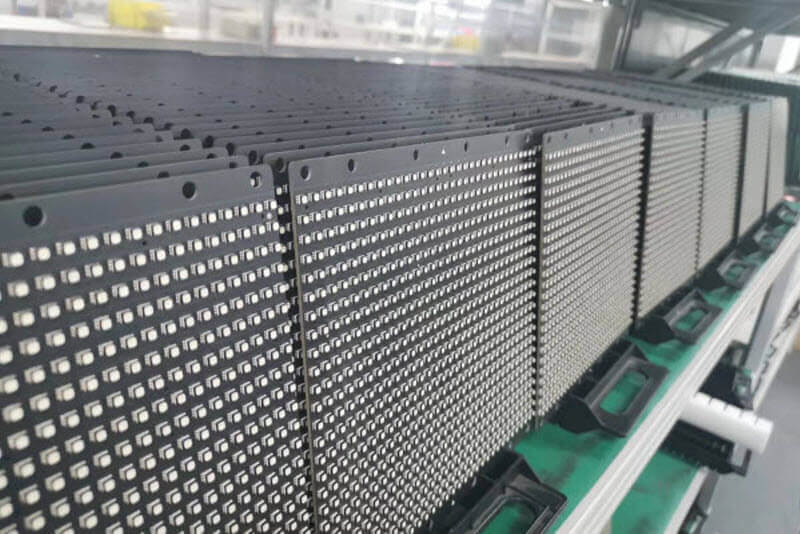 LEDs are temperature-sensitive components, and the LED PCB is the medium to conduct heat quickly from the LED P-N joint to the external environment.
What is an LED PCB Board
An LED PCB board is a printed circuit board designed to mount LEDs. Conductive traces in layers interconnected by PCB vias are engraved in the non-conductive materials. And the pads exposed on the PCB component-mounting side are used for soldering. The electronic components on the LED PCB board are surface-mounted on the PCB pads, or through-hole soldered in the PTH holes. On an LED printed circuit board assembly (PCBA), besides LEDs, there may be wiring harnesses and other components such as resistors and capacitors.
When you design the power of an LED light, you should not only consider how many watts of an LED and parallels and series of LEDs, but also the thermal conductivity of the LED PCB board. LED PCB thermal conductivity is mainly determined by the substrate material of the board. According to different performances in thermal dissipation, there are 6 types of LED PCB boards.
Types of LED PCB Boards
The 6 types of LED PCB boards are aluminum LED PCB, copper-base LED PCB, FR4 LED PCB, ceramic LED PCB, hybrid substrate LED PCB, and flexible LED PCB.
Aluminum LED PCB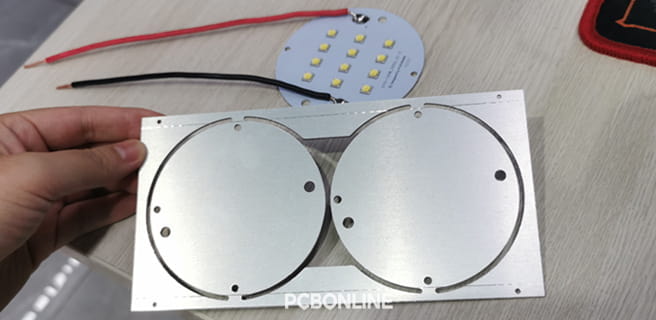 Aluminum PCBs are the most common and cost-effective printed circuit boards for LED lights, such as LED plant grow lights. Aluminum PCB design is relatively simple, and there are single-layer aluminum PCBs, two-layer single mounting-sided aluminum PCBs, two-layer dual mounting-sided aluminum PCBs, and four-layer dual mounting-sided aluminum PCBs.
In theory, aluminum PCBs provide a thermal conductivity range from 1W/mK to 9W/mK. Most usually, aluminum PCBs' thermal conductivity is 1W/mK to 2W/mK. For many LED lighting applications, aluminum LED boards are enough to meet requirements.
For cost-effective and reliable aluminum LED boards, you can work with the aluminum PCB manufacturer PCBONLINE. PCBONLINE has its aluminum laminate factory Yugu and strategic cooperation with another laminate supplier Ventec. And PCBONLINE already achieves automatic production of aluminum PCBs. For these reasons, PCBONLINE greatly reduces fabrication costs. Only $30 per square meter for batch fabrication of aluminum LED board!
Copper-base LED PCB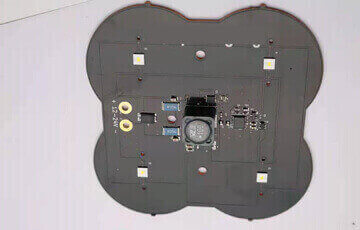 Copper-based PCBs are used for high-power LED lights, such as car headlights. Regular copper-base PCBs have the same structure as aluminum PCBs, but thermal conductivity is several times higher than that of aluminum PCBs.
Besides, there's thermoelectric separation (or direct touch) technology for copper-base LED PCBs. The LED pad directly connects with the copper substrate and solders with LEDs. The heat generated from the LED P-N joint quickly dissipates to the copper substrate and then the external environment. In this way, thermoelectric separation copper-core LED PCB has thermal conductivity close to 398W/mK.
From the one-stop LED PCB manufacturer PCBONLINE, you can have 1 to 4 layer regular copper-base PCBs and 1 to 8 layer thermoelectric separation copper-base PCBs manufactured.
FR4 LED PCB
If the LED light is used as home daily lights and doesn't require much thermal dissipation of the circuit board, an FR4 PCB can be a cost-effective circuit board option. The prices of FR4 LED PCBs are lower than other types of boards.
If you add metal frames to the FR4 LED PCB board, and the frames connect to the external environment, the FR4 PCB can also be used for high-power LED lights. However, PCB fabrication can be more costly.
PCBONLINE provides FR4 PCB fabrication and assembly. The FR4 Tg of the laminates ranges from 135℃ to 220℃.
Ceramic LED PCB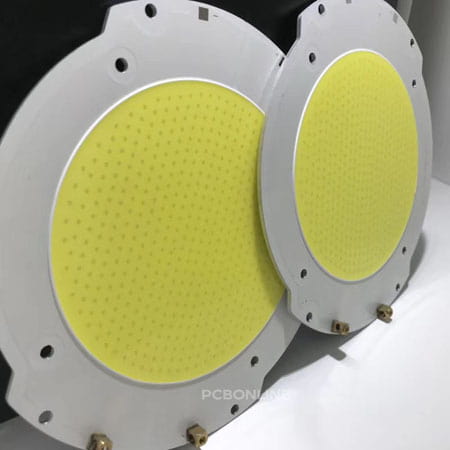 High-power LED lights, especially photography lights and swimming pool lights, use ceramic PCBs. Ceramic PCBs include aluminum nitride (AlN) PCBs, aluminum oxide (alumina) PCBs, boron oxide (BeO) PCBs, and silicon nitride (Si₃N₄) PCBs. And the most common ceramic LED PCB boards are AlN PCBs and alumina PCBs.
AlN PCBs have 180W/mK thermal conductivity, and alumina PCBs have 20W/mK thermal conductivity. At high temperatures, BeO PCBs have much better thermal conductivity, but BeO powders are toxic, and it is dangerous to fabricate BeO PCBs.
It should be noted that you should take care of the size of ceramic PCBs. Large-size ceramic PCBs can break when laminating during fabrication.
PCBONLINE has its ceramic PCB factory, which fabricates AlN PCBs, alumina PCBs, and Si₃N₄ PCBs. Besides ceramic PCBs that support and connect LEDs, PCBONLINE also fabricates LED plates and makes custom LED modules used for LED lights.
Hybrid substrate LED PCB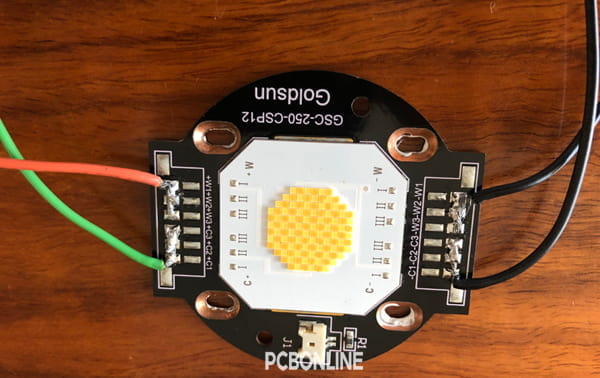 For high-power LED PCB boards, the substrate material can be hybrid. For example, the below stage light is a ceramic PCB inlay in the copper board. Hybrid LED PCB boards can have two or three kinds of substrate materials. And different substrate materials are connected by phase change, which means they combine into a whole.
You can custom design the size, route wires, and separate the electric and thermal networks of hybrid substrate LED PCBs. LED lights using hybrid substrate PCBs have a long lifespan under continuous long-term working conditions.
From PCBONLINE, you can have hybrid PCBs manufactured and assembled for high-power LED lights and other applications. The hybrid PCB substrate groups can be FR4/copper, FR4/polyimide, FR4/aluminum, copper/AlN, copper/alumina, FR4/copper/PTFE, etc.
Flexible LED PCB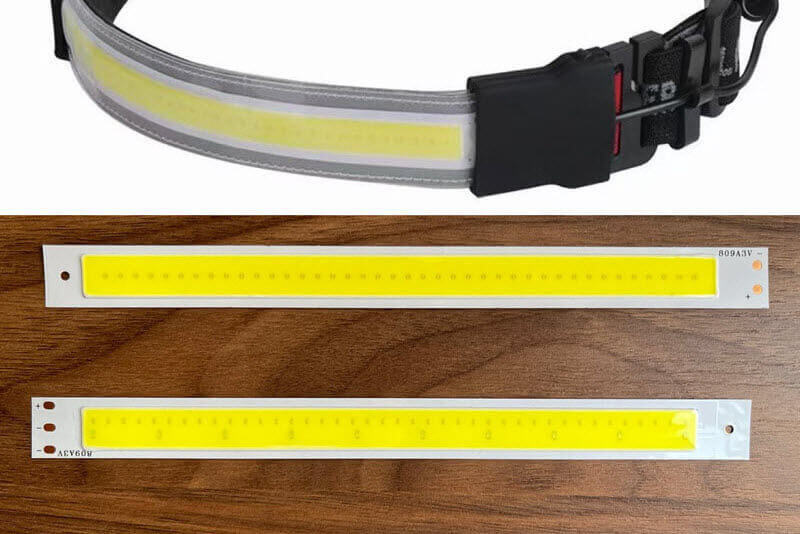 For flexible LED strips, flexible PCBs with polyimide or polyester substrate are used. Flexible LED PCBs can be used for face mask lights, miners' headlamps, and indoor/outdoor decoration light strips.
Flexible LED lights are much lighter than rigid LED lights, and they can blend and fold to be any shape you want.
Any size and length of flexible LED PCB boards can be made. You can even have transparent flexible PCBs made and assembled by the PCB manufacturer PCBONLINE.
One-Stop LED PCB Board Fabrication and Assembly Supplier
PCBONLINE is an ISO-certified EMS source-factory manufacturer where you can have any type of LED PCB boards fabricated and assembled to be end products. Founded in 1999, PCBONLINE has two large advanced PCB manufacturing bases and one PCB assembly factory.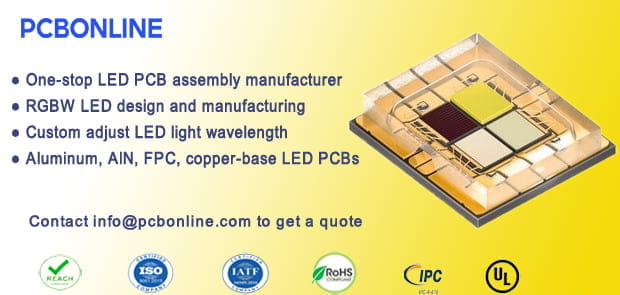 PCBONLINE can design, fabricate, and assemble RGB and RGBW LED PCBs and lights according to your requirements. Aluminum, copper-base, FR4, ceramic, hybrid, and flexible LED PCB boards are all available to manufacture without a quantity limit.
By working with PCBONLINE, you can enjoy many benefits, such as:
Traceable LED PCB board fabrication, PCB assembly, and box-build assembly.
High-quality LED PCB/PCBA certified with ISO 9001:2015, IATF 16949, IPC, REACH, RoHS, and UL.
Free RGB/RGBW LED light design and free complete samples for bulk LED PCB board production.
Custom fabrication of LED modules for lights by wire bonding and flip-chip bonding is available.
PCBONLINE can design LED lights with custom power, lumen, color temperatures, and wavelengths.
One-on-one engineering support and customer services throughout your project.
You can have LED lights in your brand manufactured from prototypes to batch production with or without your PCB design. PCBONLINE can design the LED module, LED PCB board, and even the manual of the LED light for you, and then complete the whole LED light electronics manufacturing. If you need custom LED PCB boards, PCBA, and box-builds, please send your inquiry to PCBONLINE by email at info@pcbonline.com. The CAM engineer from PCBONLINE can reduce your project fabrication cost with an appropriate PCB design.
LED PCB boards and modules are the core components for any LED lights. You have 6 types of LED PCB options to design and fabricate depending on what applications they are used for. If you want custom LED PCB board and box-build fabrication, the one-stop source factory manufacturer PCBONLINE will satisfy your goal.
© This article is an original work of the PCBONLINE team. Please indicate the author PCBONLINE if you reprint. If the article is reproduced without permission or indicating the author's source, PCBONLINE reserves the right to investigate the infringement.
GET A FREE QUOTE
File Upload