Electronic contract manufacturing(ECM), also known as EMS (electronic manufacturing service), means that OEMs (original equipment manufacturers) outsource electrical product manufacturing to EMS manufacturers.
Part 1: What is Electronic Contract Manufacturing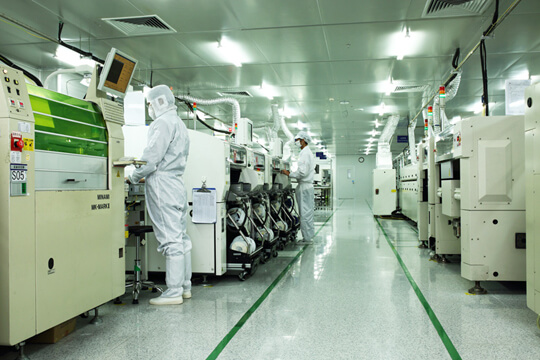 What is the services range of electronic contract manufacturing (ECM)? Please check -
◆ ECM is a one-stop solution, including electrical design, PCB layout, component supply, PCB manufacturing and assembly, end-product assembly, product maintenance, and after-sale services. Clients only need to provide ideas and delivery time.
◆ It can be that clients keep their R&D department to do the designing work and outsource hardware manufacturing to EMS companies. And EMS companies source components, manufacture and assemble PCBs, and assemble the end products.
◆ It can also be that clients keep the capability of designing. They hire one EMS company to do PCB manufacturing and assembly, the other EMS company to do the end-product assembly, and another to do the product after-sale services, etc.
In any cooperation case, electronic contract manufacturers usually don't manufacture components. This is because components have so many kinds of different packaging sizes. And some components are custom and in unusual shapes.
Note:If you are looking for a reliable and cost-effective electronic contract manufacturer, please contact PCBONLINE via email at info@pcbonline.com.
Why is Electronic Contract Manufacturing a successful business model?
The answer is that ECM reduces manufacturing costs and increases efficiency. In the past, electronic companies had to fulfill all manufacturing demands for their products, which took huge resources, effort, time, and money. Since electronic contract manufacturing emerged in the 1970s, electronic companies started outsourcing part of the manufacturing work. Electronic contract manufacturing allows them to focus on product research and development. Over decades of development, electronic contract manufacturing has these features:
EMS manufacturers usually have bigger sizes and more employees than OEMs.
EMS manufacturers focus on hardware manufacturing, and their clients focus on R&D and/or marketing.
With EMS manufacturers' manufacturing capabilities and high efficiency, OEMs manufacture products of better quality than if they did all on their own.
EMS companies source materials and components at lower prices because of volume pricing.
Besides manufacturing, EMS companies also do R&D to optimize hardware manufacturing processes.
Electronic contract manufacturing is a win-win solution. OEMs receive products at lower costs in a shorter lead time, and EMS companies receive orders to develop and grow.
Part 2: Top Electronic Contract Manufacturers in the World
Here lists the top 10 electronic contract manufacturers in 2020 in the world. Their names are not listed in order of manufacturing quality or capability but in their income in the year.
1. Foxconn manufactures for Apple, Nokia, Huawei, Sony, etc.
2. Flextronics manufacture for Microsoft, Dale, Siemens, etc.
3. Pegatron manufactures for Apple, etc.
4. Jabil manufactures for Philips, Yamaha, Cisco, etc.
5. Wistron manufactures for Microsoft, Apple, etc.
6. Sanmina manufactures for Hitachi, Ericsson, etc.
7. BYD manufactures for Apple, Huawei, etc.
8. Celestica manufactures for IBM, HP, etc.
9. New Kinpo manufactures for Casio, Ti, Citizen, etc.
10. USI manufactures for Apple, IBM, etc.
For the sake of intellectual property concerns, a big OEM company may hire different EMS companies to complete the whole hardware manufacturing project. For example, an OEM company asks one EMS company to do the Bluetooth module, one to do the LED screen module, another to do the camera module, etc.
Part 3: Advanced PCBA Electronic Contract Manufacturer PCBONLINE
PCBONLINE is an electronic contract manufacturer that focuses on one-stop advanced PCB manufacturing and assembly. It serves industries aerospace, defense, medical, automotive, industrial, communication, and consumer electronics. Founded in 1999, PCBONLINE provides one-stop hardware solutions, including PCB manufacturing, PCB assembly, PCB design, component sourcing, end-product assembly, and after-sales services for the products it manufactures.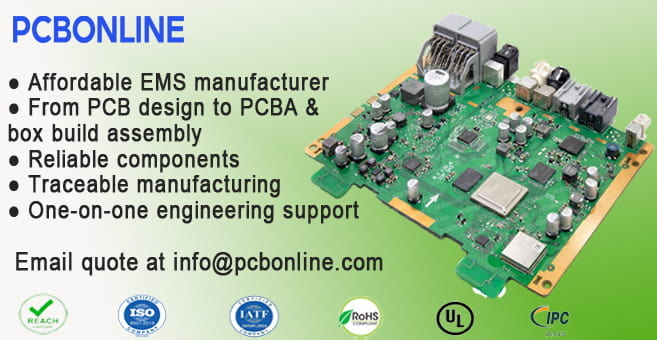 PCBONLINE's target clients are senior engineers, electronic solutions companies, research institutes, and terminal product companies.
PCBONLINE has below strengths in electronic contract manufacturing:
One-stop EMS services of the highest quality: IPC-A-600 PCB manufacturing, IPC-a-610 Class 2 / 3 PCB assembly, and components sourced from reliable manufacturers of a traceable quality.
Our electronic contract manufacturing is certified with ISO9001:2015, IATF 16949, REACH, RoHS, and UL.
Provide free one-on-one engineering support and design for excellence, manufacturing, and testing.
Professional solution experts always seek to save clients' costs with the latest technologies and manufacturing optimization.
After the PCB assembly, we conduct kelvin four-terminal sensing, functional test, thermal aging test, conformal coating, etc.
Delivery is fast. Our two-shift working system makes sure we deliver quality products on time.
Register to quote online, and you receive $100 coupons for online purchases. Or you can contact PCBONLINE online or by email.
Part 4: History of Electronic Manufacturing Services
The EMS industry began in the late 1970s when Solectron was founded. At the time, most electronics manufacturing for large-scale product runs was handled by the in-house assembly. These EMS companies offered flexibility and eased facility and labor issues for smaller companies.
The development of surface mount technology (SMT) on PCBs allowed for the rapid assembly of electronics. In the early 1990s, OEMs installed SMT lines. EMS players struggled to exist as OEMs would pull contracts. By the mid-1990s, EMS companies had more advantages in manufacturing, and OEMs began outsourcing PCB assembly on a large scale. By the end of the 1990s and early 2000s, many OEMs sold their assembly factories to EMS companies.
Conclusion
Electronic contract manufacturing is a business model in which OEMs hire EMS companies to complete the hardware building. Both two sides get benefited from electronic contract manufacturing. If you are looking for advanced PCB manufacturing and assembly, PCBONLINE, an emerging electronic contract manufacturer, is your reliable hardware solution expert and one-stop electronic contract manufacturer.
GET A FREE QUOTE
File Upload