PCB baking is the pre-treatment to dry printed circuit boards and moisture-sensitive components before PCB assembly to bake them so that no moisture is left inside them or on their surface. With PCB baking, the PCB assembly is away from soldering defects such as IC popcorning.
How to Bake Bare Printed Circuit Boards
When PCBs are within 2 months of the manufacturing date and sealed well, there is no need to bake them before the PCB assembly. If the PCBs are manufactured within 5 days, there is also no need to bake them.
But if the circuit boards are unsealed and placed in a temperature and humidity-controlled environment (≦30℃/60% RH), according to IPC-1601, here are the PCB baking temperature and time duration before they are going on the assembly line:
Baking temperature: 120±5℃
1. If the circuit boards are stored for 5 to 60 days, they need to be baked for 1 hour.
2. If the PCBs are stored for 2 to 6 months, they need to be baked for 2 hours.
3. If the PCBs are stored for 6 to 12 months, they need to be baked for 4 hours.
4. If the PCBs are stored for more than 12 months, they are out of date and not recommended to use. Moisture already causes corrosion to the PCB pads, and the solder mask may age or be harmed. The circuit conductivity is reduced, and the circuit loses the original resistance. So we don't bake them but discard them.
After the PCBs are baked, they should be assembled within 5 days. If they are not used within 5 days, one more time of baking is required.
Note:
Silver-plated PCBs and copper-plated PCBs cannot be baked. If they are stored for more than three months, they need to be returned to the PCB factory for re-plating, or they are discarded.
Now you've known the above PCB baking standard, you can see the PCB baking jig that loads the PCBs so that the PCB can be baked in the oven.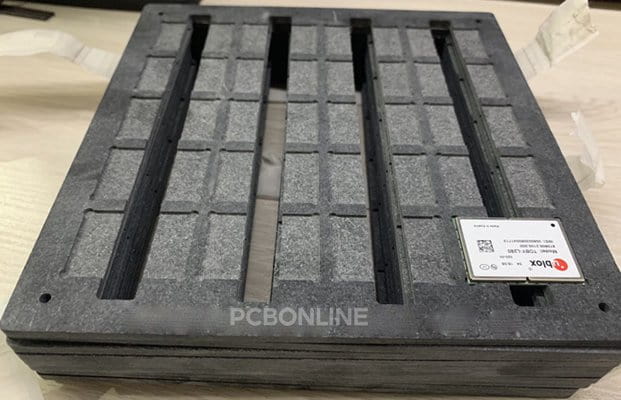 How to Bake Electronic Components?
Some surface-mounted devices (SMD) such as ICs and BGAs are moisture-sensitive.
Moisture-sensitive components are stored at 5-30℃ with relative humidity smaller than 50%. And usually, they need to be baked before going on the SMT line.
How to bake SMDs depend on the moisture-sensitive levels of the components and their storage time.
The below table shows the component baking standards made by the American Electronics Industry Association.
From the table, you can find that at both 90°C and 40°C, component baking requires relative humidity equal to or smaller than 5%. This is to create a humidity difference between the internality and the externality of the component. In this way, moisture inside the component can leave the component.
How to decide whether the components need baking or not?
In the packaging bag of moisture-sensitive components, there is a humidity indicator card. And the control period is printed on the packaging bag.
If the electronic components are beyond the control period, or the humidity indicator card turns pink, the components need baking.
For the ICs that are beyond the control period or their indicator cards turn pink, here are some IC baking practices according to the component baking standards:
1. BGA ICs: IC trays are baked at 125±5℃ for 32 hours; reel ICs are baked at 60±5℃ for 64 hours.
2. QFP, TSOP, TQFP, PLCC ICs: IC trays are baked at 125±5℃ for 24 hours; reel ICs are baked at 60±5℃ for 96 hours.
Other ICs: IC trays are baked at 125±5℃ for 24 hours; reel ICs are baked at 60±5℃ for 48 hours.
If the ICs need programming, they are baked before IC programming.
What to do after the PCBs and components are baked?
When baking is finished, the PCBs and components should be taken out to place flat and cool to room temperature. And then, for the best effect, they go on the PCB assembly lines in no time.
PCBONLINE - High-Quality PCB Assembler Bakes PCBs and Components Properly
If your want PCBs or components need baking and assembly, you can choose to work with the one-stop PCB manufacturer PCBONLINE.
PCBONLINE is a one-stop PCB assembly service provider, which follows the IPC-A-610 Class 3 standards. Besides PCB assembly, PCBONLINE manufactures circuit boards and sources electronic components according to clients' requirements.
At PCBONLINE, PCB baking follows IPC-1601 standards.
Components are stored in a Class 100,000 warehouse that is dust-free and anti-static with a space of constant temperature and humidity.
Inspections of temperature, humidity, and static to electronic components are carried out before assembly.
PCBONLLINE offers free and one-on-one engineering support (DFX) to clients.
PCBONLINE has strong manufacturing capabilities and achieves medical-grade PCB assembly.
PCBONLINE has rich PCB manufacturing and assembly experience for middle and high-end industries, such as medical, automotive, military, scientific research, computing, telecommunication, and consumer electronics. If you have electronic manufacturing needs, including PCB and components baking needs, you can contact info@pcbonline.com.
Conclusion
This blog tells how to bake printed circuit boards and electronic components, including the baking temperatures and duration. If your PCBs or components need baking before the assembly, PCBONLINE is a reliable one-stop service option.
GET A FREE QUOTE
File Upload