IC programming is the process of transferring a program into an IC. When ICs are manufactured in factories, they are blank. To make ICs control and manage the circuits, IC programming should implement.
We suggest IC programming before the PCBA delivery because we need to conduct the functional jig test after IC programming. For your convenience, the one-stop electronics contract manufacturer PCBONLINE provides free IC programming for PCBA and makes every effort to protect your software copyright.
Part 1. Introduction to IC programming
A program in an IC is just like an operating system in a computer, and IC programming is just like a system installation. IC programming can conduct on both blank ICs and programmed ICs. By IC programming, a blank IC can function, and a programmed IC can upgrade or replace its program.
We can transfer a program in ICs before or after PCB assembly, and the things needed are different.
What do you need for IC programming?
A program is a must. You need to design it according to your products' needs, or you can ask PCBONLINE to design the program for you.
Please check the IC programming methods below.
IC Programming in a Factory for Bulky PCB assembly
Preparation: the program for IC programming
Pros: fast, appropriate for bulky manufacturing
For high-volume PCB assembly, IC programming in a fast and efficient way is better - using industrial-class IC programming instruments.
When we source the ICs, we will ask an IC programming factory that cooperates with us. They will complete IC programming and return the ICs to us for PCB assembly.
IC programming for small-batch PCB assembly
Preparation: a program for IC programming, USB/TF card/type-C on PCB, an adaptor cable
Pros: IC programming while inspecting
For IC programming of low-volume PCB assembly, we can conduct it by connecting the PCBA with a computer to transfer the program to the IC.
On the PCB, you should design at least a USB, TF card, or Type-C connector for connecting the PCB assembly to a computer using a cable. You will need to provide us with the program and an adaptor cable.
After PCB assembly, we will connect the PCB assembly to a computer and transfer the program to the IC.
For each PCBA, we will conduct IC programming step by step. Usually, in IC programming, the program will process in 4 steps, and the steps are downloading modules > functioning > LED flashes > display "OK".
After IC programming, we will implement the functional jig test to ensure the whole PCBA work well.
IC programming using an IC programmer
Preparation: a program for IC programming, IC programmer or jig, an adaptor cable
Pros: IC programming while inspecting
The other IC programming method for small batch PCB assembly is using an IC programmer from the IC manufacturer (such as ST and TI).
You will send us the IC programmer or jig and the connection cable. After PCB assembly, we will connect the programmer to a computer using the cable and place the PCB assemblies on it. You can see the actual case of IC programming below.
When we deliver the PCB assemblies, we will return the programmer and cable to you.
Part 2. How to Protect Your Intellectual Properties When IC Programming
The most important concern for IC programming is intellectual property. How can you protect your program from being known by an electronics manufacturer?
Don't worry. We have already came out with solutions for you.
You can sign a non-disclosure agreement with us and use the cloud (such as Google Cloud, Amazon Cloud, and Alibaba Cloud) to program ICs.
Below is the process.
You upload your program to the cloud and give us a secure API interface to access the program. We can't download your program into our computer but only into ICs. Each downloading requires your warrant and programs for each board. During IC programming, the inspection also happens, and at the end of IC programming, a report of IC programming specifications is generated.
In this way, you don't have any risk of intellectual property leakage in IC programming anymore.
Part 3. Free IC programming Services for PCB Assembly
PCBONLINE provides free IC programming services to PCBA orders. Founded in 1999, the one-stop electronics contract manufacturer PCBONLINE provides advanced PCB fabrication, PCB assembly, components sourcing, and value-added services, such as IC programming, conformal coating, mechanical boxes, and end-product assembly. Our engineer can also design PCB for your project.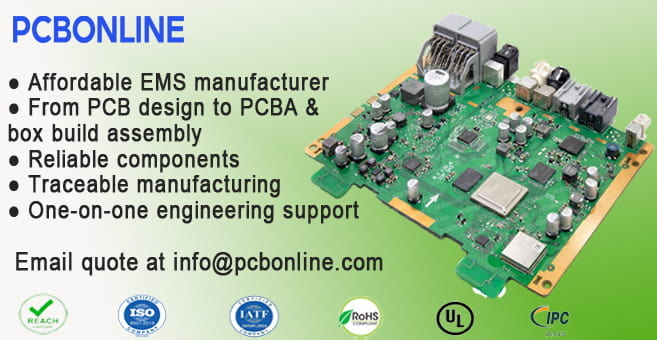 Here are reasons to program ICs for PCB assemblies from PCBONLINE:
PCBONLINE offers free IC programming for PCBA orders if you can provide the process and program.
We have free-to-use regular IC programming tools, jigs, and programmers.
We customize blister trays according to the PCBA size to carry PCBAs to prevent them from impacts or scratches.
After IC programming and functional jig testing, we can laser print QR codes on PCBs to preserve traceability. (optional service)
We protect your intellectual properties, including signing a non-disclosure agreement and using the cloud to program boards.
IC programming is one of our value-added services for PCBA. If you need IC programming and PCBA manufacturing, please feel free to contact PCBONLINE by email at info@pcbonline.com. We will offer one-on-one engineering support throughout your project.
Wrap It Up
If your PCBA has ICs, IC programming is needed before or after the PCB assembly. Without IC programming, a functional jig test to PCB assemblies can't happen. We recommend free, safe, and convenient IC programming from the one-stop PCBA manufacturer PCBONLINE. By having IC programming from the PCBA manufacturer, you don't need to struggle with IC programming and testing PCB assemblies anymore.
© This article is an original work of the PCBONLINE team. Please indicate the author PCBONLINE if you reprint. If the article is reproduced without permission or indicating the author's source, PCBONLINE reserves the right to investigate the infringement.
GET A FREE QUOTE
File Upload