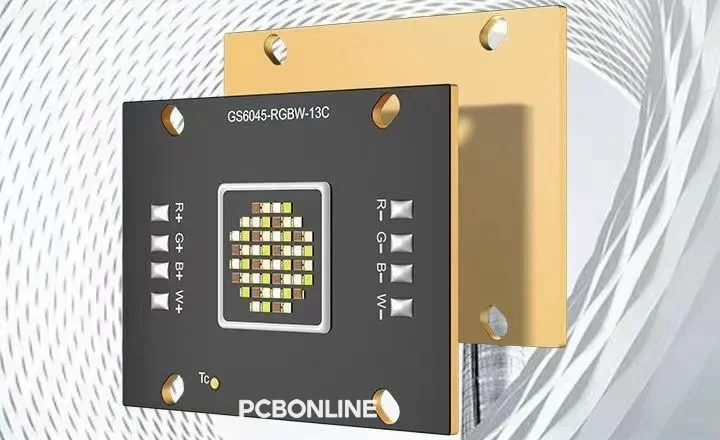 Copper core PCB is the most expensive metal core printed circuit board (MCPCB). This blog reveals everything about copper core PCB. You will understand why copper core PCB is gaining momentum despite its pricey tag.
What is Copper Core PCB
Copper core PCB, also known as copper-base PCB or copper substrate PCB, is a printed circuit board that uses copper as the substrate material.
According to different PCB sides and technologies, copper core PCBs include single-sided PCB, double-sided PCB, multilayer PCB (up to 8 layers), hybrid-laminated PCB, thermoelectric separation PCB, and inlaid copper PCB.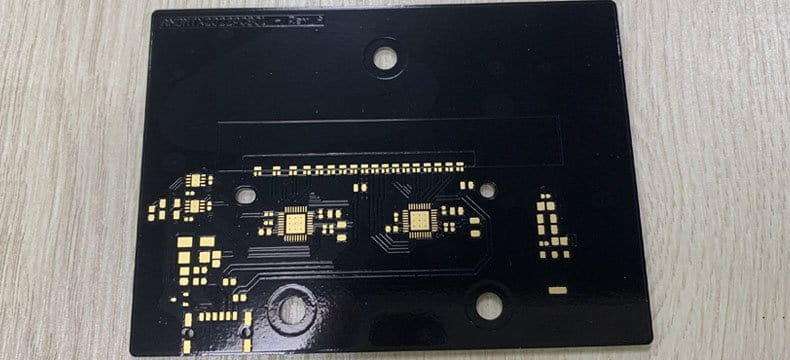 The substrate material of copper core PCB is red copper (pure copper). It serves the copper core PCB and products in thermal dissipation, shielding, grounding, and mechanical support.
At the one-stop PCB manufacturer PCBONLINE, the normal thickness of the copper substrate is 0.2mm to 0.6mm.
The copper thickness of the circuits ranges from 1oz to 10oz (35um to 350um).
The surface finishes of copper core PCB can be OSP, immersion gold, silver plating, and HASL.

You can see the structural image of a copper core PCB. Like aluminum PCB, the prepreg/dielectric layer of the copper core PCB insulates the copper substrate and the circuit layers but also affects thermal dissipation.
The MCPCB's dielectric layer has a thickness of 50um, 75um, 100um, or 150um. Its thermal conductivity is 1W to 12W.
Excellent thermal dissipation is one of the reasons that copper core PCB is worth the most expensive MCPCB.
You will understand the other reasons why copper core PCB is worth the pricey reputation from its other characteristics below.
Characteristics of Copper Core PCB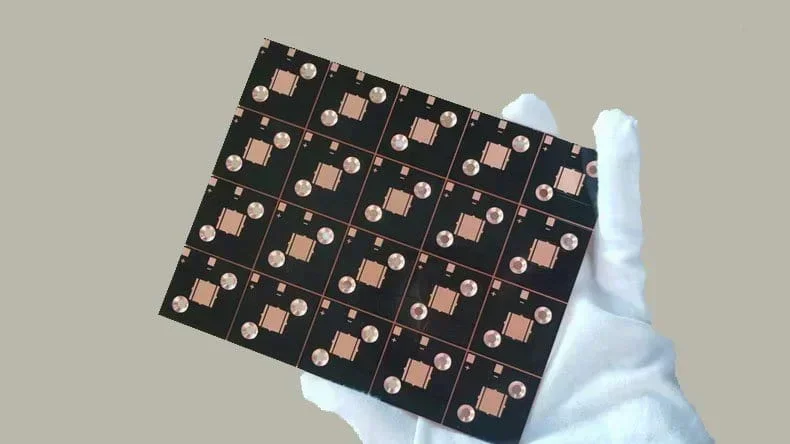 Copper core PCB is worth the most expensive MCPCB because of its great thermal conductivity, manufacturing possibility, and structural stability.
The thermal dissipation effect of copper copper PCB is several times better than aluminum PCB and dozens of times better than iron-based PCB.
The PCB vias of copper core PCB can be plated with copper to be conductive and be in the same network to achieve good grounding for the signals.
The copper base is solderable and allows structural metal parts to solder on the PCB in box-build assembly.
The PCB pads of copper core PCB can be processed to be bumps, which can directly solder flip chips to achieve good grounding and thermal dissipation.
Copper core PCBs have a smaller warpage than aluminum PCBs because of their elastic modulus difference. (Copper has an elastic modulus of 121,000MPa, while aluminum has 72,000MPa.)
Copper core PCB has a smaller CTE (coefficient of thermal expansion) than aluminum PCB and thus better structural stability.
For thermoelectric separation copper core PCB, the PCB pads for components that generate heat are made into bumps, and the heat conducts from the component base to the PCB's copper base directly. Its thermal conductivity can reach 398W/mK, which is the same as copper itself.

Besides, copper core PCB can inlay or be inlaid in other materials, for example, ceramic PCB can inlay the copper base, or the FR4 PCB can inlay copper.
Copper Core PCB Design
Here are some rules for copper core PCB design as below.
Because the copper base is thick, the minimum drill bits for copper core PCB must be 0.4mm.
The PCB circuit thickness determines the trace width/space. The larger the copper thickness, the larger the trace width/space.
As most copper-core PCBs are high-current PCB boards, you can read high-current PCB design tips that shine a light on copper-core PCB design.
Applications of Copper Core PCB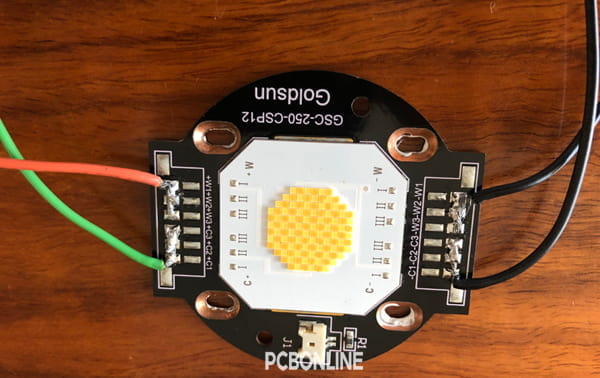 Copper core PCBs are suitable for applications with large temperature differences between high and low temperatures, those requiring high thermal dissipation, and high-frequency circuits.
The applications of copper core PCB include LED lighting, automotive electronic parts, power modules, high-frequency military communication/radar/detectors, power supplies, etc.
We classify the applications of copper core PCB below.
Automotive: vehicle headlights, ignitors, and power controllers.
LED lighting: fluorescent lamps, street lamps, downlights, wall washers, mining lamps, stage lights, and ship lights.
Power modules: converters, solid relays, and rectifier bridges.
Power supplies: switching regulators and DC/AC converters.
Audio equipment: I/O amplifiers, balanced amplifiers, audio amplifiers, preamplifiers, and power amplifiers.
Communication electronics: high-frequency amplifiers, filters, and transmitters.
Office and home appliances: motor drivers in fans, range hoods, washing machines, and whirlpools.
Computers: CPU boards, floppy disk drives, and power supply devices.
Copper Core PCB Manufacturer PCBONLINE
PCBONLINE is a one-stop copper core PCB manufacturer providing R&D, prototypes, PCB fabrication, PCB assembly, component sourcing, enclosures, and box-build assembly.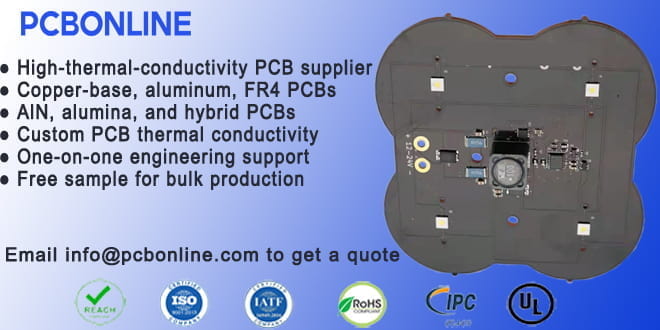 Founded in 1999, PCBONLINE has two large advanced PCB manufacturing bases and one EMS PCB assembly factory.
Here are the advantages of PCBONLINE in copper core PCB manufacturing:
PCBONLINE grasps the core technology of thermoelectric separation and MCPCB prepreg.
It can make a good balance between thermal dissipation and dielectric strength according to the PCB application.
PCBONLINE provides one-stop copper core PCBs and products from design to fabrication and finished products without quantity limits.
1 to 8-layer copper core PCB, single-sided, double-sided, hybrid-laminated, inlaid copper core PCB, and thermoelectric separation copper core PCB are provided.
As a source factory manufacturer, PCBONLINE provides copper core PCB at a reasonable price, of high quality, and on time.
Over the many years, PCBONLINE has provided copper core PCB fabrication and assembly for various applications successfully. By working with PCBONLINE, you can enjoy professional one-on-one engineering support all the way and 24/7 customer service. If you need copper core PCB or any other circuit boards, you can contact PCBONLINE by email at info@pcbonline.com.
Conclusion
Though copper core PCB has the highest price in MCPCBs, its excellent thermal conductivity, design and manufacturing possibility, shape stability, and small warpage and CTE win momentum in a lot of applications. Are you ready with affordable copper core PCB fabrication? Work with the source factory one-stop manufacturer PCBONLINE.
© This article is an original work of the PCBONLINE team. Please indicate the author PCBONLINE if you reprint. If the article is reproduced without permission or indicating the author's source, PCBONLINE reserves the right to investigate the infringement.
GET A FREE QUOTE
File Upload