A naked PCB is a printed circuit board without the solder mask, and it has only one or two circuit layers so that PCB designers can cut or solder the copper traces to test their design.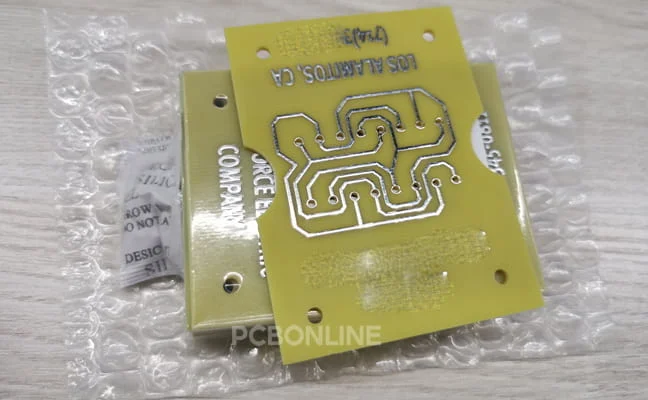 The following is what this article reveals:
Part 1. What is Naked PCB
To understand naked PCBs, you should know the difference between naked PCBs and bare PCBs.
Naked PCBs are incomplete circuit boards with no solder mask to cover the copper traces, and bare PCBs are complete circuit boards without components mounted on them.
Depending on the needs, silkscreen can either be printed or not on naked PCBs. Naked PCBs also have PCB pads.
After the circuit lines are generated on the PCB core or laminate, the surface finish (such as OSP, ENIG) is processed on PCB pads, and then silkscreen is printed on the laminate material.
You can see a naked PCB example below.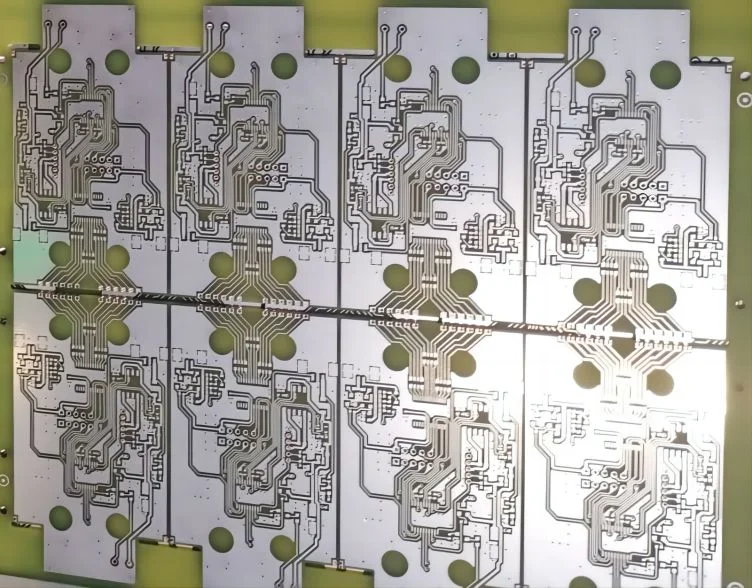 To some degree, a PCB ruler can also be considered a naked PCB.

Part 2. When Do You Use Naked PCBs
According to our experience, the demand for naked PCBs is not that big. Customers who order naked PCBs are not settled down with their project designs yet, and they use naked PCBs to test their designs on board.
The copper traces of naked PCBs are exposed, and engineers can cut and solder the traces easily.
After engineers are determined with their project design, they can have PCBs manufactured and assembled from PCBONLINE.
So the use of naked PCBs still happens in the project development phase, exactly when the PCB design is almost finished.
Part 3. Naked PCB Manufacturer PCBONLINE
PCBONLINE is a one-stop advanced PCB manufacturer and provides naked PCB manufacturing as a small branch of its services.
Here are the manufacturing capabilities of naked PCBs from PCBONLINE:
| | |
| --- | --- |
| Layers | |
| | |
| | |
| | FR4, high Tg FR4, ceramics, Polyimide, aluminum |
| | 135℃, 140℃, 150℃, 170℃, 180℃ |
| | |
| | ±3mil |
| | 1/3oz to 6oz |
| | |
When you have modified your PCB and decide to have your boards manufactured and assembled with electronic components, please feel free to continue working with PCBONLINE. You can enjoy these benefits:
High-quality PCB manufacturing following IPC-A-600F Class 2/3 standards
Turnkey PCB assembly services following IPC-A-610 Class 2/3 standards
One-on-one engineering support with free DFM, DFT, DFX
Free complete PCBA samples and PCBA functional tests for bulky orders
Quality-traceable electronic components sourcing services without profit
Part 4. How to Buy Naked PCBs
You can send an email with your Gerber attached to info@pcbonline.com to order naked PCBs, PCB manufacturing, PCB assembly, and electronic components.
Or you can click the above "Online Quote" button to buy naked PCBs online.
The steps to buying naked PCBs are:
Step 1. Design your PCB
On PCB design software, draw the schematics and generate Gerber files and drill files. The files should be a RAR or ZIP file.
Step 2. Upload Gerber on PCBONLINE's PCB viewer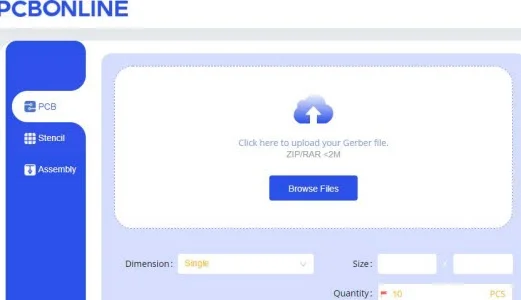 Go to PCBONLINE's online purchase system https://sys.pcbonline.com/instant-quote/. Click the "Browse Files" button to upload your Gerber.
Your PCB is displayed visually. The default PCB quantity is 10. Modify the quantity if you need it.
Step 3. Check the PCB Specifications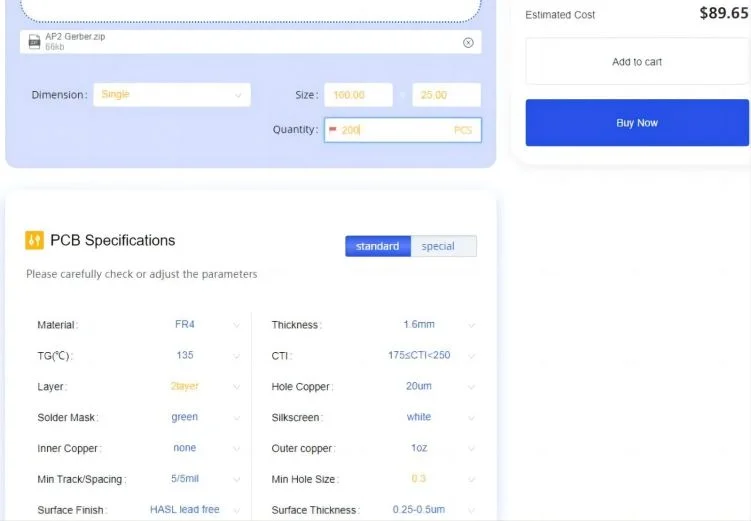 The PCB viewer automatically analyzes and displays the specifications of your PCB. Check the specifications. If there's something wrong, modify it.
On the right of the screen, you can see the PCB price.
Step 4. Continue and complete the payment
Click "Buy Now" if you want to buy one model of PCBs, or click "Add to cart" if you want to buy more models
Follow the on-screen instructions to fill in your delivery information. Complete payment via PayPal, credit card, or bank transfer.
Step 5. Wait for delivery and use naked PCBs
Naked PCB manufacturing is completed within 1 to 3 days from PCBONLINE. The delivery time depends on the delivery countries. It usually lasts 2 days to arrive in the US and Europe.
Part 5. Benefits and Applications of Naked PCBs
Compared with breadboards which have very simple circuits, naked PCBs allow more complex circuit designs, and the cost is also low. The benefits are:
Easy modification at less cost
Unlike design testing on PCB prototypes, there is no solder mask on naked PCBs, and cutting or soldering copper lines is easy. And the manufacturing cost of naked PCBs is much lower than PCB prototypes.
On-board electrical test
Naked PCBs are printed circuit boards, while breadboards are not. The circuit test effects on them are different, and naked PCBs perform almost the same as end products to the most degree.
More design assurance
Using naked PCBs to modify and test out your design gives more assurance to the end products. Naked PCBs are easy to debug, and using them to modify your design before PCB manufacturing can avoid possible economic losses.
Naked PCBs are used to modify designs of one and two-layer PCBs. Usually, one or two-layer PCBs are simple boards, and there is not much necessity to use naked boards for a design modification. But not all one or two-layer boards are simple, and they can be single-sided or double-sided, such as:
Ceramic substrate PCBs
2R+1F rigid-flex PCBs (2 layers)
Flexible PCBs
Thick copper PCBs
Aluminum PCBs
If you are not very assured of your design of the above PCBs, naked PCBs can be used to test out and modify.
If you do not want naked PCBs for these advanced designs, you can still let PCBONLINE manufacture and assemble your PCBs for the end products, as our solution experts provide professional engineering support and ensure good results from your design.
Conclusion
Naked PCBs have no solder mask, and the copper lines are exposed. This makes cutting and soldering lines easy, and in this way, engineers use naked PCBs to modify your design. You can have naked PCBs manufactured from PCBONLINE. The quality is good, prices are low, and turnaround is fast. After you try naked PCBs, do not forget to continue PCB manufacturing and assembly from PCBONLINE, which is high-quality and cost-effective.
GET A FREE QUOTE
File Upload