LED PCBs are typically thin for efficiency and heat dissipation, which allows for higher performance of the assemblies.
If you are working on an electronics-related project which requires the use of many light-emitting diodes (LEDs), then it is recommended to go for an LED PCB. They have many advantages and applications in the world of electronics.
This article will cover everything that you should know about LED PCBs to make sure all your doubts are cleared.
Foreword: What Is an LED PCB?
An LED PCB is a printed circuit board specially made for LED circuits since they produce a great amount of heat energy. LED PCBs are generally metal-based MCPCBS, and their substrate is aluminum, which has good thermal conductivity.
LED PCBs are made of a special thin layer of thermally conductive material that dissipates heat quickly as compared to the usual PCB boards. Aluminum is the main material used in LED circuit boards.
Besides aluminum, the substrate material for LED PCBs includes FR4, polyimide (PI), aluminum nitride, aluminum oxide, and copper.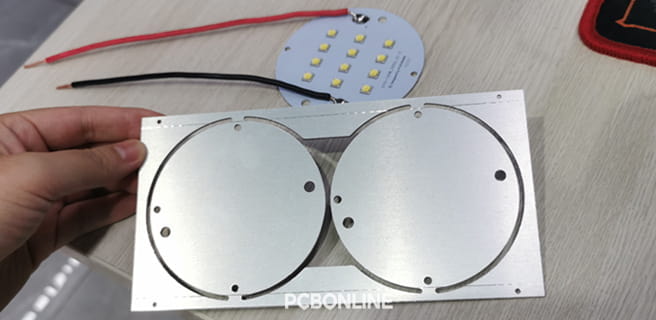 The design of LED PCBs is fairly simple. One or more LEDs are soldered to the aluminum-based board along with heat sinks and a chip.
All you need to do is connect the chip to a power supply through the positive and negative terminals present on the PCB, and the LED circuit board will light up instantly.
What Are the Benefits of Using LED PCBs in Electronics?
Using LED PCBs in electronics has quite a lot of benefits. Since it is a circuit board specially made for LEDs, there is a lot that this board offers and allows LEDs to work perfectly.
Here is a list of benefits that you can enjoy while using LED circuit boards in your electronic circuit design.
Light Weight and Small Size
LED PCBs are lightweight and come in a small size, which means you can use them in projects where a small-sized, lightweight LED PCB is required. They won't add to the weight of the overall electronic circuitry.
Low Power Consumption
Compared to other sources of light, such as bulbs, LEDs have low power consumption. They don't dissipate as much heat as traditional bulbs do. According to a study, LEDs use 75% less energy than traditional bulbs, which means that using LED PCBs will help you save electricity.
Long-Lasting
Using LED PCBs instead of traditional bulbs will save you from replacing them time, and because LEDs have a much longer lifespan, they will last you for a long time.
High Efficiency
LEDs do not dissipate a large amount of heat, which means they are highly efficient as compared to other sources of light energy. Using an LED PCB for incorporating lighting in your project will save you from wasting electrical energy by converting it into heat energy. Using an LED PCB will improve the efficiency of your project.
Easy to Integrate
LED PCBs are easy to integrate, which means that you can incorporate them into complex projects and electronic circuits without any hassle. They do not need a large amount of circuitry or expertise to be connected to a circuit system. All you need to do is connect the positive and negative terminals present on the LED circuit board to a power supply.
Dust and Moisture Free
Dust and moisture are the two major enemies of electronic circuits. High-quality LED PCBs are dust and moisture-resistant, which means you don't have to worry about dust particles and moisture droplets ruining your LED circuit board.
Mercury-Free
Using LEDs instead of other types of lighting will save you from the guilt of introducing toxic substances, such as mercury, into the environment. LED circuit boards are mercury-free, which is a great benefit that they offer.
No Radiofrequency Emission
Another great advantage of using LED PCBs is that they do not emit RF waves during operation. If RF waves are sent out to a device, they will interfere with other electronic devices and components present in the surroundings. Using an LED PCB will save you from worrying about RF interference.
Environmental Friendly
Overall, LED PCBs are considered to be environmentally friendly since they do not emit harmful substances, and they last for a long time, which means you dispose of them once in a while, hence creating less waste.
Wide Range Availability
LED PCBs are available in a wide range of colors and sizes. You can choose from a variety of LED colors and can also customize the circuit board dimensions according to your application.
Reduces Operational Costs
Using LED PCBs instead of other sources of lighting has proved to reduce operational costs because they are more efficient and last for a long time, which means that they help you save money in the long run. What's better than saving money and getting a high-quality, long-lasting LED circuit board at the same time?
Where Can You Get the Best LED circuit Boards?
Are you looking for a trusted manufacturer who can provide you with the best LED PCBs at a reasonable price? If yes, we have got the perfect recommendation for you. PCBONLINE is your one-stop shop for all your PCB needs. They are best at manufacturing and assembling LED PCBs, and their services won't feel heavy on your pocket.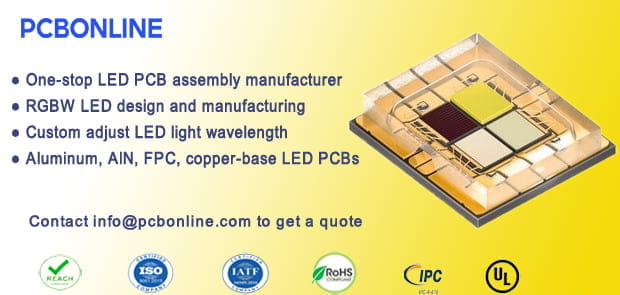 Here are a few reasons why you should opt for PCBONLINE for buying the best-LED circuit boards.
Free DFX/DFM/DFT: PCBONLINE offers you free services of Design For Excellence, Manufacturing, and Testing. This provides assurance for the quality and cost-saving of your LED PCB products.
Wide Variety of LED PCBs to Customize: PCBONLINE offers a wide range of LED circuit boards, which include LED aluminum PCB, LED strips, and LED display PCB board of different specifications. Moreover, they also manufacture custom LED PCBs which are designed according to your application.
21 Years of Experience: PCBONLINE has been manufacturing LED circuit boards for the past 15 years and has maintained a good reputation in the market. It's best to choose someone who very well knows how to do their job.
Fast Delivery: with PCBONLINE, you won't have to wait for months to get your LED circuit delivered to your doorstep. They believe in providing a quick service, which means that your LED PCB will be processed and shipped to your address in no time
Amazing Discount: What's better than getting a discount coupon code for your next purchase with PCBONLINE? They offer 100 USD coupons to every person who registers on their website.
The Applications of the LED PCB
The light-emitting diode (LED) is an electronic component that is made up of highly doped semiconductor material, usually silicon and germanium. LEDs emit light energy when a certain level of current passes through them. They are made up of a p-n junction, just like a normal diode, but the difference is that normal diodes do not emit light energy whereas LEDs do.
LED PCBs are widely used in electronic circuits. Whether you are a student, an electronic enthusiast, or a working professional, you must have worked with LEDs many times. They have many applications, and you will find them in almost every other circuit. Let's see what the applications of LEDs are.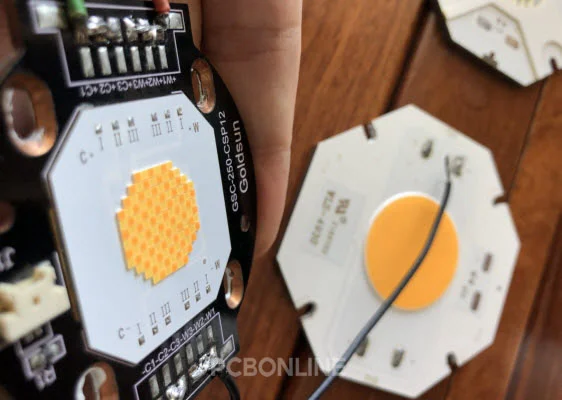 LED Lamps
The main use of LED PCBs is definitely all kinds of LED lights. LED PCBs have great thermal conductivity, and the LED lights can have large power.
They can be LED grow lights for argricultural planting, floodlights for business premises, stage lights in theaters, ship lights on sea, swimming pool lights underwater, etc.
Indicators:
LEDs are most commonly used in electronic circuits as indicators. For instance, LEDs are used to show whether your computer monitor is turned on or off. A red light indicates that the monitor is OFF, while a green light indicates that it is on.
Moreover, LEDs are used in handheld torches, emergency lights, and cap lamps used by mining professionals. These lamps last a very long time and are robust, so you cannot easily break them. LEDs are also used as backlights in TV displays and monitor these days.
The warm and calming lights present inside the airplane cabins are also LED lights. They help provide a warm, cozy, and relaxing environment for the passengers. The applications of LED as an illuminator have grown significantly and will hopefully keep on growing.
Data Communication:
LEDs are also used for data communication, such as the transfer of information. Optic fiber technology uses LEDs to send information from one place to another. Moreover, visible light communication (VLC) uses LED as the main information transfer medium because LEDs provide a high data bandwidth that helps communicate effectively.
Machine Vision Systems:
A great example of a machine vision system using LED is a barcode scanner. Typically, a red LED is used in barcode scanners which you must have seen in supermarkets and grocery stores. The fact that LEDs are a source of bright light and are compact in size, makes them a great fit for machine vision systems.
Miscellaneous Applications:
A great example of a machine vision system using LED is a barcode scanner. Typically, a red LED is used in barcode scanners in supermarkets and grocery stores. LEDs are a source of bright light and are compact in size, making them a great fit for machine vision systems.
Some Considerations for Designing an LED PCB
Above is an RGBW (red, green, blue, and white) LED PCB light that PCBONLINE designed and manufactured for a client. It has 8,000 lumens and is used on ships. If you have LED PCB needs and want design assistance, you can contact PCBONLINE by email at info@pcbonline.com to get help.
Designing an LED PCB is a process that requires some standards and rules to be followed. It might sound like you only need to pop some LEDs on the printed circuit board, and you are good to go, but that's not the case. Here is what it takes to design an LED PCB:
Component Placement: the right component placement is what it takes to design an efficient LED circuit board. Placing the right component at the right spot is crucial in PCB design. Along with LEDs, an LED PCB contains other components such as connectors, resistors, and thermistors, which need to be placed at a suitable distance from each other. The creepage (the shortest distance between two components) and the clearance (distance measured through the air) should be considered when designing an LED PCB to avoid damaging consequences such as overvoltage.
PCB Material: choosing the right material for your LED PCB is challenging because there are multiple materials available in the market, and each has its own pros and cons. You'll need to study their merits and demerits to find out which material is suitable for your application. You might need professional help with it, and the best place to go is PCBONLINE. We provide free and professional suggestions.
Thermal Management: LEDs and other components placed on the PCB will certainly dissipate heat energy, and if that energy is not channeled the right way, then it might end up damaging your circuit board. The addition of vias and heat sinks will allow you to manage the heat energy present within the board. Professionals at PCBONLINE know exactly what it takes to manage the heat produced by electronic components.
Tracking: tracking is the process of ensuring that no part of the net is left open or is forming a short circuit. After the components are placed, the process of tracking begins. The flow of current is also monitored such that it does not contribute to the production of heat energy in the circuit.
Conclusion
LED PCBs are used in many different applications and are almost used in every other circuit. If you are looking for a professional LED PCB manufacturing and assembly service, then you should opt for PCBONLINE. Their skilled engineers know what it takes to design the best LED circuit board at a very reasonable price. They have been present in the market for more than 20 years, which shows that they know how to do their job best. You can also get an instant quote for your LED PCB design by visiting the website. Moreover, you will get a 100 USD discount coupon after you register yourself. So hurry up and order your LED circuit board now!!
GET A FREE QUOTE
File Upload