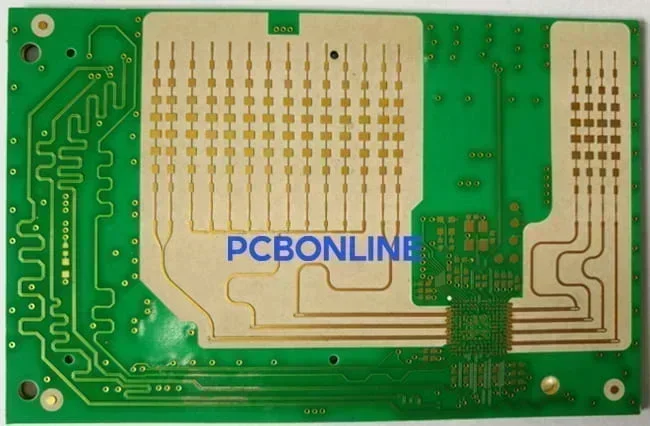 Rogers PCB is a type of high-performance PCB used in high-speed, high-frequency, radio, and microwave fields, such as antennas. Among the many Rogers laminate materials, you may consider Rogers 5880 laminate as the substrate of your PCB.
Before you choose Rogers 5880 as your PCB substrate, you may have some questions about Rogers 5880 PCB. For example, what are the features and benefits of Rogers 5880 PCBs? How much will a PCB house charge for manufacturing Rogers 5880 PCB?
In this blog, we'll go over the introduction of Rogers 5880 PCB and show you an example of a finished Rogers 5880 PCB, so you can find answers to Rogers 5880 PCB.
Part 1: What is Rogers 5880 Laminate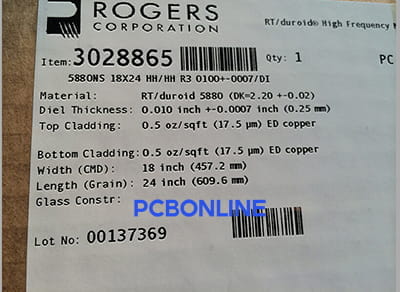 Rogers RT/duroid 5880 laminate is a glass microfiber-reinforced PTFE composite. It belongs to the RO4000 series, which is specifically designed for high-performance RF/microwave applications.
Rogers 5880 and its variants are easy to cut and shear to shape. It is a popular high-frequency laminate.
Before you decide whether to choose Rogers 5880 as the substrate of your high-frequency PCB, know some critical features of it:
It is nearly isotropic, which means the same physical properties are measured in different directions, such as dielectric constant (Dk) and thermal conductivity.
The Dk of Rogers 5880 laminates is 2.20±0.02 at 8GHz to 40GHz, which is very low and stable. Keep in mind that the Dk value of the laminate material should align with your desired signal characteristics.
And the loss tangent (Df) or dissipation factor of Rogers 5880 in the Z direction is 0.0009 at 10GHz, which is very low and ensures minimal signal distortion.
By using the ASTM D695 test method at 80°C, the thermal conductivity of Rogers 5880 in the Z-direction is 0.20W/m*K.
Their moisture absorption rate is 0.02%, which is very low.
Besides, Rogers 5880 can survive highly corrosive environments. In the PCB fabrication process, there are the etching and copper plating steps, where the laminate is put in chemical solvents. Rogers 5880 can survive the chemical etching methods.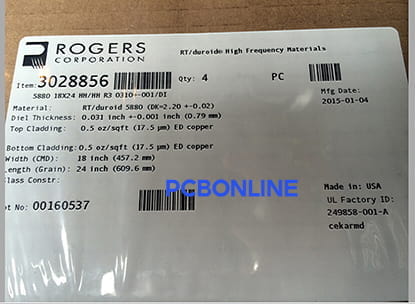 What's more, because Rogers RT/duroid 5870/5880 PCBs can be used for military applications, Rogers 5880 is a military-grade laminate. So it may be forbidden for you to ship Rogers 5880 laminate to a PCB manufacturer in China, but a high-frequency PCB manufacturer such as PCBONLINE can purchase the laminate and fabricate them to be Rogers 5880 PCB according to your design.
Part 2: Rogers 5880 PCB Overview
Rogers RT/duroid 5880 has a small and stable dielectric constant, loss tangent, and thermal expansion and contraction, making it a popular Rogers laminate material for PCB.
By using Rogers 5880 laminate material, PCBs can survive in high moisture environments for stripline and microstrip circuit application.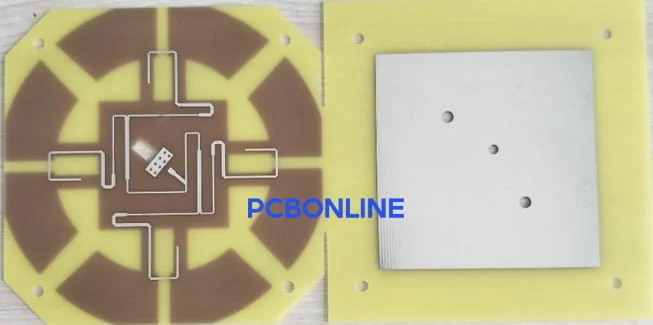 The typical applications of Rogers 5880 PCB and its variant laminate PCB include:
Commercial broadband applications such as network services and end-user applications
Millimeter-wave (30GHz-300GHz) applications such as automotive radars, telecommunications, and remote sensing
Military applications such as missile guidelines and radar systems and point-to-point antennas
Now do you need Rogers 5880 PCB fabrication from a PCB manufacturer? Some specifications of Rogers 5880 PCB are below:
Rogers 5880 PCB has a copper thickness range of 0.5oz to 2oz
The operating temperature range of -55°C to 125°C
Finished Rogers 5880 PCB has a thickness range of 0.5mm to 1.6mm
The typical PCB layer count of Rogers 5880 PCB is 2
The Dk value of Rogers 5880 PCB is 2.20±0.02 at 8GHz to 40GHz
The Df value of Rogers 5880 PCB is 0.0009 at 10GHz
The layer count of Rogers 5880 PCBs is not only determined by the laminate material but also by the complexity of the circuit and specific application requirements.
Rogers 5880 can be used as one layer in the stack-up of a hybrid-substrate PCB.
For a PCB using solely the Rogers 5880 laminate material, the common PCB layer count is 2.
It is not uncommon to find Rogers 5880 being used in high-frequency multilayer designs with 4, 6, 8, or more layers.
Part 3: An Example of Rogers 5880 PCB and Its Price
With a basic overview of Rogers 5880 PCB, you may want to know the price of it from a source factory PCB manufacturer. We'll show a Rogers 5880 PCB example to you so that you can know the rough price of your PCB.
The image above shows the top and bottom of a double-sided Rogers 5880 PCB. And its specifications are:
Laminate material: Rogers 5880
Laminate thickness: 1.57mm
PCB layer count: 2
Finished PCB thickness: 1.60±0.1mm
Finished PCB size: 40mm * 35mm
Surface finish: immersion silver
Solder mask: none
Silkscreen: none
What about the price of this Rogers 5880 PCB? It is a small-batch PCB fabrication order. The total price is $1044 for 16 pieces. So the unit price of this Rogers 5880 PCB is $65.25.
As we all know, Rogers PCB is custom designed and fabricated, so its price varies depending on the laminate price itself, the circuit complexity, and quality-grade requirements.
For the same PCB design, no matter what quantities of PCB are to be fabricated, the PCB manufacturer spends the same amount of energy in engineering and design for manufacturing (DFM) and testing (DFT) in the fabrication project.
Keep in mind that the more PCB quantities, the lower the unit price.
And source factory manufacturers such as PCBONLINE provides original PCB and equipment manufacturing. You can save extra on the agent fee without an agent between you and the original manufacturer.
Part 4: High-Quality Rogers 5880 PCB Fabrication from PCBONLINE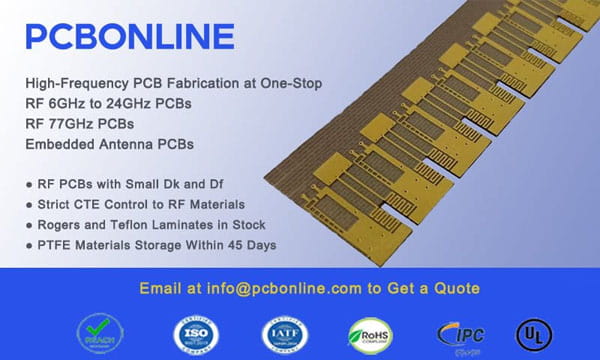 Rogers PCB is complex PCB. For Rogers PCB fabrication, remember to choose an advanced PCB manufacturer.
PCBONLINE is a one-stop PCB manufacturer with specialized equipment for high-frequency PCB fabrication. Founded in 1999, it has two large advanced PCB manufacturing bases in Jiangsu and Jiangxi, and one EMS PCB assembly factory in Shenzhen.
You can work with PCBONLINE for the fabrication and assembly of any Rogers PCB including Rogers 5880 PCB.
Quality is the top consideration in Rogers PCB fabrication. Relying on rich fabrication experience, PCBONLINE ensures the best quality of Rogers PCB from PCB prototypes to massive production.
Here are some crucial points in Rogers PCB fabrication from PCBONLINE:
According to different copper thicknesses, PCBONLINE can compensate for the trace width and measure the etched copper to confirm its thickness tolerance within ±0.02mm (the limit is ±0.015mm).
After the film is drawn, PCBONLINE checks to make sure no pits, pinholes, notches, or any other minor defects in the circuit lines.
For edge and hole copper plating, which is the most difficult step in high-frequency PCB fabrication, PCBONLINE uses the Plasma method to remove all drilling dirt away from the PCB hole and edge. With the Plasma method, PCBONLINE ensures the PCB hole and edge have uniform copper and allows no blank.
PCBONLINE has strict control over to solder mask thickness of Rogers PCB. The thickness range is 20μm to 30μm.
The final destructive test to Rogers PCB from PCBONLINE is thermal shock at 288℃ for 10 seconds, for 1 to 3 times. This makes sure no PCB hole wall copper separation.
Besides the crucial points, Rogers PCB fabrication from PCBONLINE has such advantages:
PCBONLINE keeps high-frequency PCB laminate materials such as Rogers RT/duroid 5880 in stock. The storage time of high-frequency laminate materials is within 45 days to ensure the best quality.
The experienced CAM engineer from PCBONLINE can minimize the PCB impedance tolerance within 2% and optimize RF performance.
PCBONLINE can make the RF interface and digital interface on the same high-frequency PCB.
PCBONLINE can minimize the thermal expansion and contraction of the RF microwave PCBs.
Throughout the PCB project, PCBONLINE provides one-on-one engineering support and customer services. Besides PCB fabrication without a quantity limit, PCBONLINE provides components sourcing, PCB assembly, post-assembly inspections, and value-added services till the delivery of the module or finished product to you.
If you need Rogers PCB such as Rogers 5880 PCB, feel free to contact PCBONLINE by email at info@pcbonline.com.
Conclusion
You can use a Rogers 5880 PCB for many high-frequency applications, such as commercial broadband, millimeter-wave, and military electronics. This blog also shows an example of Rogers 5880 PCB. You can refer to its price to know the rough price of your PCB. If you want to know the specific price, you can get a quote by sending your Gerber to PCBONLINE by email.
© This article is an original work of the PCBONLINE team. Please indicate the author PCBONLINE if you reprint. If the article is reproduced without permission or indicating the author's source, PCBONLINE reserves the right to investigate the infringement.
GET A FREE QUOTE
File Upload