Flexible PCB materials include copper, adhesive, and polyimide (PI) or pester (PET). For copper used for flexible PCBs (FPC), both RA copper and ED copper can be used as the copper foil.
The ED or RA copper foil is used as the flexible PCB circuit layers. The copper type decides the flexibility of the FPC and is an important factor affecting the PCB price.
The copper foil thickness of flex PCBs can be 12μm, 15μm, 25μm, or 35μm.
Which copper do you choose as the substrate material of your flexible PCB? Choosing which type of copper foil depends on the different bending and thickness requirements of flex printed circuits.
Part 1: RA Copper for Flexible PCB
RA copper is rolled annealed copper foil.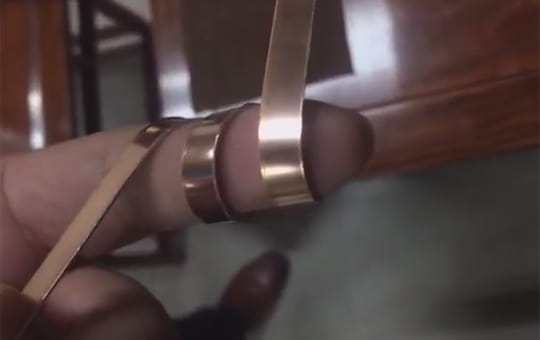 If an FPC (flexible printed circuit) uses RA copper, it must use adhesive to bond the conductor layers and insulating layers.
Thus, the thickness of an RA copper FPC is larger due to the extra adhesive layers.
RA copper is used in flexible PCBs that bend repeatedly in applications, such as the connection of the LED display of computers and smartphones.
If an FPC is thick-copper (3oz), it must use ED copper as the adhesive is required.
Besides, in rigid-flex PCBs, the flex PCB layer must be RA copper.
The applications of flexible circuit boards using RA copper include:
slider phone boards,
foldable LED screens,
rotation axis of artificial satellites,
the battery system of electric vehicles
,
medical electronic devices such as gastroscopy,
wearable and portable devices.
RA copper copper is made from a copper ingot with a thickness of about 20cm. The copper ingot is rolled and annealed repeatedly until it reaches the copper thickness that the flexible PCB wants.
Under a 1000x microscope, you can find the cross-section of RA copper foil has a layered crystal structure.
RA copper foil has excellent extensibility. It can extend 20% to 45% of its original length. However, RA copper has a rough surface, which makes circuit etching not very fine.
The price of RA copper foil for flexible PCBs is higher (if the copper thickness is smaller than 0.5oz, such as 1/3oz, the thinner, the more expensive.).
However, without adhesive layers, the overall price of RA copper FPC is lower.
Part 2. ED Copper for Flexible PCB
ED copper is electro-deposited copper foil.
If a flex PCB uses ED copper, it uses no adhesive.
Thus an ED copper FPC has a smaller thickness. From the flex PCB manufacturer PCBONLINE, the minimum FPC thickness is 0.075mm.
ED copper is used for flexible PCBs that work in a static state.
The applications of flexible PCBs using ED copper include lighting, batteries, displays, car taillights, advertising logos, phototherapy and beauty, and lighting filling.
Electro-deposit copper (ED copper) foil is made by electroplating acid copper plating solution on stainless steel to precipitate a uniform copper film. By continuous peeling and winding, we get ED copper foil.
Under a 1000x microscope, you can find the cross-section of ED copper foil has a pillar crystal structure.
The extensibility of ED copper foil is 3 times less than that of RA copper foil. Shortly, ED copper foil can extend 4% to 11% of its original length. But ED copper foil has a fine surface, which is very helpful for etching fine circuit traces. Besides, the PCB pads after surface finishes are flat.
Now the manufacturing technology for ED copper is getting more advanced. ED copper foil can have better extensibility by thermal treatments. Though its lattice structure is still pillars, the ED copper has a layered copper atomic arrangement.
The price of ED copper foil for flexible PCBs is medium (the thicker, the more expensive).
Part 3. RA Copper vs. ED Copper
After PCB assembly, we will connect the PCB assembly to a computer and transfer the program to the IC.
Now you've learned RA copper and ED copper for flexible PCB substrate. Which type of copper foil do you choose for flexible PCB fabrication? Please check the differences between RA copper and ED copper below.
| | | |
| --- | --- | --- |
| | RA copper | ED copper |
| Crystallization | | |
| Bending endurance | High | Low |
| Etching | Need special treatment | Easy |
| FPC application | Flex PCBs that need frequent bending, including rigid-flex PCBs | Flex PCBs that work in a static state |
| Lattice structure | Pillar | Layered |
| Price | Three times higher than ED copper | Middle |
The copper foil is just part of the flexible PCB price. You should choose the copper type according to your application and fabrication requirements. It's suggested that in the PCB design stage, you fully communicate with your PCB fabricator to settle down all the details, including copper specs.
Part 4. One-Stop Flexible Laminate and PCB Manufacturer
Which flexible PCB fabricator do you choose? You can work with PCBONLINE, a one-stop flexible PCB manufacturer that fabricates the FPC laminates, finished flex PCBs, and FPC assemblies.
You can custom choose RA copper or ED copper, PI/PET films, and adhesive for FCCL (flexible copper-clad laminate), and PCBONLINE fabricates the FCCL and flexible PCBs as you demand.
From the video below, you can check how PCBONLINE fabricates flexible PCB laminates and finished circuit boards from RA copper/ED copper, adhesive, and PI.
Here are some details of PCBONLINE
PCBONLINE provides one-stop flexible PCB manufacturing, and you can save time and budget with our one-stop services.
Strong fabrication capabilities to meet your custom requirements: laminates with or without adhesive, FPC using transparent PET, minimum finished FPC width 2.36mm, minimum trace width/space 0.1mm/0.1mm...
Free flexible PCB design assistance and professional one-on-one engineering support throughout your project.
Fabricate flexible PCBs using RA copper, ED copper, and high-extensibility ED copper.
If you are in the flexible PCB design stage or looking for a flex PCB/PCBA fabricator, you can send your Gerber and contact PCBONLINE by email at info@pcbonline.com to communicate with us about your project.
FAQs about RA copper and ED copper
Question 1
What is the copper thickness of flexible PCBs from PCBONLINE?
Answer 1: From PCBONLINE, the thicknesses of RA and ED copper can be 12μm, 15μm, 18μm, 35μm, and 70μm.
Question 2
Do you fabricate RA and ED copper foil?
Answer 2: No, we don't fabricate copper foil but we can use copper foil, adhesive, and PI/PET to fabricate custom laminates of flexible PCBs. If you need RA/ED copper foil, we can provide it from our stock.
Question 3
What is the trend of RA and ED copper foil?
Answer 3: As flexible electronic products get smaller and require higher reliability, new RA and ED copper types emerge: high-flexibility RA copper (with 7 times the flexibility of regular RA copper), 9μm ultra-thin ED copper for ultra-fine circuits, and RA alloy copper (better thermal stability and mechanical performance than regular RA copper).
©This article is an original work of the PCBONLINE team. Please indicate the author PCBONLINE if you reprint. If the article is reproduced without permission or indicating the author's source, PCBONLINE reserves the right to investigate the infringement.
GET A FREE QUOTE
File Upload