Have you ever seen transparent circuit boards? Transparent circuit boards are important in optical fields. You can see through transparent PCBs, and even the conductive traces and components embedded in the circuit boards can be transparent. Most transparent circuit boards are flexible PCBs using PET film, and some transparent PCBs are glass-substrate. PCBONLINE, an advanced PCB manufacturer, provides one-stop transparent circuit board manufacturing. In this post, we will introduce clear flexible PCBs and transparent glass PCBs to you.
Transparent Flexible Circuit Boards
Transparent flexible PCBs are FPCs using PET thin film. PET materials can be transparent, white, light blue, light green, etc. Clear FPCs are different from normally seen flexible PCBs only because of the transparent PET materials.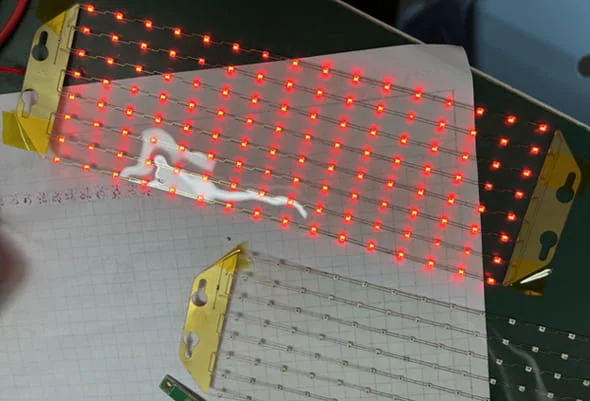 In some transparent flexible PCBs, only the substrate is transparent, and the conductive traces and pads are visible and not transparent.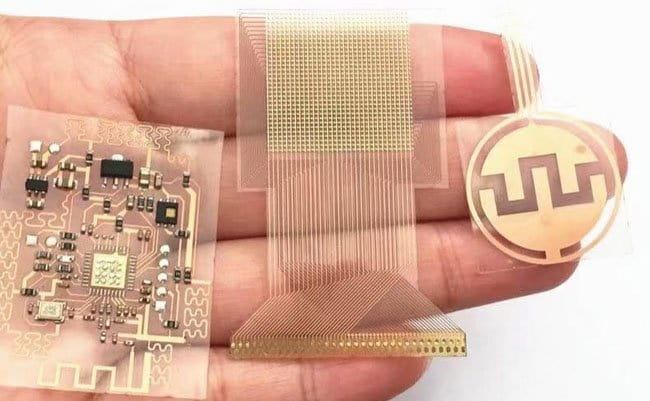 Some transparent flexible PCBs, including the conductive traces, are fully clear. An innovative manufacturing method is used -- the circuit is clamped between two transparent materials to protect it and make it invisible from the outside. And PCBONLINE can produce fully transparent FPCs.
Advantages of transparent flexible PCBs:
A wide range of optical features.
Bendable, foldable, twistable, and arbitrarily movable and flexible in three-dimensional space.
The accuracy of the FPC manufacturing reaches the micron or nano level.
FPCs save about 90% of product weight compared with rigid PCBs of the same volume.
Achieve lightweight, miniaturization, and thinning of the products.
Applications of transparent flexible PCBs:
FPCs are widely used in automatic control, instrument panels, LED displays, foldable screens, ABS systems, cameras, mobile phones, calculators, medical devices, and wherever connections are required in a close-packed space. Besides, fully transparent flexible PCBs can be used in smart contact lenses, flexible transparent electronic devices, and electronic skins.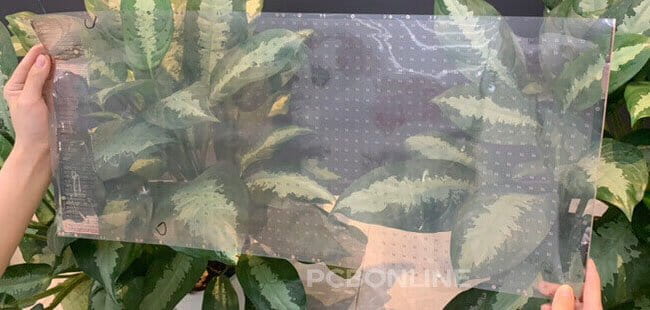 You would like to have transparent flexible PCBs manufactured and assembled? PCBONLINE provides one-stop transparent FPC manufacturing and assembly, including prototyping and batch production.
Technical specifications:
transparency up to 94.36 %
1 to 10 layer transparent circuit boards
finished clear flex PCB thickness: 0.1mm to 0.6mm
copper thickness: 17.5um, 35um, 70um
surface finish: ENIG, OSP, ENEPIG, immersion tin, immersion silver
min laser blind hole: 0.075 mm
min mechanical drilling hole: 0.1 mm
min line width: 0.035 mm
min line spacing: 0.035 mm
max blind hole aspect ratio: 0.8
min interlayer alignment: ±0.05mm
heat resistance for soldering: 260 °C × 5 sec.
adhesive strength: 490 N/m
glass transition temperature: 300 °C
operating temperature: -25 °C to +75°C
Transparent Glass Circuit Boards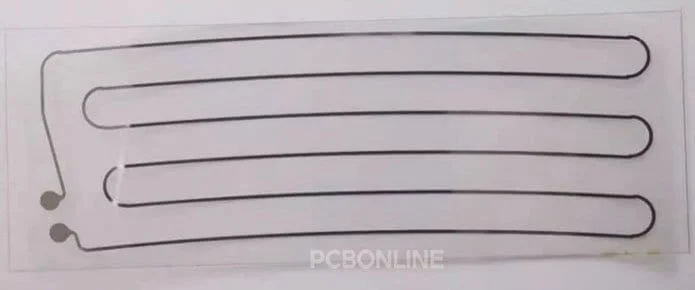 Transparent glass PCBs use the substrate material of ultra-white float glass. The thermal transmittance of glass PCBs is 3.9W/㎡K.
Apart from transparency, glass PCBs also have these advantages:
High thermal conductivity
Waterproof, moistureproof, dustproof
Optimum corrosion resistance in harsh environments
Good flatness, low expansion coefficient
Beautiful outlook, high reflectivity
Can be hybrid laminated with metal, high-frequency materials, PI, and PET
Applications of transparent glass circuit boards:
solar equipment,
glass LED display screens,
new energy electrical applications
Infrared windows in aircraft, missiles, etc.
Technical specifications of transparent alumina circuit boards:
transparency: 77% to 85.63%
U-value in the air: 2.0W/㎡K to 3.9W/㎡K
thermal abstraction: 15% to 33%
thermal reflectance: 11% to 14%
One-Stop Transparent Circuit Boards Manufacturer
The one-stop PCB manufacturer PCBONLINE, founded in 1999, provides transparent circuit board manufacturing and assembly to customers around the world. Industries we serve include automotive, defense, industrial, medical, communications, and consumer electronics.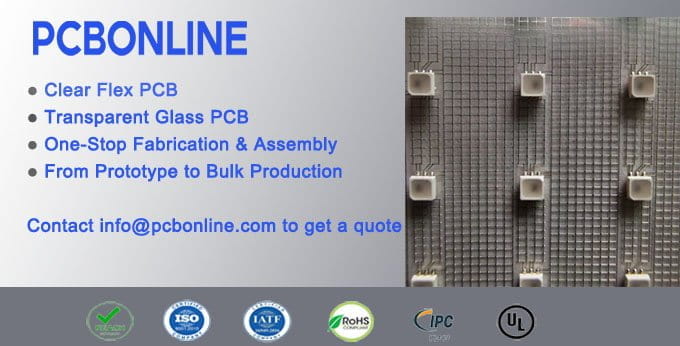 By ordering transparent circuit boards from PCBONLINE, you will enjoy these benefits:
One-stop clear PCB fabrication and assembly, including clear FPCs and glass PCBs.
PCBONLINE's CAM engineer will provide one-on-one engineering support to assist you with the best practices.
PCBONLINE always manages to reduce your costs with the latest technologies and manufacturing optimization.
We conduct four-terminal sensing and functional testing to ensure the best electrical performance of your transparent circuit boards.
Besides transparent circuit boards, you can also buy rigid-flex PCBs, HDI PCBs, high-frequency PCBs, aluminum PCBs, normal FPCs, and ceramic PCBs from PCBONLINE.
PCBONLINE offers $100 off coupons for online purchases. If your transparent circuit board order amount is $5000 or more, we will provide you with free complete PCBA samples, functional testing, and discounts.
Conclusion
Currently, only FPCs and glass PCBs can be transparent circuit boards. Clear FPCs can be fully transparent, or only the substrate is transparent. Glass transparent circuit boards are not fully clear because of the circuit traces. If you have any questions about transparent circuit boards, or you want to have transparent circuit boards manufactured and assembled, welcome to contact PCBONLINE by email at info@pcbonline.com.
GET A FREE QUOTE
File Upload