On your flexible PCB supplier list, there may be manufacturers based in the US, Europe, and China. When you choose a flex PCB manufacturer, you may prefer local manufacturers to save costs and time. However, regardless of the shipping fee, a flex PCB manufacturer in China is likely to be an ideal supplier saving your time/cost and ensuring FPC quality. It not only fabricates and assembles flexible PCBs (FPC) but also manufactures flexible copper-clad laminates (FCCL). For this reason, this flex PCB manufacturer in China can provide very cost-effective FPC, especially for bulk production.
This FPC source factory manufacturer is PCBONLINE. You can check out what its flexible PCB factory is like in this article and its flexible PCB manufacturing process from the below video.
For FPC fabrication, PCBONLINE has an FCCL factory and a much larger FPC fabrication factory.
What Is It Like inside the FCCL Factory
PCBONLINE's FCCL factory manufactures the FCCL used for FPC fabrication in its FPC factory. FPC fabrication in this way is much cheaper than purchasing FCCL from laminate suppliers.
When you walk into PCBONLINE's FCCL factory, you will need to wear shoe covers at the entrance. A big room on the left is the warehouse for copper foil. Copper foil is stored in rolls. Rigid-flex PCBs and flexible PCBs continuously bent in applications use rolled copper foil, which is more costly. Flexible PCBs used for lighting usually use electrolytic copper foil.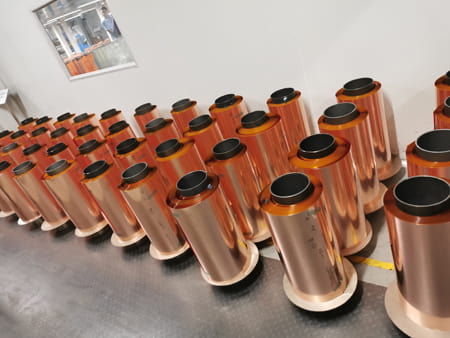 In an operating room, polyimide (PI) films are brushed with adhesive at higher temperatures to become coverlay of the flexible PCBs. In another room, the cooled-down coverlay is laminated to the required thickness. The thickness of the flex PCB coverlay is 20μm from PCBONLINE.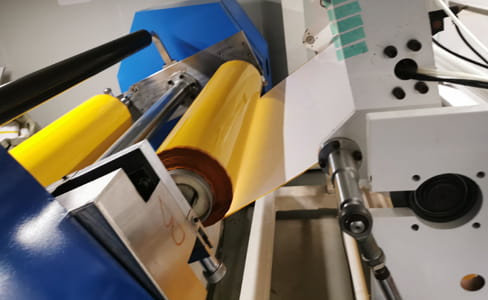 Transparent PCBs require clear coverlay, and they are also available from PCBONLINE.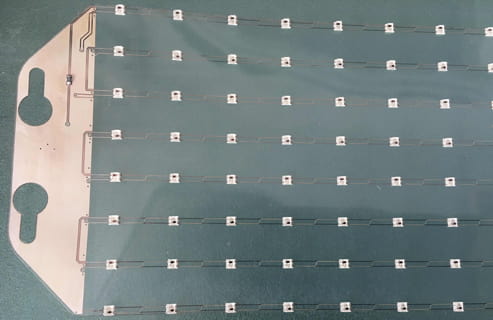 In another room, the copper foil is cut and processed.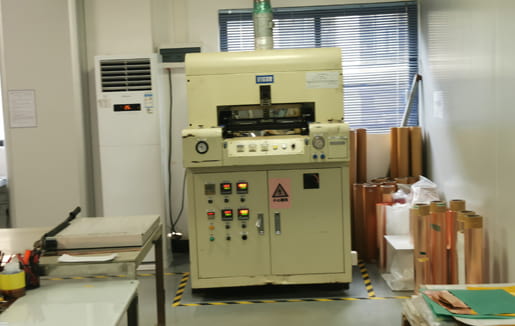 From PCBONLINE, the PI thickness can be 12.5μm, 25μm, 50μm, and 75μm, and the copper thickness 12μm, 18μm, 35μm, and 70μm.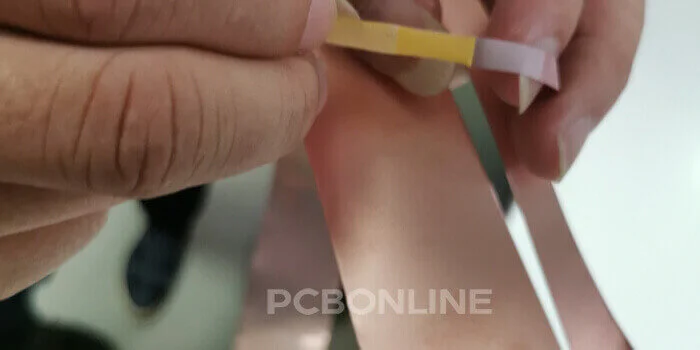 What Is It Like inside the Flexible PCB Factory
PCBONLINE, the flex PCB manufacturer in China, can deal with PI flexible PCBs with 1 to 10 layers, and transparent flexible with 1 to 6 layers. You can check the FPC capabilities of this flex PCB manufacturer in China below.
| | |
| --- | --- |
| | PCBONLINE's PI flex PCB capabilities |
| FPC layer | 1 to 10 layer |
| Finished FPC thickness | 0.05mm to 0.6mm |
| Copper thickness | 1/3oz to 3oz |
| Impedance control | ±10% |
| Minimum trace width/space | 0.035mm/0.035mm |
| Minimum mechanical drill aperture | 0.1mm |
| Minimum laser drill aperture | 0.075mm |
| Minimum blind via registration pad | 0.275mm |
| Profile tolerance | (punching) ±3mil, (laser cutting) ±2mil |
| Surface finish | ENIG, ENEPIG, OSP, immersion tin, immersion silver |
| FPC stiffener | PI, FR4, stainless steel |
| | |
| --- | --- |
| | PCBONLINE's transparent FPC capabilities |
| Clear FPC layer | 1 to 6 layer |
| Finished clear FPC thickness | 0.1mm to 0.6mm |
| Copper thickness | 1/2oz, 1oz, 2oz |
| Minimum trace width/space | 0.05mm/0.05mm (for extreme prototypes can be 0.035mm/0.035mm) |
| Minimum space from PCB edge to trace | 0.1mm |
| Surface finish | Immersion tin, immersion silver |
PCBONLINE's flexible PCB factory is large, with all production lines for FPC fabrication.
The first FPC production step is laminating the copper foil with coverlay. PCBONLINE has four laminating lines in its FPC factory.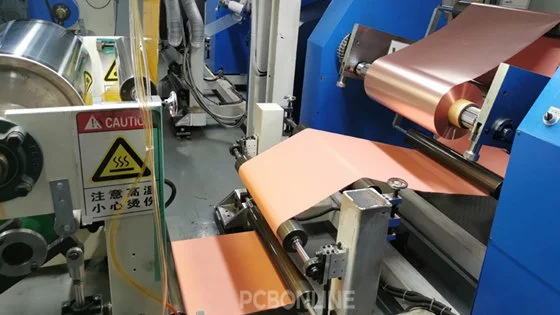 Then, the copper CCL in rolls is cut and trimmed into panels so that they can be placed in machines to process.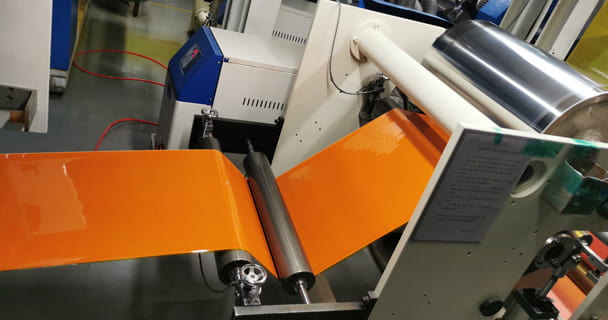 Next, you will come to visit the drilling lines. At the drilling step, PCB vias are drilled on the copper CCL.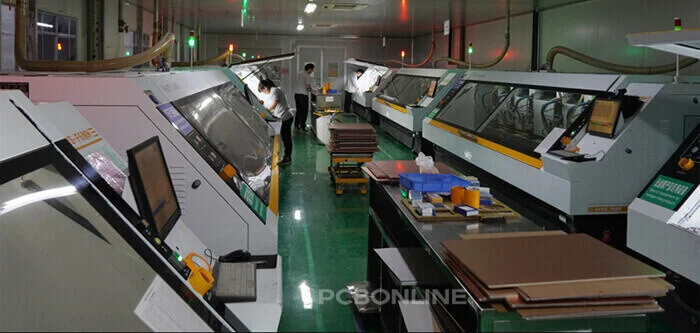 For coverlay that is not laminated with copper yet, PCBONLINE can mechanically drill or punch to drill the coverlay. Punching is more costly than mechanical drilling, but it ensures the drills for pads with right angles match the PCB design.
Next, you will come to the copper plating lines. PCBONLINE has two vertical continuous plating (VCP) lines to plate copper into the PCB holes.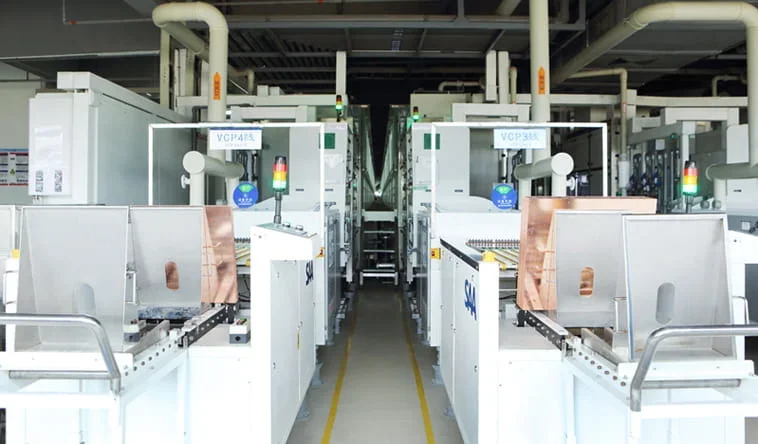 The next lines are for circuit transfer from a film with the circuit image to the flexible CCL, including exposure and development.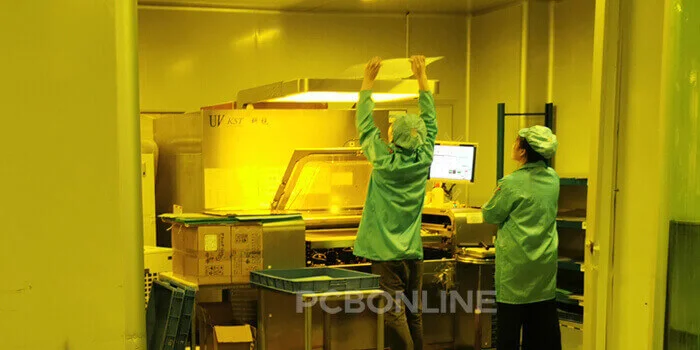 Later, you will come to visit the etching lines. PCBONLINE has two etching lines for generating circuit traces on the flexible CCL. The unwanted copper is etched away by the alkaline solution.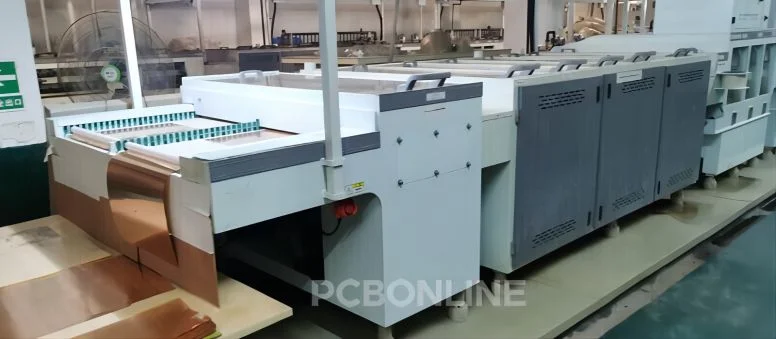 And then, you will visit the cleaning lines. The flexible CCL is cleaned without impurities and scrubbed so that it can easily bond with other layers in the next steps.
Now, you will come to visit the electrical test lines. Every circuit layer after generating should be tested to ensure the closed circuit.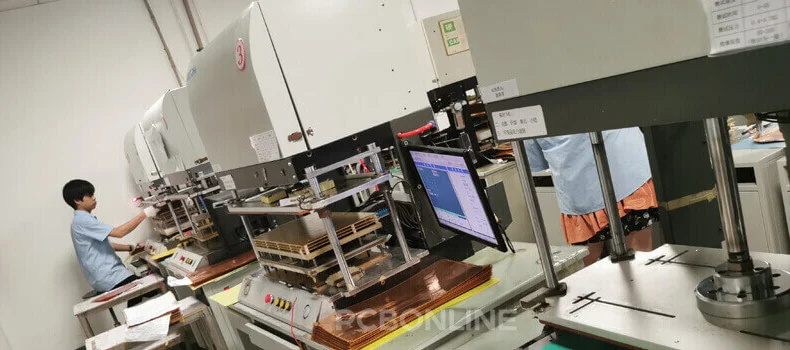 Next, the copper CCL and coverlay are aligned.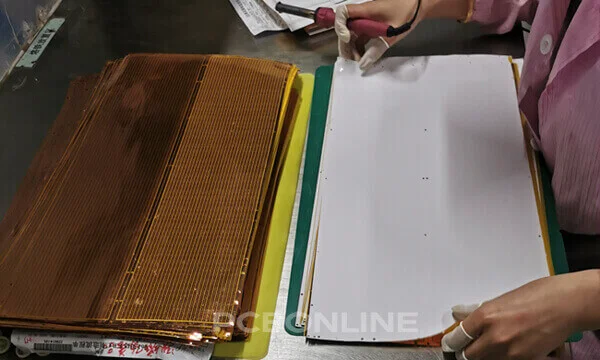 Then the flexible PCB layers are laminated in the laminating oven. At this step, the flexible PCB is formed.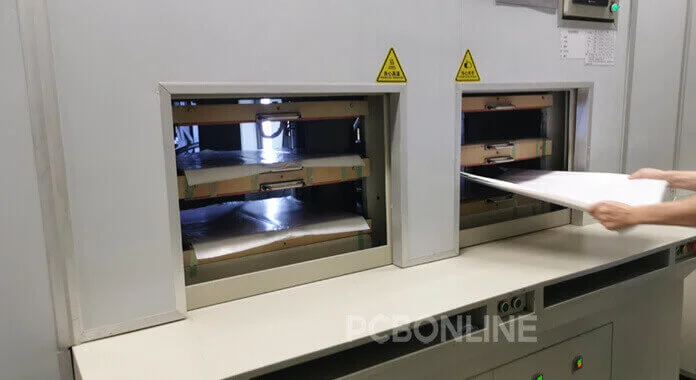 In the next, you will come to visit the silkscreen printing lines. PCB inks print on flexible PCBs to become symbols and marks.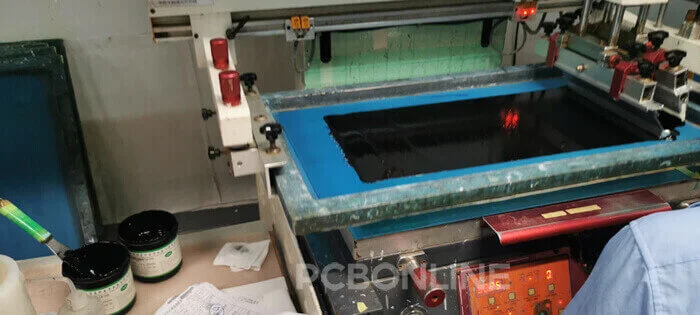 And then the flexible PCBs are baked to dry the PCB inks.
Later, you will visit the rest production lines for surface finish, finished FPC electrical test, profile, and visual inspection.
You can also come to visit the flexible PCB warehouse, where the flex PCBs are packaged and temporarily stored.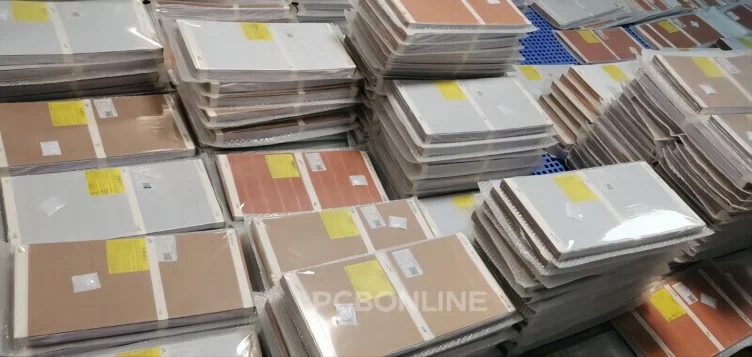 More Possible Questions about the Flexible PCB Manufacturer in China
Question
How does PCBONLINE ensure flexible PCB quality?
To ensure FPC quality, PCBONLINE randomly picks up 10% of the flexible PCBs it produces for testing. If there's any problem, we will test all flexible PCBs and fix the issue. After that, we test all flexible PCBs again. For flexible PCBs used for medical, defense, automotive, and aerospace fields, we conduct the four-terminal sensing during PCB fabrication to ensure the highest reliability.
Question
What quality certifications does the flex PCB manufacturer PCBONLINE gain?
PCBONLINE's PCB and PCBA manufacturing is certified with ISO 9001:2015, IATF 16949, IPC, REACH, RoHS, and UL.
Question
How fast can PCBONLINE deliver flexible PCBs?
It takes PCBONLINE at most a week to deliver flexible PCB prototypes and 10 to 12 days to deliver bulky FPC production. For return orders, we spend 4 to 5 days delivering the flex boards.
Now you can have an overall understanding of the flex PCB manufacturer PCBONLINE. If you are interested in working with this FPC source factory manufacturer, you can send your inquiry by email to info@pcbonline.com. PCBONLINE will reply to you with a quotation and delivery date. Throughout your project, you will have a sales engineer to provide you with engineering support and one-on-one customer service.
Conclusion
PCBONLINE is a one-stop flex PCB manufacturer in China, fabricating flexible CCL and flex PCBs and assembling flexible circuit boards. If you want to ensure the FPC fabrication quality and save time/costs, you can consider PCBONLINE as your flex PCB manufacturer. If you have any doubts about PCBONLINE's flex PCB fabrication, welcome to chat with us from the online chat window on the right.
© This article is an original work of the PCBONLINE team. Please indicate the author PCBONLINE if you reprint. If the article is reproduced without permission or indicating the author's source, PCBONLINE reserves the right to investigate the infringement.
GET A FREE QUOTE
File Upload