Part 1: Updates to Electronic Components Shortages and Prices
Electronic components News 1: on September 27th, STMicroelectronics released the third price increase notice of 2021. STMicroelectronics increases all its product prices in the fourth quarter, including the existing chips inventory. In January and June, ST had issued two price increase notices.
Electronic components News 2: on September 12nd, the analog chips giant Texas Instruments (TI) cleared that the chips pricing increase starting from September 15th was a piece of fake news. But on the fact that TI is facing a capacity shortage of 8-inch wafers, it is predicated that TI will use the limited 8-inch wafers to produce higher profit chips. This will lead to a more serious shortage of unit prices of less than $1 chips.
Electronic components News 3: this October, the FPGA giant Xilinx claims that starting from November 1st, they will raise prices on all current orders, quotes, and shipments. The prices increase by 10% to 20%.
Not only the above chip manufacturers but all electronic component original factories have announced price increases this year. In the post-pandemic age when all terminal manufacturers strive for economic revive, soaring chip prices and the long wait time apparently obstacles to product manufacturing. However, here is a solution to the electronic components procurement problem:
Electronic components have regional price differences, and with the global supply network, PCBONLINE chooses to buy the lowest-price electronic components. PCBONLINE groups many orders from different customers to purchase electronic components at bulk pricing, and takes no profit from electronic component sourcing. In this way, PCBONLINE helps customers solve chip procurement problems, and customers can have hassle-free product manufacturing.
Part 2: PCBONLINE Has TI and ST Chips Inventory for Customers
Recently, PCBONLINE sent a letter to customers about that it has a small amount of inventory of discontinued chips branded TI and ST Microelectronics. In the letter, PCBONLINE offers to provide electronic components and chips procurement to customers. Here is the letter:
Letter
Dear PCBONLINE Customers,
As the year comes to the fourth quarter, I'd like to take the opportunity to thank you, PCBONLINE's loyal supporters, for your continued commitment to our powerful products and solutions.
I've learned a lot from your feedback this year, I've learned that you're leaders in your industries, and I've learned that solving the difficulties in the supply chain is still your top priority.
This year is extraordinary -- we've been moving forward in predicament. The skyrocketing raw materials price and the shortage of electronic components have been troubling all our practitioners. At present, I hope that we can help you solve the short-term chip procurement problem and help you overcome the current difficulty via our factory's strong component purchasing capabilities and sound supply chain.
Especially for TI (Texas Instruments) and ST (ST Microelectronics) branded chips, we have priority supply and bargaining rights with the original factory, and we also have a small amount of inventory of some discontinued chips. Please feel free to contact our sales staff if you have any needs.
I hope that your company's cost control streams improve when you partner with PCBONLINE. Looking forward to seeing our future subsequent win-win cooperation in the field of electronic components, and looking forward to your feedback!
Some key points from the letter are:
PCBONLINE has priority supply and bargaining rights with the original electronic components factory.
PCBONLINE has a small amount of discontinued chips inventory, especially TI and ST branded chips.
PCBONLINE provides sourcing services to solve chip procurement problems for customers via its strong component purchasing capabilities and sound supply chain.
In fact, PCBONLINE provides services more than electronic components sourcing. PCBONLINE has two large PCB manufacturing bases and one EMS factory for production. The electronic component sourcing service is free, and PCBONLINE takes no benefits from chip procurement because all the PCBONLINE work is to help customers solve supply chain difficulties.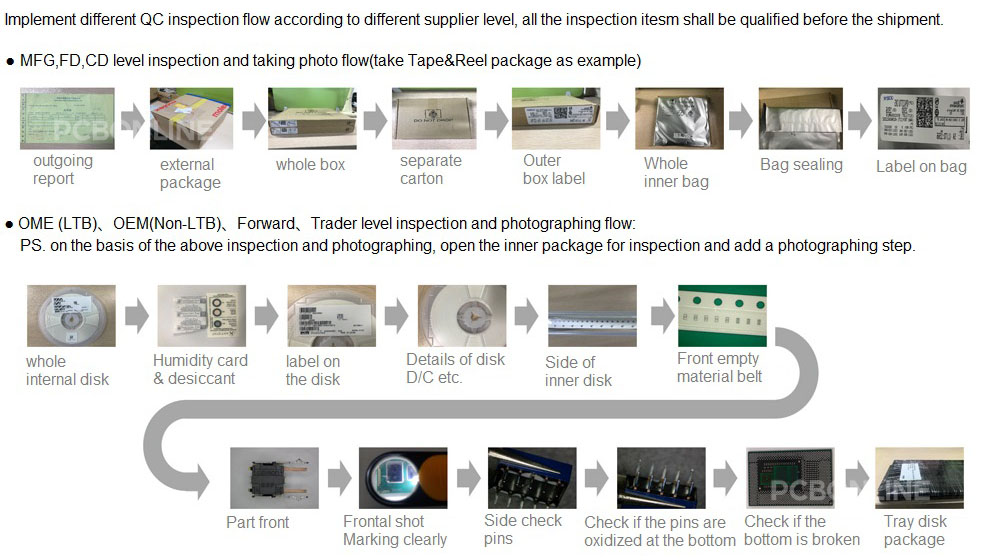 All electronic components are traceable, and the prices are possibly the lowest. Feel free to contact info@pcbonline.com to purchase electronic components and one-stop PCB manufacturing and assembly, or get a quote online without hassle!
Conclusion
Global electronic components shortage is not a long-term issue. The raising chip prices and long wait times make electronics manufacturing (including PCB assembly) difficult to move forward. To solve electronic component procurement issues, PCBONLINE provides one-stop electronic component distribution with fast delivery to customers. Welcome to send an email to PCBONLINE now.
GET A FREE QUOTE
File Upload