Are you looking for any free PCB design software for circuit design?
With the best free PCB design software, we can test our designs first before implementing them to ensure that everything works the way we want, and then get them printed and assembled. Thus, you need the best PCB design tool to avoid any type of disruption and cost overrun.
In the EDA industry, some of the best and most popular tools are not free, and choosing from dozens of software on the market can be a daunting task. However, there are still a few powerful best free PCB design software.
This post will introduce several best circuit design software, some of which are free and some are premium.
1. CADSTAR Express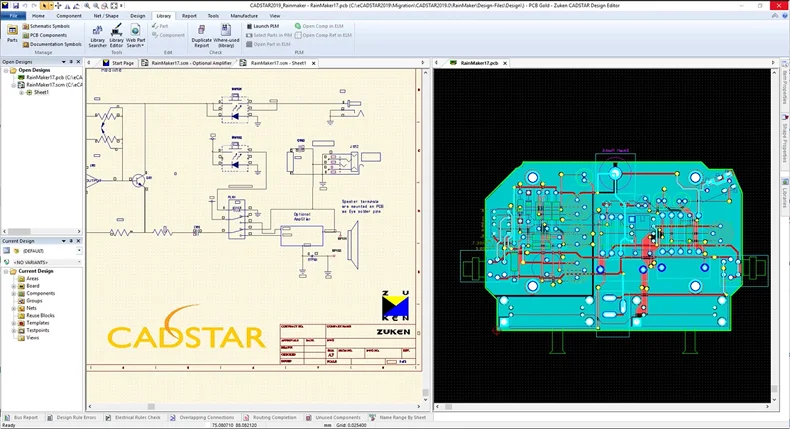 CADSTAR Express is a free schematic and PCB design software. Developed from an EDA software CADSTAR starting in the 1980s, CADSTAR Express is a modern and professional EDA software under the brand Zuken, a worldwide software solution provider.
CADSTAR Express provides all-around PCB layout functions, including:
Schematic design editor
PCB design editor
Library editor
Schematic and PCB design viewer
CADSTAR Express provides a quick and easy way for you to experience the basic features of its standard single-board PCB design software solution, CADSTAR. It includes all the core functionality of CADSTAR, plus the opportunity to experience Zuken's place and route editor tool P.R.Editor XR 2000.
2. KiCAD
KiCAD is a free PCB design software for creating electronic diagrams and PCB layouts. The KiCAD environment, whose most recent version (5.1.2) was released last April, is a PCB design tool that is monetized with voluntary contributions.
It has a:
Project manager
Schematic and component editor
Footprint selector
Circuit board editor
Gerber file viewer
Creation of components or footprints from bitmap images
PCB calculator and a page format editor.
The program can be run with various operating systems from Windows, and Mac, to Linux and other distributions such as Ubuntu, Debian, Linux Mint, Fedora, Gentoo, GNU GGuix, and Sabayon.
It was created in 1992 by Jean-Pierre Charras. The software has evolved and is now managed by the KiCAD Developers Team community. The program is compatible with Schematic Capture, layer design, and obtaining Gerber-type output files.
Some of its most recent enhancements include libraries for 3D modeling and Path settings, Cairo canvas printing, and symbol editors.
3. EasyEDA
EasyEDA is a set of free tools that do not require installation. These are based on the Web and the Cloud, integrating a powerful schematic grabber, a mixed-mode circuit simulator, and a multiplatform PCB environment. You can learn the features of this free circuit design tool below:
EasyEDA provides a low-cost PCB manufacturing service to improve your efficiency in projects.
EasyEDA provides the Manufacturing function.
You can keep your work private, share it, or publish it.
4. DesignSpark PCB Software
Design Spark PCB is free PCB design software for obtaining 3D diagrams and designs for closed conduits. One of its most important features is the unlimited size of the schematics and the ability to use multiple layers for a closed circuit.
DesignSpark PCB offers a variety of PCB design tutorials so that the user becomes familiar with the software. It is a free PCB design software but you can't enjoy all its features until you register from their website. Its features include:
Ideal for students and beginners.
No limitation on the size of the diagrams, so you can design your printed circuits with complete freedom.
You can use its extensive library or create your own.
Import and export files in the format you need.
Create BOMs in the format you need.
5. PCBWeb Designer
It is one of the best free PCB design software. It is a simple-to-use printed circuit editor but lacks automatic circuit monitoring. Its features are:
PCBWeb is a free circuit design software.
It allows you to create up to 16 copper layers.
Have design circuits with a maximum of 152 centimeters.
6. ExpressPCB
ExpressPCB is a free PCB design software for drawing circuit board blueprints for electronic projects.
Ideal for students and engineers working in the field ExpressPCB integrates all the tools essential to the design of an electronic circuit plan.
You can add your components by choosing directly from a list of components offered in the program database.
ExpressPCB gives you the flexibility to choose the number of layers you need for your project as well as the size of the PCB that should accommodate all your components.
7. Osmond PCB
It is a flexible and easy-to-use best free PCB design software for the Mac operating system. A few features it has are as follows:
Almost unlimited drawing areas.
An unlimited number of drawing layers.
A suitable number of parts, and more.
Is a flexible tool to design PCBs.
8. TinyCAD
This is a schematic-free PCB design software for Windows. It supports standard and special character libraries. TinyCAD is mostly used to create:
Single-line diagrams.
Creating flowcharts.
Technical drawing development for presentation purposes.
9. Autodesk Eagle
Eagle (Easily Applicable Graphical Layout Editor) is a powerful and practical best PCB design software newly developed by Autodesk. This is a commonly used PCB layout software with features of low cost, abundant interface, and powerful features, and it is also easier to learn and use. Currently, it is only available with a subscription.
It includes powerful modules such as:
Schematic editing;
PCB editing;
Automatic routing.
It can meet different requirements of circuit board design of different engineers. Eagle can provide many advanced functions such as:
Online forward and backward marking function;
Batch processing command execution script file;
Copper pour and interactive follow-up router;
You can directly modify the design;
Import information from other designs and even convert other formats.
How to Get Good Quality PCB?
With the above free PCB design software, you can design circuit boards. Wondering how to get a high-quality PCB? Choose PCBONLNE, where you can order PCB manufacturing, assembly, layout, and components. If you have any questions about your circuit design, you can also contact PCBONLINE's experienced engineers and they will answer you for free. And PCBONLINE can also provide PCB design for you.
PCBONLINE is one of the leading high-end printed circuit board manufacturers and has extensive experience in providing PCBs of any type, especially complex ones, such as rigid-flex PCB, flexible PCB, high-frequency PCB, Multilayer PCB, ceramic PCB, etc. This is the fundamental need of every electronic industry.
Reasons to get PCB services from PCBONLINE:
It manufactures every type of PCB whether it is single-sided, double-sided, multi-layered, or an advanced printed circuit board.
It provides a comprehensive solution to all PCB needs. You can get PCB designing, assembling, components, and final product delivery at one stop.
You can expect easy PCB customization as well as quick delivery and first-class quality.
It has numerous R&D developers and engineers with rich experience in microcontroller development, digital and analog circuit design, human-machine interface, system analysis, and optimization. They will offer suggestions for your layout for free.
Conclusion
Physically designing and testing circuits is a tough and challenging task. When choosing a design package to use, it is always recommended to use some of the latest tools with the support and community available. You can choose one of the above best free PCB layout software to design your circuits, and communicate with PCBONLINE's engineers for more improvements.
GET A FREE QUOTE
File Upload