A PCB stencil, also known as SMT stencil or solder paste stencil, is a jig used for solder paste printing in the PCB assembly process.
If you send a PCBA inquiry to a one-stop electronics manufacturer, you can receive a quotation, which gives you the total price and lists all the pay items. The PCB stencil price is one of the PCBA bid items. If you order different PCBs, you may find the PCB stencil price is the same for each PCB. What is a PCB stencil? And how much does a PCB stencil cost?
This article provides a comprehensive introduction to PCB stencils, including the PCB stencil types, how to use a PCB stencil and their prices.
Part 1: What is a PCB Stencil
In your PCB design file, a Gerber, there can be a paste layer. It refers to the PCB stencil. A PCB stencil is a stainless steel stencil used in SMT assembly for PCBA manufacturing.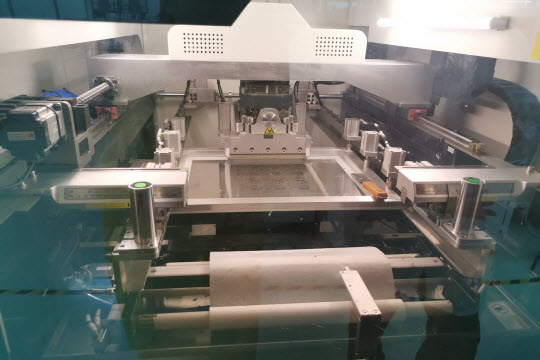 During PCB fabrication, your PCB manufacturer also manufactures PCB stencils. Each component-mounting side requires a PCB stencil, and a double-sided PCB assembly requires two different PCB stencils.
On a PCB stencil, there are many openings in an inverted trapezoid shape from the z-axis direction. A PCB stencil allows solder paste to go through the openings in specific shapes and sizes to print on the PCBs accurately.
Usually, the openings on PCB stencils are the same as the PCB pads. But for the pads that are small, narrow, long, or special-shaped, the openings should be larger to avoid stress concentration and solder balls. But you don't need to design the PCB stencil, as it is your PCB/PCBA supplier's job. But you can learn the Tips to Create Openings on PCB Stencils from our blog.
Part 2: Types of PCB Stencils
Currently, almost all PCB stencils are stainless steel cut by laser. There are framed and frame-less PCB stencils you can use.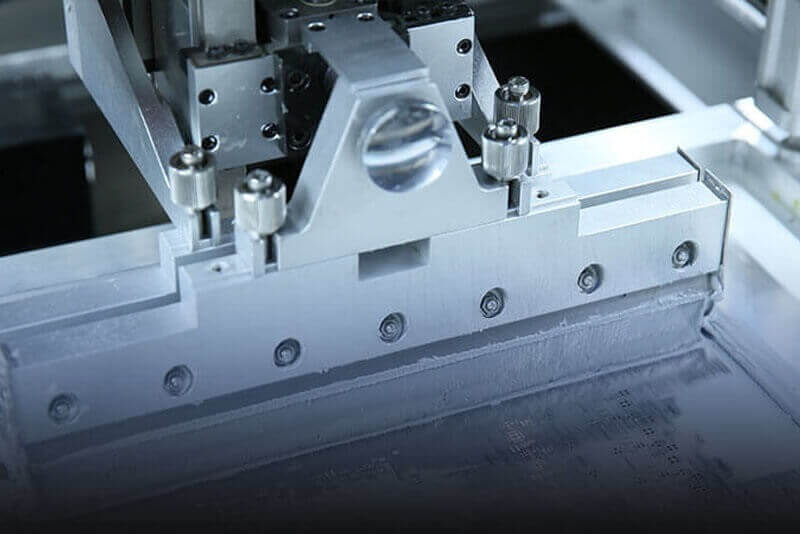 Framed and frame-less PCB stencils have the same thicknesses. But framed PCB stencils are more costly than frame-less ones of the same size. This is because the frame adds to the weight of the stencil.
More importantly, the PCB stencil machine requires a framed PCB stencil to use for solder paste printing. If PCBA manufacturing is bulky, you have to use framed PCB stencils for automatic SMT assembly.
By contrast, if your PCBs are prototypes, and you want solder paste printing by hand, you can use frame-less PCB stencils. As a manufacturer, we have customers who have flexible frames that can fix on the stainless steel stencils by magnetic attraction, and the frame-less stencil becomes a framed one.
Part 3: How to Use a PCB Stencil
If you use a frame-less PCB stencil for hand soldering, you can pour solder paste on the unused area on the stencil, align the stencil with the PCB, and use a blade to press solder paste to print on the PCB pads.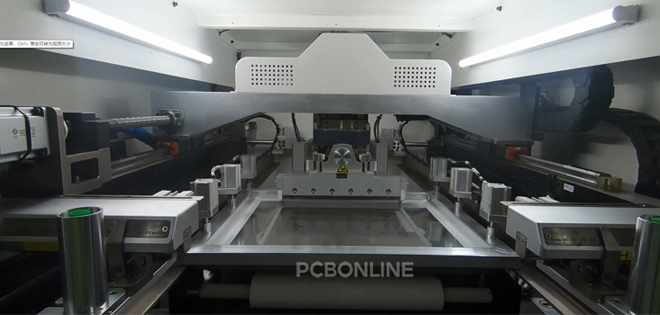 On an SMT line in the PCB assembly factory, all machine specifications are designed by the CAM engineer from the PCBA manufacturer, including the strength, speed, and angle of the blade of the solder paste printing machine. The framed PCB stencil is placed in the machine. Under the PCB stencil, the PCBs are sent by the conveyor belt automatically to be printed with solder paste panel by panel. After solder paste printing, there's the solder paste printing inspection before placing electronic components on the PCBs to avoid possible economic losses.
Part 4: Prices of PCB Stencils
You may think SMT stencils for PCBs in different sizes have different prices. However, the price of a PCB stencil is determined by the stencil size and weight rather than the PCB size or circuit complexity.
A PCB stencil is large stainless steel whose most area is not used. Only the area in the center with openings is used for solder paste printing. In use, the openings are aligned with the PCB pads.
Besides, the weight of the PCB stencil and whether it is framed or framed-less determine its price.
You can refer to the price list of PCB stencils in different sizes from PCBONLINE in the below image.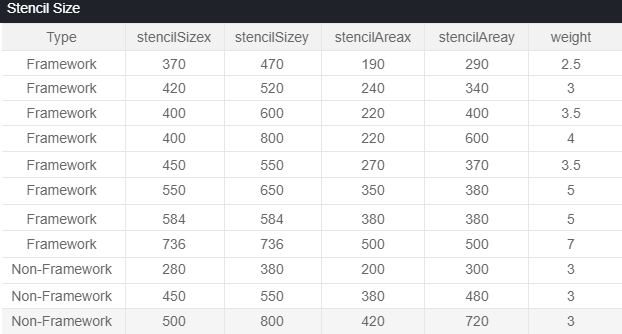 Note
If you order prototypes for different PCBs, you can ask the PCB manufacturer to laser cut all the openings for these PCBs on the same PCB stencil to save the PCB stencil cost. This stencil works for solder paste printing of all these PCBs. However, if your need batch PCBAs, we suggest you use a single stencil for each PCB because the stencil can be used multiple times.
One-Stop PCBA and PCB Stencil Manufacturer - PCBONLINE
If you need PCB stencils for PCB assembly, you can send your inquiry to PCBONLNIE, which provides you with high-quality electronics manufacturing. PCBONLINE, a one-stop PCB/PCBA manufacturer founded in 1999, has two advanced PCB manufacturing bases and a PCB assembly factory.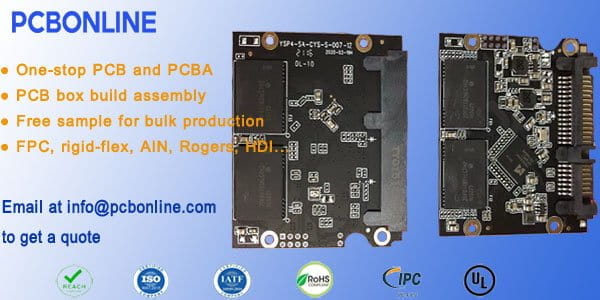 You can have SMT stencils manufactured by PCBONLINE and enjoy these benefits:
PCBONLINE has rich experiences in designing PCB stencils meeting PCB assembly requirements, such as BGA, CSP (chip-scale packaging), via-in-pads, and D-pads.
Framed and frame-less PCB stencils in different sizes and one stencil for different PCBs are available from PCBONLINE.
PCBONLINE provides one-stop electronics manufacturing, including PCB fabrication, PCB assembly, electronic component sourcing, conformal coating, functional testing, thermal aging, IC programming, and box-build assembly.
PCB and PCBA manufacturing is certified with ISO 9001:2015, IATF 16949, IPC, REACH, RoHS, and UL.
Free samples for bulky PCB/PCBA production and free functional testing for bulky PCBAs.
One-on-one engineering support and customer services throughout your project.
PCBONLINE provides affordable one-stop PCB/PCBA manufacturing from prototypes to batch production, including PCB stencils used for PCB assembly. Please feel free to send your PCB/PCBA inquiry to info@pcbonline.com.
Conclusion
A PCB stencil is a jig used for SMT assembly, and a PCB manufacturer fabricates it during PCB fabrication. A component-mounting side requires a PCB stencil. If you need PCBs, framed or frame-less PCB stencils, and PCB assembly, work with the reliable source factory manufacturer PCBONLINE.
© This article is an original work of the PCBONLINE team. Please indicate the author PCBONLINE if you reprint. If the article is reproduced without permission or indicating the author's source, PCBONLINE reserves the right to investigate the infringement.
GET A FREE QUOTE
File Upload