A printed circuit board (PCB) is a bare electronic board designed to mount components to become a PCB assembly (PCBA). A PCBA can assemble with the enclosure to be an end electronic product or with other PCBAs and parts to be an electronic modular. How is component mounting on PCBs? In this article, we'll know the three ways to component mounting on PCBs. Let's jump right into it.
Part 1: Types of Electronic Components on PCBs
There are various electronic components on PCBs, such as resistors, diodes, capacitors, connectors, etc. According to their functions, there are millions of electronic component types, but according to the mounting way on PCBs, there are two types of electronic components: surface-mount devices (SMDs) and through-hole (THT) components.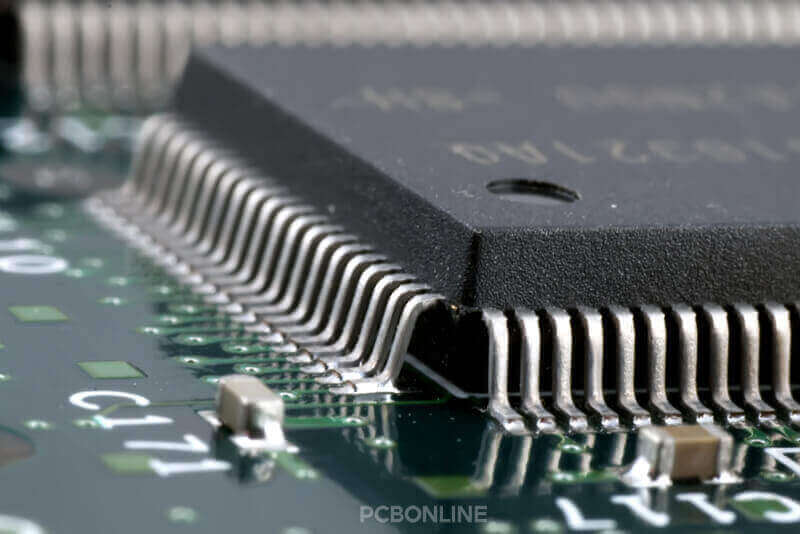 SMDs have very short pins and are surface-mounted on PCBs, while THT components have long pins, and their pins insert through the PCB holes and are soldered with the wall of the PCB holes. In size, for the same function component, an SMD is 1 to 10 times smaller than a THT component.
SMDs are preferably packed in tapes/reels. SOP, SOJ, PLCC integrated circuits, PLCC sockets, LCCC, and special-shaped components, are packed preferably in plastic tapes. Those larger multiple-pin SMDs, such as narrow-pitch QFP, SOP, PLCC, and BGA integrated circuits, are preferably packed in trays. The tapes/reels, plastic tapes, and trays are installed on the component mounting machine to automatically mount on PCBs.
A few of SMDs are packed in tubes. The tube packaging is suitable for products with many varieties and small batches. Before SMT assembly, the components in tubes are transferred from tubes to trays so that they can be sucked by the nozzles of the SMD mounting machine to place on PCBs.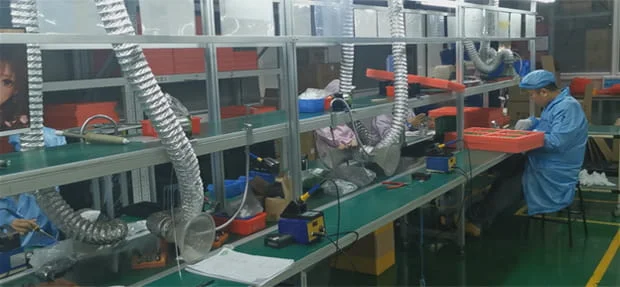 THT components are preferably packed in tapes/reels. And they are half-automatically mounted on PCBs.
Part 2: Three Ways of Component Mounting on PCBs
Electronic components can be mounted on PCBs by SMT assembly and THT assembly. And you can check the PCB assembly process in the video below.
SMT assembly
SMT is surface-mount technology, which mounts SMDs on PCBs automatically. It is suitable for prototypes and massive manufacturing. SMT assembly is the most accurate and efficient way to component mounting on PCBs.
This is how components are mounted on PCBs by SMT assembly:
Step 1. Solder paste printing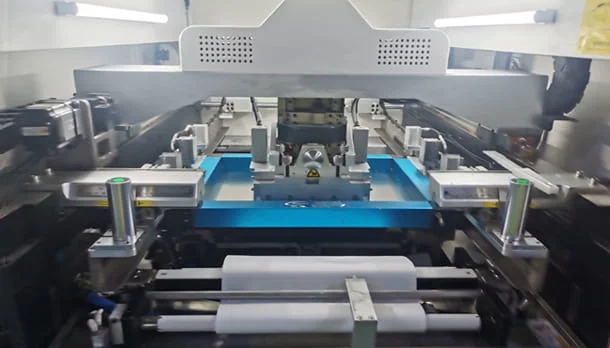 Bare PCBs are transferred from a feeder to a solder paste printing machine. In the machine, a scraper carries solder paste and presses on an SMT stencil. The solder paste goes through the openings of the stencil, meanwhile, the machine lifts the board right under the stencil. In this way, the solder paste is printed on the pads of the PCB.
Step 2. Solder paste inspection (SPI)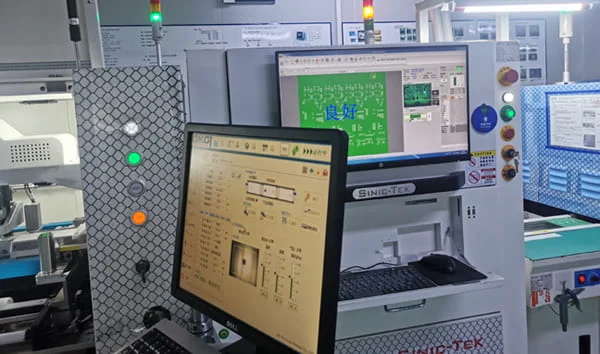 How do we know whether the solder paste on PCB pads is adequate for soldering? Neither too thin nor too thick the solder paste can cause soldering failures. If any solder falls where they are not expected, short circuits can happen. For this reason, we use an SPI inspection machine to check the solder paste, including the position, thickness, and size to ensure the solderability.
Step 3. Placing SMDs on PCBs
Here are two component mounting machines: a high-speed mounting machine and a functional mounting machine.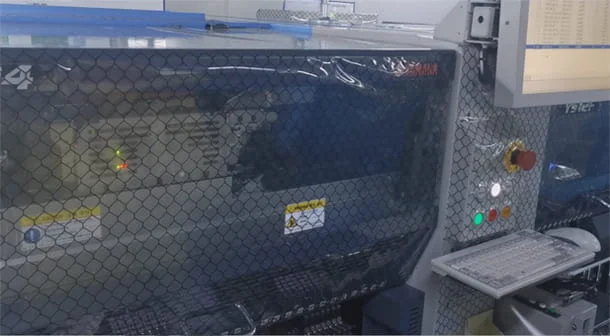 A PCB is transferred into the high-speed mounting machine first, where a mechanical arm picks and places smaller SMDs on the PCB quickly. These SMDs can be resistors, inductors, and capacitors.
Then the PCB is transferred into the functional mounting machine, where a mechanical arm picks and places functional and larger SMDs on the PCB, such as ICs, BGAs, relays, and connectors.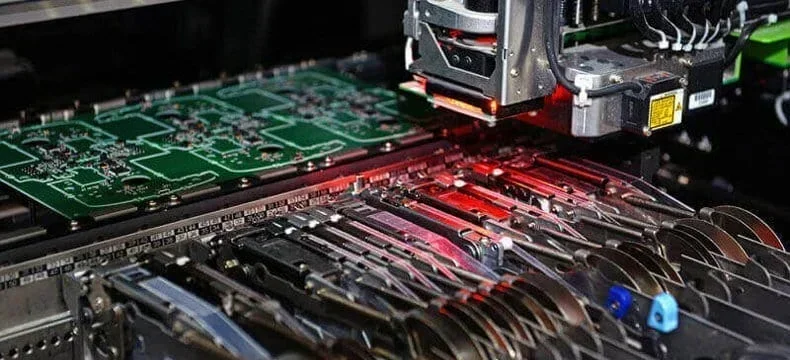 After mounting components on PCBs, if there are BGAs on the PCB, we inspect the solder balls to ensure soldering success before reflow soldering.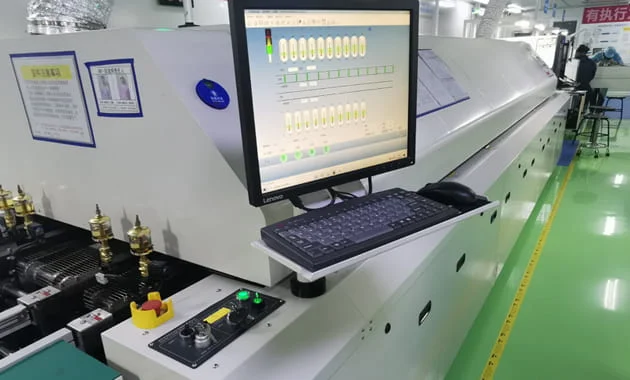 Reflow soldering is the process of preheating and baking the PCBA to solder the components to the board. At the reflow peaking period, the solder, surface finish, and copper pads undergo a phase change and form inter-metallic compounds (IMC), which symbolizes the solid connection between the PCB and SMDs. Later, the PCBA cools down gradually.
Step 5. Automatic optical inspection (AOI)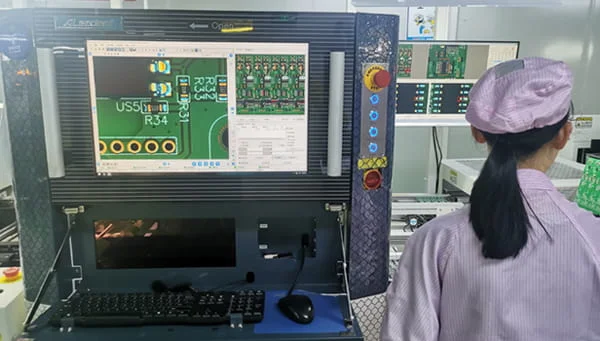 The in-line AOI machine scans the PCBA to inspect whether there are surface issues, such as solder bridges, solder voids, open circuits, etc. Many PCBA manufacturers only scan the top side of the PCBA, but at PCBONLINE, we scan all the surfaces including the top and sides of the PCBA.
If the PCBA has two component-mounting sides, we return the PCBA to the start of the SMT line to mount components onto the second side and repeat all these steps. Nitrogen reflow soldering is available at PCBONLINE, which prevents possible oxidation due to twice of reflow processes.
THT assembly
THT is through-hole technology, which involves inserting the component pins through the PCB holes to mount the component on the PCB. These THT components include USBs, fuses, electrolytic capacitors, and heat sinks.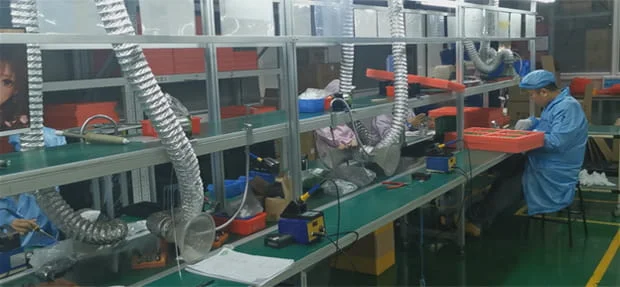 We can manually mount the THT components on the preset holes. Or we can modify plug-in machines to mount the specific components to reduce manpower used.
If the THT components are loosely mounted on the PCB, we need to solder them firmly on the board. This soldering step is called wave soldering.
Before wave soldering, we put the PCBA in a fixture, and only the holes that need soldering are exposed.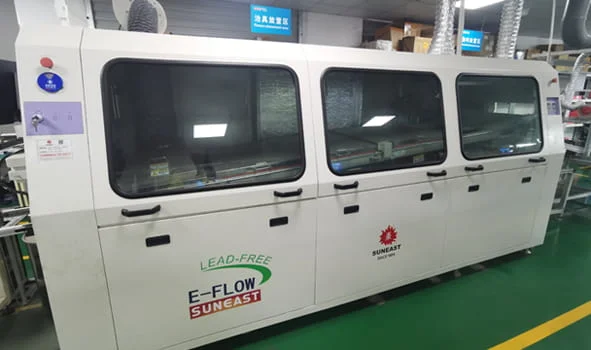 Then we place the PCBA on the wave soldering line, where the PCBA is preheated and sprayed with flux first and then sent into the wave soldering machine. In the machine, liquid tin flows in waves, and the mechanical arm holds the PCBA and keeps the PCB holes soak in tin waves for about 5 to 10 seconds. The areas that need soldering are soldered solid, and then the mechanical arm lifts the PCBA and sends it out of the machine.
After wave soldering, we trim the component pins to be 1mm to 2mm long and visually check the PCBA. If necessary, we use a soldering iron to fill the tin on the PCBA.
Manual component mounting on PCB
Sometimes, if there are various types of components but in a small quantity to mount on PCBs, these loose components can be manually mounted on PCBs before reflow soldering. But we seldom do this in case it is necessary or if our clients require it.
For example, the maximum SMD that we can automatically mount on PCBs is 50mm * 150mm * 25mm and 74mm * 74mm * 25mm, if a relay is beyond this size, we have to manually mount it on the PCB before reflow soldering. And the minimum SMD that we can automatically mount on PCBs is 0201, if an SMD is too small for the nozzle of the high-speed mounter to suck and accurately place on the PCB, we manually mount it on the PCB before reflow soldering.
Besides, special SMDs such as multiple-pin components that need thicker solder paste can also be manually placed on PCBs and then reflow soldered.
Based on our rich experiences and the PCBA manufacturing requirements, we determine whether to manually mount components on PCBs. For example, the high temperatures of reflow soldering and wave soldering can damage infrared components, so we manually mount and solder the infrared component after SMT and THT assembly.
But we try to avoid manual component mounting on PCBs. We only do it when we have to. You don't have to worry about the PCBA quality, as we have the PCBA functional testing, thermal aging, and the application simulation test to ensure satisfying results of the PCBA and end electronic product. In the design for testing, we can design testing pads around the critical components on your PCB for the multi-meter to test the critical components.
Part 3: One-Stop PCB Assembly Manufacturer - PCBONLINE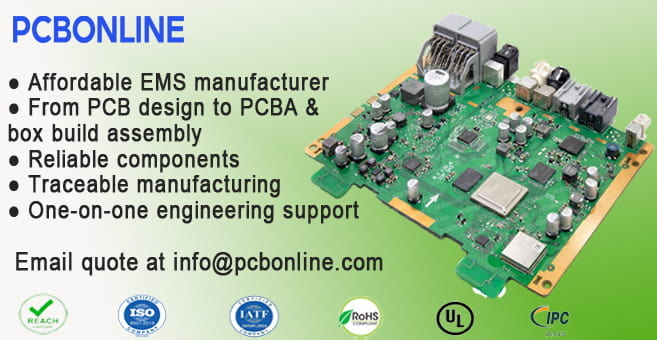 If you want A-Z electronic manufacturing and assembly for automotive, industrial, computers, communications, medical, defense, aerospace, and industrial applications, you can ask the one-stop EMS PCBA manufacturer PCBONLINE to fabricate, and assemble the product you want, including electronic component sourcing. If you have detailed product specification requirements but do not have PCB design, we can design the product from schematics to the enclosure for you.
PCBONLINE is a one-stop PCB/PCBA source factory manufacturer founded in 1999. We have two large advanced PCB manufacturing bases and one EMS PCB assembly factory. If you want to see our factories, you can have an online meeting with us, and we will show you the factory monitor live stream.
At PCBONLINE, we mount components on all types of PCBs from prototypes to massive manufacturing by SMT and THT. If it is necessary to manually mount components on PCBs, we will tell you and explain the reason before PCBA manufacturing.
Here are the advantages for you to have PCBs assembled at PCBONLINE:
Traceable EMS manufacturing from electronic components and PCB fabrication to PCBA and box build assembly.
Affordable EMS PCBA prices. We can optimize your PCB design to reduce the fabrication prices without function and quality sacrifice.
One-on-one engineering support throughout your project.
Free PCBA samples and functional testing for massive PCBA manufacturing.
PCBA manufacturing follows IPC-A-610 Class 2/3 standards and is certified with ISO, IATF, RoHS, REACH, and UL.
If you send your Gerber and BOM to us, we can check your design to make sure the design for manufacturing, testing, and assembly (DFM, DFT, and DFA) for you. If you let us join the R&D of your project from the early stage, we can reduce the fabrication price with the optimum PCB design and avoid possible tricky issues in the post-assembly stage. If you have needs for PCB fabrication, electronic component sourcing, and component mounting on PCBs, you can send your inquiry to PCBONLINE by email at info@pcbonline.com.
Conclusion
Mounting components on PCBs is surface-mounting and through-hole mounting components on PCBs. This blog introduces the three ways of component mounting on PCBs, including SMT, THT, and manual mounting. SMT and THT are the main ways, and manually mounting is rare and it is in use only when necessary. PCBONLINE makes every effort to provide the best-quality PCBAs. If you want affordable and high-quality PCBs, electronic components, and component mounting on PCBs, the EMS PCBA source factory manufacturer PCBONLINE won't let you down.
© This article is an original work of the PCBONLINE team. Please indicate the author PCBONLINE if you reprint. If the article is reproduced without permission or indicating the author's source, PCBONLINE reserves the right to investigate the infringement.
GET A FREE QUOTE
File Upload