A good PCB designer and assembler is what every electronic enthusiast is searching for. Finding someone who knows what it takes to design, manufacture, and assemble a PCB the right way is not an easy task.
If you want to learn about turnkey PCB assembly and electronic manufacturing services, then you have landed on the right page.
Part 1: What Are Turnkey PCB Assembly and EMS?
Turnkey PCB assembly includes all the steps involved in making a PCB, starting from the fabrication process all the way to the assembly process.
The circuit board is made from scratch, with the routes tracked according to the schematic the customer provided.
Circuit components are also sourced by the company and are soldered on the PCB. The entire PCB manufacturing and assembly process is done under turnkey PCB assembly.
Electronic manufacturing services (EMS) include the design, manufacturing, and testing of electronic components.
In PCB manufacturing, turnkey PCB assembly is the electronic manufacturing service (EMS), since it takes care of the entire process of designing, manufacturing, and testing the printed circuit board.
Part 2: What Are the Benefits of the Turnkey PCB Assembly?
Why should you choose a turnkey PCB assembly?
What are the benefits of this process?
Well, here are some advantages of turnkey PCB assembly that will convince you to invest in this process.
One-Stop Solution for Your PCB Needs
Turnkey PCB assembly is a one-stop solution for your PCB manufacturing needs.
You don't have to go after different vendors for manufacturing a PCB, instead, you get all the services required for manufacturing and assembling a PCB under one roof.
You don't have to worry about getting the components from another place and finding a separate company for PCB fabrication.
All your PCB manufacturing and assembling needs are sorted through a single source.
Get to Know About Any Defects in Your Design
Professional turnkey PCB assembly services by PCBONLINE will first test your design to see if there are any errors in it, which is great because it saves you from manufacturing your PCB and then getting to know about the faults in the circuit design. It will save you from wasting your time and material on the wrong circuit design.
Save Money in the Long Run
If you are a company that is looking forward to manufacturing PCBs in bulk, for a long period of time, then turnkey PCB assembly is what you should go for to save yourself from overspending money. Getting your PCBs manufactured by a single vendor will help you save money since the price for manufacturing in bulk is always lower than what you would pay for a single PCB.
Save Time
Turnkey PCB assembly will save you from running after multiple vendors for each step of PCB fabrication and manufacturing. You won't have to deal with multiple components distributors and PCB manufacturers, instead, all you need to do is trust a single manufacturer and leave all your worries to them.
Part 3: The Best Turnkey PCB Assembly Service Provider for Advanced Circuits
Since we are talking about a single vendor who provides all PCB manufacturing and assembly services, then you should know about PCBONLINE, one of the best choices for turnkey PCB assembly.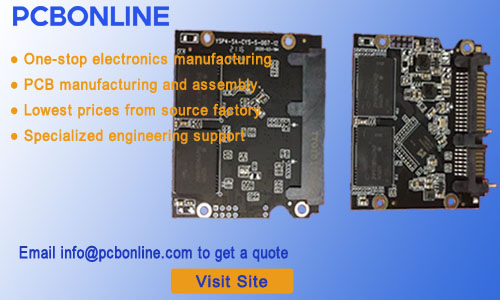 They are the top-rated turnkey PCB assembly service providers for advanced circuits, which means that you can trust them with the PCB fabrication and assembly process.
All you need to do is provide them with your Gerber file and see them turn your thoughts into reality.
Here is why you should opt for PCBONLINE for all your turnkey PCB assembly needs:

No Compromise on Quality

PCBONLINE understands that printed circuit boards must be made with high-quality components and materials. Quality is something that can never be compromised and finding a manufacturer who focuses on quality is rare; hence you should opt for PCBONLINE.

Standards Are Taken into Consideration

PCBONLINE ensures that its products meet global standards of quality. The techniques used in PCB manufacturing and assembly together with the components are all RoHS compliant and follow the ISO9001-2015 and the IPC610 standards.

Testing Is Key

PCBONLINE gives great importance to PCB testing to ensure that the final product is free of faults; hence the PCB goes through a series of tests before the product is delivered, i.e. automobile optical inspection, flying tube tests, in-circuit tests, and functional tests. Moreover, PCBONLINE offers free DFT/DFM/DFTX, which ensures that you get a high-quality error-free PCB.

Experienced Engineers

What's better than a team of highly qualified and experienced engineers working on the PCB you ordered? PCBONLINE has a great team of 100+ engineers and 500+ experienced technicians that works to deliver the best PCB for advanced circuits.
Part 4: What Is the Turnkey PCB Assembly Process?
You must be wondering what the turnkey PCB assembly process exactly is. Let's see what are the steps involved in the turnkey PCB assembly at PCBONLINE.
Step 1: PCB Manufacturing
The first step starts when the client provides their circuit's Gerber file. If you don't have one, you can send the schematic to PCBONLINE and tell us what exactly you have in your mind. They will create the Gerber file and start working on the PCB manufacturing process. With a specialty in advanced boards, PCBONLINE deals in all kinds of electronic circuit boards. All you need to do is tell them your requirements and then watch them create a masterpiece.
Step 2: Sourcing of Electronic Components
It is essential that the electronic components present on the PCB are of the best quality. There are many electronic components available in the market which claim to be genuine but bur out in a short period of time. PCBONLINE makes sure that your components are sourced from trusted factories that have been working in this field for quite a long time. Each component is checked for its reliability and then it is soldered on the printed circuit board.
Step 3: PCB Assembly and PCBA Tests
Once the circuit board is fabricated and the electronic components are sorted, the process of soldering starts. The right soldering technique together with high-quality solder paste and SMT stencils is crucial for high quality and fully functional PCB. With PCBPNLINE, you don't have to worry about PCB assembly because they know what it takes to manufacture good-quality SMT stencils and also know how soldering and reflowing work. Moreover, after the SMT/THT assembly is done, a number of tests including FCT, ICT, and AOI are conducted on the PCB. Whether you want to use surface mount technology (SMT), through-hole, DIP, or a mixture of all three, PCBONLINE will listen to you and cater to all your requests.
Step 4: Final Assembly and Testing
After the PCB is assembled, the assembly of the outer packaging is done. PCBONLINE will ask you for a reference picture of what you want the final product to look like. The outer covering will be designed accordingly. PCBONLNE will not only assemble the final product but also prepare a user manual to accompany it. All products are tested before they are sent for delivery.
Step 5: Shipping
The final product is shipped out through courier services and we make sure that the packaging is up to the mark, ensuring that your PCB does not get damaged. In case you are not satisfied with your product or need assistance, PCBONLINE will help you out. After-sale services are an important part of PCBONLINE's turnkey PCB assembly service.
Part 5: What Other EMS Solutions Are There Apart from Turnkey PCB Assembly?
Apart from Turnkey PCB assembly, PCBONLINE offers other EMS solutions as well. These include electronic component sourcing and PCB layout. Let's see what makes these services special and why should you opt for them.
Electronic Component Sourcing
Finding genuine and original components can be a very difficult task because of the availability of low-quality components that look very similar to original ones. With PCBONLINE, you don't have to worry about component sourcing. They know where to get 100% original and unused electronic components at the best prices, without the risk of fake components. They get their components from genuine factories, which eliminates the chance of getting used or unoriginal electronic parts and components.
PCB Layout
Preparing the PCB layout is the first step in making of a printed circuit board. It is important that the layout must be made correctly and for that, you can trust PCBONLINE. They have a great team of skilled professionals who know what technical aspects need to be considered, and you can get your PCB layout designed by them.
Extended Reading: What's the Difference Between Turnkey PCB Assembly and Consigned PCB Assembly?
Turnkey PCB assembly refers to the process of manufacturing and assembling the printed circuit board from scratch and going through all the manufacturing and assembly processes under one roof. On the contrary, consigned PCB assembly refers to breaking down the PCB manufacturing process into parts and distributing each part to a different vendor/person to take care of. For instance, if you are someone who wants to manufacture a PCB, you have two options: either go for a company, like PCBONLINE, that will run the entire process of PCB fabrication and assembly and deliver the final printed circuit board to you, or break the PCB manufacturing and assembly process into several stages and get it done from different sources, i.e. getting the components from an online vendor then looking for a PCB fabrication company like PCBONLINE, and so on. Choosing which PCB assembly solution depends on your situation and needs.
Wrap It Up
This post introduces turnkey PCB assembly, its advantages, and its process. If you are looking for a reliable and fast turnkey PCB assembly service provider, then PCBONLINE is the perfect choice you can make. They offer the best services at reasonable prices. All you need to do is send them your circuit design and leave everything else at their disposal. Click the below button to get an instant quote for your PCB requirements.
GET A FREE QUOTE
File Upload